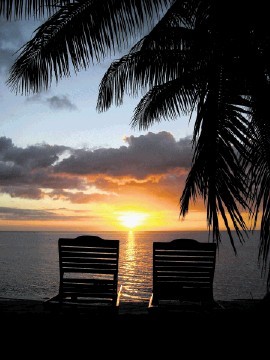 I am currently in the South Pacific on a project intended to raise renewable energy output in the region.
However, I'm honestly not actually writing this column on a beach under a palm tree, but from the desk of my hotel room, albeit I can see the sea, beach and palm trees . . . a sore temptation indeed.
This is a truly pleasant change from the growing arguments about wind energy in Scotland, stirred up lately by Donald Trump and his golf course project just north of Aberdeen.
You might ask: why is someone paying me money to spend four months in the South Pacific?
The simple answer is that all the countries in the region are very dependent on imported oil products, which have become increasingly expensive as world oil prices soared to over $100 per barrel and have stayed up there for many months.
The various countries . . . mostly island states . . . are very poor by European standards and the massive import bills are causing serious problems for their economies.
One way of reducing the import bills is by substituting renewable-based energy production for imported diesel and petrol/gasoline. That will not be easy but it is our remit.
We are concentrating initially on the four biggest countries – Fiji, Papua New Guinea, Solomon Islands and Vanuatu – but the hope is that the lessons learnt can be applied to other Pacific islands such as Samoa, Tahiti and Tonga.
The only country in the region with oil and gas production is Papua New Guinea (PNG), where I worked on a major study some years ago. It has produced oil since 1992 but on a modest scale – 125,000 barrels per day at peak and 30,000bpd now. However, PNG has much bigger gas reserves and a $15billion LNG export plant, operated by ExxonMobil, is currently under construction and scheduled to come onstream in 2014.
The LNG plant should make a big difference to the PNG economy and the government's revenues but will do much less to reduce oil product imports and to improve energy security in the country.
About 75% of energy consumption is liquid fuels for transport and 25% for electricity generation.
Renewable energy attention to date has concentrated on electricity – as indeed in Scotland – but we shall give a much higher priority to the replacement of liquid transport fuels.
All four of the countries that lie at the core of the research project are mountainous so there is already hydro-electricity production and the potential for more, particularly mini-hydro in remoter areas.
A key fact or is that about 70% of the 7million population of PNG do not have access to electricity.
I do not yet know the percentages in the other countries but they will also be high, particularly in the Solomon Islands.
Many Solomonese still live like Stone Age people in remote communities without roads and what we regard as modern amenities such as electricity.
Cooking is not usually an important issue because of the widespread availability of wood. Nor is heating because of the high ambient temperatures in the South Pacific. Power for lighting and other uses is much more important.
From our fieldwork thus far, one of the main concerns of local people is how to keep their mobile phone batteries charged, such are the skewed priorities in today's world.
Renewable energy might seem to be irrelevant to these people but it is not. I have seen various solar projects in schools and health centres in Fiji, funded by international aid donors, which seem to be working well. They are expensive, however, and a big challenge for our project is how to make solar energy affordable to ordinary people in the remoter areas.
I also intend to spend as much time as possible examining the economics of biofuels such as coconut oil and palm oil as alternatives to diesel and petrol. There have been a few pilot projects but they have failed, apparently because the farmers involved could get higher prices for their products elsewhere.
Wind energy is a further realistic option, especially for the likes of Tahiti and Tonga.
Finally, we shall also investigate the possibility of geothermal energy.
There are active volcanoes in the region and an Icelandic company has already produced proposals to generate electricity from one of them, replacing an existing diesel-fired power plant.
It is a very pleasant change from the increasingly sterile renewable energy policy discussions in Scotland. But I'll be back in a few months to find out what happened to Donald Trump and Alex Salmond.
Tony Mackay is the MD of energy economists Mackay Consultants
Recommended for you

Shell and Nickel Asia team up for renewable energy in Philippines