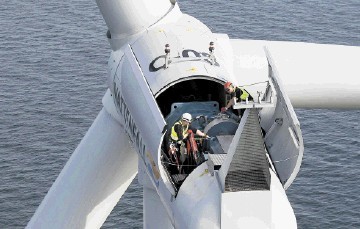 With fossil fuel prices climbing inexorably and outstripping background inflation, the notion of maximising the use of renewables is surely a no-brainer. Isn't it? Something that would surely gain big time support?
Well, it appears that those of us who support that view . . . probably the great majority of the British public . . . are wrong, at least from the perspective of those who are happy to buy so-called "green" electricity but on no account want renewable power generation to be taking place in their immediate neighbourhood.
It is quite bizarre that the not in my back yard brigades, whether in Scotland or the wider UK, appear content to accept the fact that their household and, where relevant, corporate, gas and power utility bills will rocket.
British Gas, a unit of Centrica, has just signalled that it expects gas wholesale prices to rise 15% this coming winter. Another heavyweight, E.on, has promised "no residential price rises in 2012". Oh yes, but what happens after January 2013?
You can bet your bottom dollar that the utilities will act in concert on forthcoming energy price rises, no matter how much posturing and issuing of hollow prices might happen beforehand; lulling the Great British Public into a false sense of security. Then, zap.
Reality of course is that the Nimbies will resent energy price rises as much as anyone else but prefer to have their heads in the sand as they doggedly oppose renewable projects the length and breadth of the British Isles, plus as it turns out, offshore too.
I don't have to tell this audience that the wind is free, so too are wave and tidal energy. The cost of course lies in harnessing them effectively. Fossil fuels and, for that matter, nuclear fuels are expensive and the imperative therefore is to drive up efficiency, bearing in mind that traditional fossil fuel-fired plant is woefully inefficient, which is why more efficient approaches such as combined heat and power plant are so important.
Of course, the shale gas bonanza currently sweeping North America and which has resulted in a dramatic fall in US gas prices plus created a potential export opportunity and cheap competitor to LNG (liquefied natural gas) could yet be repeated in Europe. If this were to happen, then the current EU ambition to lead the world in renewable-based power generation could become even more seriously compromised than is already the case.
What do I mean by this?
Some years ago, in 2007, the European Commission set the overall target of achieving 20% of electricity based on renewable by 2020 and imposed binding targets on individual member states; the so-called "20-20-20" initiative.
o A reduction in EU greenhouse gas emissions of at least 20% below 1990 levels.
o 20% of EU energy consumption to come from renewable resources.
o A 20% reduction in primary energy use compared with projected levels, to be achieved by improving energy efficiency.
Interestingly and despite the banking crash of 2008 and succession of further crises that have threatened the Union since, the Commission insists that Europe is on track to achieve the targets set.
A report published by the EU's Joint Research Committee early this year claims that member states intend to achieve the EU 2020 target of 20% energy coming from renewable sources. The report shows that, according to the National Renewable Energy Action Plans (NREAPs), member states plan to reach an overall share of 20.7% of energy from renewable sources by 2020.
The JRC report is a technical assessment of the plans which member states have submitted to the Commission to provide detail on their national targets in renewable energy production and how they intend to reach them.
The committee's assessment shows that almost half of the member states are planning to exceed their own targets and will therefore be able to provide surpluses for other member states.
Really?
Arguably, 2012 is shaping up to become the worst year yet for the EU since 2008. Crisis after crisis has wracked the corridors of political and banking power. And television cameras have played witness to mounting street protests . . . and not just in Greece where, as I write this, another election has been called, this time on June 17.
One wonders where it will all stop. Will the EU unravel? With a few notable economically sound exceptions like Germany, will it effectively become bankrupt with bankers and politicians blaming one another for the calamity, while the proletariat take to the streets.
If the current mess in Europe is not comprehensively solved . . . and soon . . . then the 20-20-20 ambition will likely be trashed. Indeed, I am already suspicious of the JRC's report published in February.
I cannot, just cannot see the UK, for example, getting anywhere near achieving its already modest targets unless there is a miracle. The linchpin to my mind is the huge Round Three offshore wind programme.
Construction of the wind mega-projects had been scheduled to get under way in 2015; now the estimated start date for this huge build programme is more like 2017, with further slippage anticipated.
And one of the blockages is money, in particular a growing reluctance among the banks to lend.
For as long as the UK economy continues to stagger from one recession to another and politicians go on failing to come up with the policies and stimuli necessary to jolt us out of this appalling stupor, then it seems likely that further slippages will occur.
It doesn't help that large wind projects involve massive spends overseas because Britain has very little indigenous renewables technology manufacturing capability. Basically, we go shopping in countries like Germany, Spain, Denmark, Japan, Korea, India and China.
"Can I buy 300 5MW turbines please?" says the UK project developer to Overseas Firm Inc..
"Oooh," says the UK economic agency, "can we interest you in the idea of setting up a base here in Britain Mr Foreign Turbine Manufacturer?"
But then there's a further delay to such-and-such a project and all deals are off. No advance manufacturing base after all. Meanwhile, we don't have a credible home-grown big turbine manufacturer of any sort.
Jeez, what a mess.
Recommended for you
X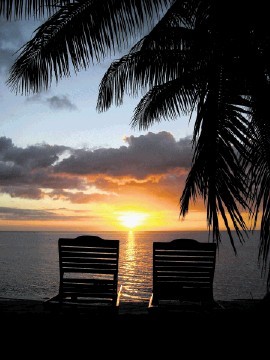 Renewable Energy in the South Pacific