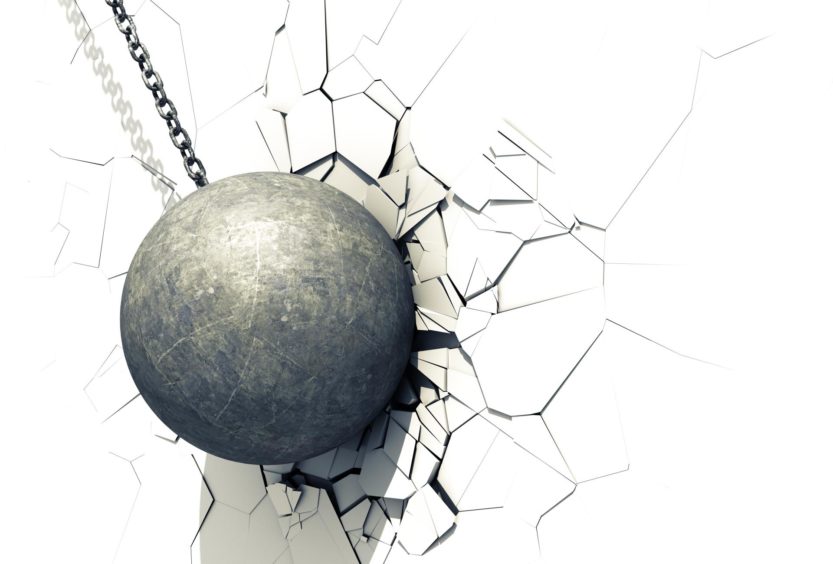 I like this. Despite Donald Trump's vitriolic hatred of turbines. In August, more than 100 governors, mayors and government officials across 40 American states declared their support for the wind industry during American Wind Week 2020.
Organised by the American Wind Energy Association (AWEA) the initiative was in effect a V-sign at Trump who, as I vividly recall, attempted to destroy the European Offshore Wind Deployment Centre project originated by Aberdeen Renewable Energy Group.
He failed in his frankly vicious attempts to wreck the EOWDC and AREG's partner Vattenfall went on to secure 100% ownership of the project and install eleven large turbines in Aberdeen Bay.
Last year, and as recorded by analysts 4C Offshore, Trump took buckets of bile to the Turning Point USA Student Action Summit in West Palm Beach, Florida.
Among other things he stated: "I never understood wind. You know, I know windmills very much. I've studied it better than anybody I know. It's very expensive.
"They're (turbines) made in China and Germany mostly — very few made here, almost none (forgetting GE). But they're manufactured tremendous — if you're into this — tremendous fumes.
"Gases are spewing into the atmosphere. So tremendous, tremendous amount of fumes and everything.  You talk about the carbon footprint — fumes are spewing into the air, right?
"Spewing. Whether it's in China, Germany, it's going into the air. It's our air, their air, everything — right?"
Despite the huge progress made on the wind front across the US over the past decade and with the first offshore wind farm now operating off the Eastern Seaboard, he may just have succeeded in taken a wrecking ball to the offshore clean energy ambitions of some coastal states.
And he's been clever by using Big Oil as a foil to impose a ban on offshore energy exploration and development of all kinds along the coasts of Florida, Georgia and the Carolinas.
Bloomberg Green reported last month that Trump's recent order, which was confirmed by the Interior Department agency which oversees offshore energy development, comes as renewable developers are spending hundreds of millions of dollars on snapping up the rights to build wind farms along the US East Coast.
Trump has since said he will expand the offshore energy moratorium to include Virginia.
Although existing offshore energy leases are not set to be affected by the orders, including wind farm rights off the coasts of Virginia and North Carolina, Erik Milito, president of the National Ocean Industries Association (NOIA) attacked the moratorium, not just from a US energy security perspective but also in terms of offshore economic activity.
He warned: "The announcement also casts tremendous uncertainty on the outlook for wind offshore North Carolina.
"A recent Wood Mackenzie report indicates that a prospective 2020 or 2021 wind lease sale offshore the Carolinas could support 37,000 jobs and $3 billion in wages annually, more than $44.9 billion in total capital investment and 11.5 GW of electricity.
"Without a clear and stable regulatory horizon, interest and investment in developing offshore wind resources will be diminished."
It is already being speculated that Trump's leasing bans could be difficult for a future president to undo given that a federal district court rejected Trump's own attempt to overturn an Arctic oil leasing blockade that former President Barack Obama imposed using the same legal authority.
According to Bloomberg, The matter is now before a three-judge panel of the Ninth Circuit Court of Appeals, which heard arguments in the case in June.
Offshore wind developers with active leases off the US East Coast currently include Avangrid, Mayflower Wind Energy, Equinor Wind and Vineyard Wind.
And Equinor has just been joined by BP on two of its intended projects by agreeing to sell a 50% stake in its US offshore Empire Wind and Beacon Wind projects for $1.1 billion.
Beacon is at an early stage of development off the Nantucket coast (State of Massachusetts) while Empire, which will be located off the coast of Long Island (New York State), is due to be ready to generate by the mid-2020s.
Together, these projects when fully completed are expected to generate enough electricity to power over two million US homes.
Both companies want to work together, developing further windfarms off the US Eastern Seaboard. Whether or not the Trump ban will damage this ambition is currently unclear given that it doesn't impact Massachusetts or New York State or a bunch of Atlantic states.
Nonetheless, it would seem to be a kick in the teeth for BP's chief executive Bernard Looney, who is nursing an ambitious plan to transform the oil major into a genuine multi-energy corporation.
His goal for BP is to develop/buy into 50GW of renewable energy generation capacity by 2030. One suspects much of it will be in the US.
Meanwhile, is seems that 86% of Americans think their country should put more emphasis on using clean, renewable wind energy, according to a July 2020 online consumer survey conducted by the Harris Poll on behalf of AWEA.
Not that Trump gives a jot, it seems.
Recommended for you

Powering change in the UK's offshore supply