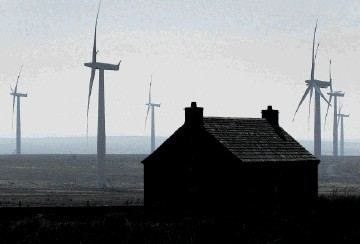 There was not much good news for consumers at the All-Energy 2012 Conference in Aberdeen.
Companies are unhappy with the UK Government's proposed new subsidy regime.
If the UK Government wants them to continue to build windfarms our electricity bills will have to go up much more than has been predicted.
One problem is unexpected costs as turbines in deep water will need new types of foundations, installation will pose novel challenges, and the larger turbines themselves are still at the research and development stage, all costing megabucks and taking more time than expected.
Another unsolved problem is intermittency because when the wind does not blow, wind turbines do not generate electricity.
A respected Finnish consultancy reported its study looking at records of north European weather over the last 10 years and how it might affect the windfarms to be built in the region.
Wind was unpredictable and, worse, the whole of northern Europe frequently shared the same weather pattern. In other words, when the wind did not blow in the UK it often did not blow in the rest of northern Europe.
So the huge amount of wind power proposed will have to be backed up with almost as many gas-fired stations as if there were no wind turbines, which is not exactly low carbon.
Equally awkward, when the wind does blow, all the north European wind turbines will be working, creating a vast electricity surplus and completely swamping any storage.
Some windfarms would have to be switched off, with huge compensatory payments to their owners courtesy of consumers.
Not all the news was bad, however, as the industry was fulsome in its praise of the Scottish Government's support for every aspect of windfarm development. Is our government being a little naive as our civil servants' experience of dealing with sophisticated corporates is still limited?
Is business getting too good a bargain and what are we getting in return for the huge subsidies which have attracted these mostly foreign-owned companies? Soaring electricity bills? industrialisation of precious landscapes?
Some jobs – but apart from a modest construction boom, very few in the longer term and local skills shortages mean these are likely to be filled by well-trained migrants.
Few can hope to benefit and they are betting on the largesse of future governments who may change the subsidy regime.
Exporting power to England, subsidised by consumers, is not my idea of an good business proposition.
By Professor Jane Bower, vice-convener for the Association for the Protection of Rural Scotland, set up the Centre for Entrepreneurship at Aberdeen University in the 1990s. She was until recently professor of enterprise management at Dundee University
Recommended for you

Political will and Europe's energy security challenge