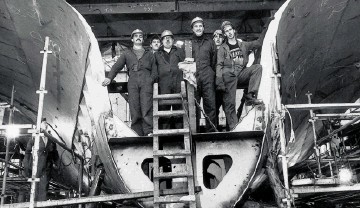 I like to think I'm fairly well educated, worldly and reasonably au fait (that's French) with how and why certain things happen particularly when it comes to industrial and business issues even when those issues are of a political nature.
However, the question that completely stumps me time and time again is why on earth we don't really have a civil shipbuilding industry of any note?
A few weeks ago I was sent a link to a report that Stavanger-based Møkster shipping has ordered a new subsea support vessel from Simek's Flekkefjord yard in western Norway to the value about $55.5million with a delivery date of May 2014.
This was followed a few days later by an announcement by the Norwegian ship operator Eidesvik Offshore that it had entered into a contract with Kleven Maritime's for a large multi-role subsea support vessel to be built by its Kleven Verft yard in Ulsteinvik, Norway.
Delivery is set to Q2 2014 and the contract value is said to be over $160million and this would make it the largest single investment in the company's history.
Then I found another report that the Stavanger-based subsea construction company Ocean Installer and Norwegian ship owner/operator Solstad Offshore have ordered a large, advanced construction support vessel. This will be delivered in Q2 2014 and is to be operated by Ocean Installer.
The type OSCV 06L vessel has been designed by the Norwegian shipbuilder STX OSV and Solstad, in close co-operation with Ocean Installer.
These three reports are examples of how busy the shipbuilding industry in Norway is, plus there are plenty of other ships, drilling rigs and large construction vessels being built to Norwegian account around the world.
Of course Norwegian contractors and ship owners order new builds from Norwegian shipyards and you can pretty much guarantee that a lot of the hardware being fitted to those vessels will also be built in Norway or supplied by Norwegian companies.
For example, I'd be fairly sure that all these new builds will have Kongsberg dynamic positioning systems and probably acoustic navigation systems as well.
Nothing wrong with this but it just goes to show that, once again, Norway benefits hugely from having a highly-effective, integrated industrial strategy. This is of course something those of us on this side of the North Sea can only dream of.
Here's an example of why we should be concerned. Much is being made of the importance of the upcoming decommissioning phase in the North Sea. We're told how huge the value of all the work will be and how important it is to the future of the UK offshore industry.
Let me make a prediction. Because we don't have an indigenous company that operates, let alone owns, a heavy or medium lift vessel then I seriously believe very little of that decommissioning work will end up coming here. I'm pretty sure most of it will go to Norway. We simply don't have the marine assets to deal with it. Harsh but true.
However, to be fair, the UK does get some benefit from shipbuilding elsewhere. Rolls-Royce recently delivered 13 large azimuth thrusters to the world's largest construction vessel – the Pieter Schelte – currently being built at Daewoo Shipbuilding & Marine Engineering for Allseas. The contract is worth around £18million and is the largest Rolls-Royce thruster order for a single vessel.
That said, £18million is a drop in the ocean (no pun intended – honest) compared to the overall value of that project which is over £800million.
On the other hand, R-R does own a sizeable share of the Norwegian offshore support vessel design, build and systems manufacturing capability. But it's in guess where? Norway.
But the core question remains. While we may be good at building warships what happened to our ability to build ships for the civil market?
How on earth did we allow such a massive market slip through our fingers especially given the obvious importance of the North Sea oil and gas industry?
And, will we do anything to capture the market for installation, cable lay and other vessels to support the marine renewables sector?
Well, reading a few academic papers and other bits of literature on the topic it would seem to me that the demise of shipbuilding was down to the usual suspects, namely rank bad management, a lack of investment and either too much or too little support from government. They got the trade unions they deserved.
The biggest mistake by Government was of course to nationalise shipbuilding.
A thesis written by a researcher at Glasgow University explains that the Harold Wilson Labour government's "Shipbuilding Inquiry Committee" and the "Shipbuilding Industry Board", imposed technical and organisational solutions on the industry that were totally at odds with the shipbuilding methodology in competitor nations such as Japan.
This of course fatally damaged the industry during a time of demand for newly-constructed vessels. Now though that shipbuilding has been re-privatised the Government operates a hands off, market-based policy.
That simply means it does nothing.
Add to this though the good old British disease of under-investment in technology, production methods and of course the risk adversity of the banks then shipbuilding here probably didn't stand a chance.
In Norway, of course, the opposite was true. Spotting the opportunity they went for it in a big way with the support of their government and their financial sector.
Could we compete now? Well yes we certainly could from an engineering and design standpoint but I would doubt the UK Government would want to support civil shipbuilding and I really can't see the financial sector getting excited about it.
Frankly, neither has sufficient vision or the ability to think strategically enough to recognise the benefits of a shipbuilding industry.
In fact, I'm now beginning to wish I hadn't asked myself the question.