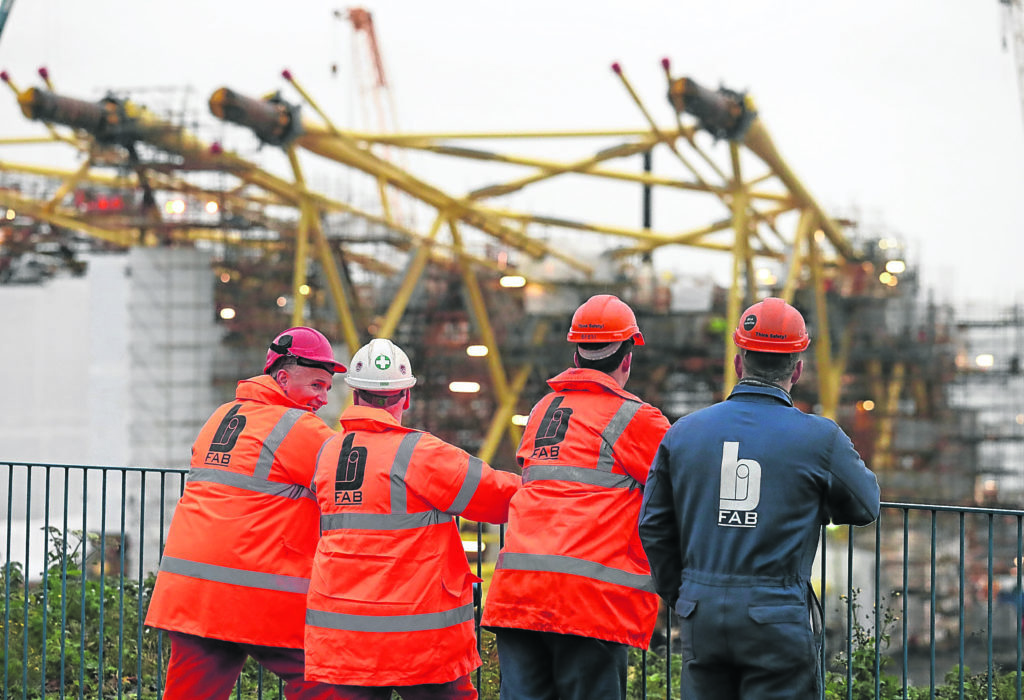 It is my unhappy lot to have two governments, neither of which I voted for and whose ideologies I do not like. But that's democracy and I will survive it.  How well the Scottish economy survives it is another question which the green energy recovery brings into focus.
On the face of it, this is an area in which UK and Scottish governments could be working hand in glove. Both are committed to ambitious carbon reduction targets. Both have talked up a "second industrial revolution" based on green technologies to bounce back from the pandemic.
But devolution only works when the two governments are pulling roughly in the same direction, with a shared interest in successful outcomes. There is little evidence of that at present but surely the prize at stake is so enormous that it would be utterly irresponsible to squander it because Edinburgh and Whitehall won't talk civilly to one another?
We urgently need an alignment of objectives in purely practical terms.  This is not – or at least should not be – a competition but a joint effort to turn these shared objectives and vast sums of public money into tangible outcomes in terms of industrial opportunities and large numbers of good, well-paid jobs throughout Scotland.
We know the record so far has been abysmal. The Scottish countryside is littered with wind turbines, hardly a single one of them manufactured here. So far, offshore wind is going the same way  – multi-billion projects in Scottish waters with minimal returns for the Scottish supply chain or coastal communities. BiFab has become shorthand for the miserable absence of public policy which could have ensured years of work In Fife and Lewis.
So will  things be different in future? Clean hydrogen, carbon capture and storage (CCS), zero-carbon transport and offshore wind are all key pillars of Boris Johnson's 10 Point Plan, backed by £12 billion in Government investment. Scotland should be well placed to benefit under each heading but only if the planning is done now.
Offshore wind is the biggest ticket item and the most plausible because the technology exists. The UK Government states: "By 2030 we plan to quadruple our offshore wind capacity so as to generate more power than all our homes use today, investing to bring new jobs and growth to our ports and coastal regions".
It continues: "Our target could encourage £20bn of private investment into the UK" That's a heady number and there are 17 designated sites around the Scottish coast to share in it. But how much of the work lands here is entirely dependent on investment in "ports and coastal regions" – the kind of public investment that did not take place at BiFab  or anywhere else. Where is the strategy now for making that happen?
I noticed in SSE's annual report that they were blaming the contracts for difference system for slimming  down margins on offshore wind to the point at which the domestic supply chain was uneconomic to use. Frankly, I do not believe a word of it since the profitability of offshore wind remains eye-watering.
But what this kind of argument confirms is that unless the requirement to source a certain proportion of the contract value in the local supply chain is written in tablets of stone, then it simply will not happen. There will always be a reason not to – i.e. it's cheaper to do it somewhere else.
This is clearly an area of policy in which the UK and Scottish Governments have a shared interest. The money must be invested in the infrastructure and facilities which create capacity to do the work. Then the terms of offshore leases should do the rest.
If the two governments create the proper framework, there will be no gaps to fall through – but  if there are, the billions of offshore wind investment will continue to float off to the four corners of the earth.
Carbon capture and storage has been talked about for decades but remains only an aspiration. Most of the impetus on this has to come from the UK Government so there is no point including it in Johnston's plan unless they are going to facilitate it.
That brings me to a recent report from the Offshore Renewable Energy Catapult and OGTC, which offers a plan for a Net Zero North Sea if the sectors work together and invest in technologies including floating offshore wind, green and blue hydrogen and CCS.
But my own stark warning is also reflected there: "Failure to act now, with a clear vision, risks the UK rapidly becoming a buyer – rather than a supplier – of green energy, green technology and green jobs – leaving huge economic value on the table".
Compared to energy, there is probably no sector in which responsibilities are so evenly spread between both governments. The potential for a synergised, effective approach is real. But so, as we know all too well, is the potential for stand-offs and blame-shifting.
That choice needs to be made now for there is no time to waste. So please, set aside the differences and create a transparent, unified approach to delivering the green economic recovery in Scotland. We're sure going to need it.
Brian Wilson is a former UK energy minister
Recommended for you

Scottish energy transition AI firm raises $10m as part of growth push