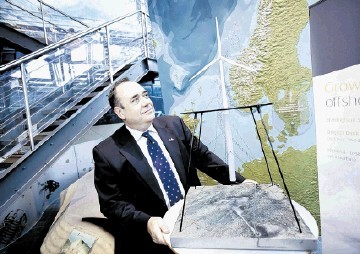 When people ask me where are our equivalents of the Norwegian companies Kvaerner, Aker, Kongsberg, Hitec, Framo and others such as Petroleum Geo-Services and Dolphin Geophysical or offshore drillers like Odfjell or Seadrill, or the powerful armada of offshore support vessels, then I really can't give them an answer.
The same applies, of course, to my question last month on shipbuilding.
What spurred the Norwegians on to create all their high-tech manufacturers and high-value service providers in offshore drilling, seismic and so on and so forth is very easy to explain.
Why the blazes the UK didn't is much more of a mystery.
That said, the UK Government persistently told us the oil and gas industry would be a 10-year wonder . . . for decades.
Maybe I'm too cynical but I often wonder whether that was a ploy to enable it to have an excuse for not investing in UK technology. You can tell how much trust I have in our Government, can't you?
Norwegian penetration of particularly the high-value, high-tech, critical industry components sector has been astonishingly successful.
The subsea industry in Aberdeen is very dependent on Norwegian companies and it always amuses me that while we promote the glories of the UK subsea sector, what we're really doing is promoting the Norwegian (and American) subsea sectors. I'm sure they're grateful though.
The same applies to emerging markets too. While the UK prevaricates over funding a carbon capture trial, the Norwegians have already gone ahead and are building a test plant at Mongstad, which is mainly owned by the Norwegian state through its CCS agency Gassnova and its majority shareholding in the oil and gas company Statoil, although a number of other companies including Shell have actually taken a share.
From a UK or Scottish perspective though the Norwegians would have been heavily involved in the CCS project at Peterhead had that gone ahead. In fact as far as I can gather none of the technology would have been actually British but mainly divided between the Norwegians and Americans.
As for maritime renewable, the Hammerfest Strom tidal generator being deployed by ScottishPower was, guess what?, developed in Norway, which also has a specialist generator and controls builder as well as manufacturers of electrolysers and solar cells.
The Norwegians are also involved in the development of heat pump technology and wood-fired heating systems and are, of course, famous for their wood burning stoves, notably the Jotul brand. Oh, and they have a hydrogen highway.
So how did this situation arise?
Well, let's start with Norway's "Ministry of Petroleum and Energy". Right there on the front page of their website it states clearly "Research and development in the sector of petroleum and energy is a prioritised area for the government. The government's vision is that Norway will become a world leader in the development of sustainable energy"
The point here is that they mean it. It's not just a collection of nice words put together by some PR agency.
In fact, in 2009 that ministry established eleven well-funded Centres for Environment-friendly Energy Research and these are used by the Norwegian government to "spearhead" its strategy for developing the energy systems and technology of the future.
The centres conduct R&D on a sizeable portfolio of energy challenges, such as carbon capture and sequestration, bio-solar and marine energy, energy use in buildings and energy policy and innovation processes.
Importantly though. some of these centres already existed before 2009 and performed a critical function in bringing together academia and industry to develop technologies and knowhow which formed the basis of Norway's energy industry "revolution" in the 80s and 90s.
However, they still couldn't have developed the exceptionally strong industrial position they have now without two other critical support mechanisms in place.
The first of these is the government's so-called Direct Financial Interest and shareholding in Statoil the Norwegian state oil company.
Statoil acted as an effective champion for Norwegian technology companies providing not just financial support but technical support as well. Critically, because of its innovative attitude Statoil also created a demand for new technologies which it has often developed in collaboration with industry.
Secondly, the Norwegians have a supportive financial services sector and their banks and venture capitalists seem to share the aspirations of the Oslo government and industry.
In fact it amuses me – in a wry way – that Norwegian venture capitalists such as Energy Ventures are actually considerably more active here in Britain than UK venture capitalists.
Here, the main problems have been the attitude of the government and the financial institutions. Inconsistent, confused and low levels of government support make it very difficult for industry and academia to make real progress.
Initiatives are regularly revised, replaced or just scrapped, or even worse made so complicated nobody wants to use them. I actually think that's a deliberate policy although I suppose it could just be stupidity.
UK venture capitalists are, of course, not really venture capitalists at all now and I've basically written them off as being any use.
As to the banks then, until recently it's been difficult to pin down what their real problems are. Now, of course, it's very clear to me that all those nasty things I have been saying about our banks and the financial sector generally weren't fair. The situation is actually much, much worse than I thought.
They are indeed short-termist, risk averse, visionless, disinterested in smaller companies, unpatriotic, miserable, self-centred and greedy. Now though, we find they are corrupt as well, having fiddled the interbank lending interest rate and even laundered drug money. In short they are entirely untrustworthy.
As one commentator put it: "The City has become so far removed from the workings of the real economy that it has become a parasitic leech, engorging itself at the expense of everyone from shopfloor workers to executives in the boardrooms and shareholders.".
Norway, population just 4.5million, has a lot to teach us and we should be humbled by their success.
Recommended for you

Gas prices: Energy firms warned government two years ago that sector was fragile