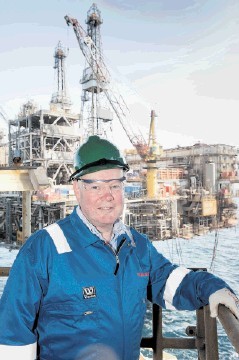 Do Energy Ministers matter? Discuss! Unfortunately, the subject is once again relevant due to the unexpected and unwelcome removal of Charles Hendry from the post.
I do not know anyone in the energy world who did not regard Hendry as a competent, knowledgeable and – just as important – genuinely interested Minister of State for Energy; in effect, the main "hands-on" politician for the industry.
Having been there and worn the T-shirt, I do not have great difficulty in distinguishing between a Minister who turns up, reads the brief and leaves early, as opposed to one who has taken the trouble and interest to know what he is talking about.
Charles Hendry was most definitely in the latter category. I had heard him speak at a number of events across the energy spectrum and he knew the scene well. He had done the job in opposition as well as in Government, and had gained a lot of respect in the sector.
It was also useful that he had a Scottish dimension and an interest clearly reflected in his recent tour of the north of Scotland, listening to concerns on transmission charges and other issues. Incidentally, he had recently bought a home in my former constituency and being a Tory, it was naturally a castle rather than a humble cottage!
All that aside, I think he is a genuine loss to the energy industry at a time of flux when big decisions will have to be made. With Energy Market Reform coming up, there is uncertainty that will have to be resolved – or else will be left to resolve itself – about which technologies will flourish or recede.
And that takes me back to the original question – do Energy Ministers matter? Clearly, their political bosses don't attach much importance to the role or else they would not chop and change them so often, as disposable afterthoughts who get caught up in the slipstreams of reshuffles.
But the input of a good Energy Minister should matter, in setting a framework for a crucial national industry to operate within. And if there is not a strong, knowledgeable minister around then the absolute certainty is that this role will be filled by the civil servants – the breed who outlive all Ministers but Energy Ministers most of all.
From my own experience, I don't think that is a good idea. Civil servants tend to stand for the cautious orthodoxies of the day – "let the market decide" is a favourite though "light-touch regulation" is slightly less fashionable than it used to be – but it is the role of politicians to challenge such orthodoxies and to apply a wider perspective.
Dull civil servants writing policies for rookie Ministers who do not understand or particularly care about their brief equates to the bland leading the blind. We have all sat through the kind of excrutiating speeches that result and equally we have seen the debilitating consequences of policy vacuums in government.
Another crucial role of a decent Energy Minister is to stand up to Ofgem, who have their own orthodoxies to defend. In all matters where there is a conflict between the interests of the companies – particularly the big six power suppliers – and those of consumers, the regulator's instinct is not to intervene. It is sometimes the Minister's job to ensure that it does.
I also think that the revolving door approach to the Energy brief is insulting to the industry and its significance within the British economy.
It should surely be self-evident that a complex portfolio which embraces extraction, generation and supply and which impacts on every household budget in the UK, needs a Minister who can command authority on the basis of job security.
Once again, busy people in the industry will be prevailed upon to go through the motions of educating yet another Energy Minister, in this case a Mr John Hayes, of whom they know almost nothing. But why should they bother when the near-certainty is that he too will be gone at the next reshuffle?
We are told that Mr Hayes is, on the basis of past pronouncements, "anti-wind", whatever that may mean. It would also be good to know what he – and the Government in general – is in favour of, and how they plan to deliver.
What is the latest masterplan for delivering that elusive triumvirate of security of supply, affordability and carbon reduction?. Or will we be back to a hands-off Minister who prefers to "leave it to the market" – or, to put it another way, to the civil servants?
It is not normally in my nature to bemoan the passing of Tory Ministers. But I am genuinely sorry to see Charles Hendry go – and I am sure that he carries the best wishes of the energy community wherever he goes. Perhaps a castle in North Ayrshire is indeed a more secure option than membership of a Coalition government!
Recommended for you

Uganda warns off "insufferable" Europe, plans licence round