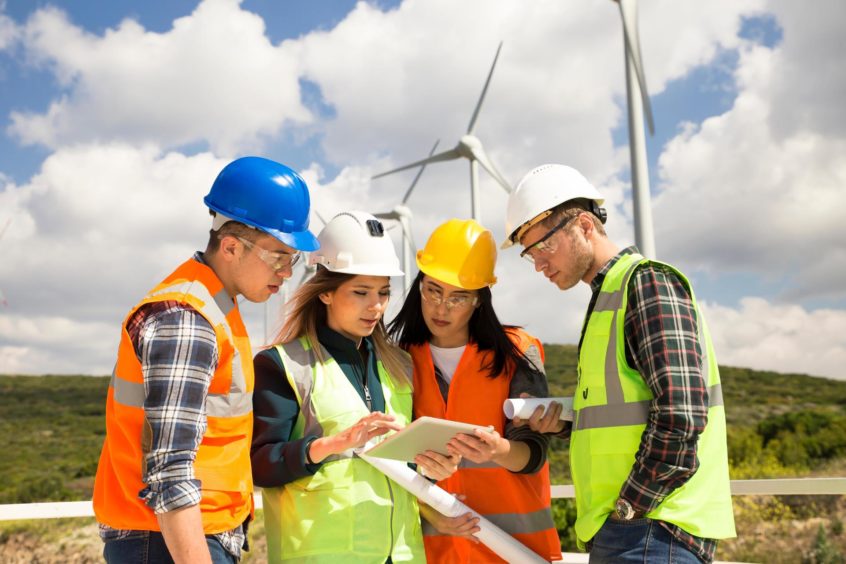 A UK Modern Apprenticeship typically lasts four years. To put that in context, a standard honours degree in Scotland demands a four-year commitment; in England it's three.
Most apprentices are 16 when they start their training and get paid; university students are generally 18 and run up big debts, though tuition in Scotland is free to young Scots.
Having encountered so many oil and gas and some renewables apprentices over the past 30 years, a stack of smart university graduates being prepared for highly paid jobs too, and served as an Oil and Gas UK Awards judge too for more than a decade, I cannot help but especially admire the apprentices.
Far too many people consider apprentices to be inferior to university graduates, which is a pity because they're mostly wrong.
Apprenticeships are tough and require huge resolve. None of this late-for-lectures stuff, not when you're signed up to indentures and expected on shift on time by your employer.
Doing an apprenticeship means blending training at the local college or specialist training centre with workplace learning. In the case of oil and gas trainees, this frequently means working offshore and being trusted to take on sizeable challenges.
In pecking order terms, universities are elite and extensively funded from the public purse plus they attract big brand corporate and alumni endowments. Local colleges are publicly funded too but are too often regarded as second division, while specialist training establishments are generally set up as trusts and have to fight for every penny they can get as they don't have an automatic right to public money.
When it comes to Big Energy making endowments, top drawer universities cream the big cash, lesser brethren get left out in the cold. Local colleges can enjoy significant local corporate patronage too. To be fair, so too can trusts.
When it comes to exerting influence, it's universities first, colleges second, then the rest. It's basically down to the quality of your network and whether or not you have the resource needed to build, let alone nurture that network.
Likewise the political machine. How do you build influence? Same basic set of rules apply. The bigger and more powerful your establishment is, the more likely you'll get their attention.
In fairness to companies, I was told only a few days ago: "It's often not that they don't want to help or can't, it has an awful lot to do with getting hold of the right person and that can be quite a problem."
As in every walk of life there is stuff that doesn't make any sense at all; including in the provision of equipment in colleges for apprentices to train on.
One is told that apprentices training to become electricians, plumbers, and heating and ventilation engineers especially, generally don't wont for the latest gear to work on, much of it gladly supplied by local trades firms, many of them competitors.
But when it comes to engineering and energy apprenticeships, it is claimed that companies are reluctant to help furnish colleges/training establishments with the latest gear for fear of competitor trainees using it.
I'm told it happens quite a lot. Strange really when it is in everyone's interest to ensure that apprentices are trained to the best standards possible before embarking on careers that could easily span 30-40 years and involve moving between employers.
The pity is that companies active in increasingly apprentice-hungry offshore renewables are claimed to have caught this selfish disease too, though the quality of the offshore wind training facilities in centres like Blyth and Lowestoft suggests the opposite may be the reality.
One thing is however clear. The renewables supply chain in the UK remains very poorly developed when compared to other North Sea offshore wind players.
It is mostly service oriented with little substantive original equipment and components manufacturing. That would broaden apprentice opportunities.
So it is mostly the power companies and designated operators who hold the purse strings when it comes to public largesse.
You can bet that the equipment specified by offshore wind operators and their supply chain won't be cheap.
Therefore it is surely in an industry's best interest to ensure that all  training providers have high-grade, current practice kit for apprentices to gain their renewables grounding with.
When a government is seeking to capture a new industry and persuade it to set up shop, it must go the extra mile to ensure that relevant industry training providers are offered access to additional funding from the public purse if necessary.
When all is said and done, this is an important aspect of economic development, regrettably one that I suspect is overlooked by Scotland's rather ineffective agencies.
It is important to provide high quality training with high quality equipment designed to deliver a real investment in that most important asset of all — capable people.
Training young people in renewables could lead to the emergence of a whole new generation of high-class offshore (and onshore) energy professionals in Scotland and the wider UK. That is surely hugely valuable.
Recommended for you

Support for skills and supply chains required to power North Sea Transition Deal