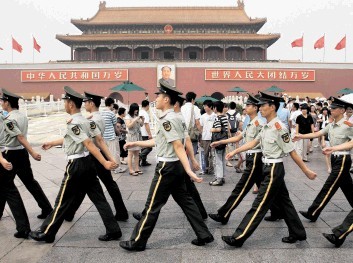 Asian national oil companies bent on taking control of Canadian oil and gas assets through acquisitions by CNOOC and Petronas are facing growing opposition to the deals.
While the planned takeovers of Nexen by China National Offshore Oil Corp for about $15billion and Progress Energy Resources by Malaysia's Petronas for $6billion may ultimately succeed, it will not be without deep concern about ownership of sovereign resources.
For now, the Petronas bid is blocked by Canada's industry minister Christian Paradis. He has, however, given the Malaysian company 30 days to revise its offer.
Reacting to the mid-October decision, Progress's president and CEO, Michael Culbert, asserted that the long-term health of the natural gas industry in Canada and the development of a new LNG export industry was dependent on international investments such as Petronas'.
As for Petronas, like other resource-strapped Asian NOCs, the takeover of companies such as Progress is a means of strengthening market position.
It plans to construct an LNG terminal at Prince Rupert, British Columbia, that would tap north-eastern BC conventional gas as well as shale gas for export.
Moreover, Progress' board had approved the acquisition.
Similarly, Nexen's board has sanctioned the CNOOC bid, as have the company's shareholders, while politicians swither.
They are being harried by an increasingly vociferous lobby that is determined to protect Canada's natural resources against pillage by foreigners, especially oil and gas. They see no rush to approve deals that could turn out to be the thin end of a dangerous wedge.
In a reaction reminiscent of the UK where the North Sea resource heritage has been squandered in an unbridled free-for-all sanctioned during the Thatcher era and never since reined in, Canada's PM, Stephen Harper, has defended the federal government's actions.
He has stated that Ottawa is taking into account security issues implicit in the CNOOC-Nexen deal which, in case any of you have forgotten, significantly impacts the UK North Sea as a deal would place yet more control of our domestic output in foreign NOC hands.
He claims that the takeover represents a net benefit to Canada.
Moreover, he is backed by Alberta's premier, Alison Redford. She has pointed out that oil company executives have suggested that Nexen is not important enough to be protected from foreign takeover.
Derrr, well of course they're going to say that, aren't they. They will naturally want to portray CNOOC as non-threatening because they want to cash in on the deal, perhaps realising fat share options too.
Ottawa has extended its review of the deal until the middle of this month and Harper has ordered the construction of a "framework" that he claims will help inform potential deals with other NOCs.
Harper, Redford & Political Co have been warned time over time by US and their own security experts that getting into bed with CNOOC is a dangerous occupation as it is part of the Beijing machine . . . the Chinese Communist Party.
One of the sternest warnings stems from Ray Boisvert, a former deputy director at the Canadian Security Intelligence Service.
He warned that Chinese state enterprises have the same marching orders and therefore mission as Beijing's intelligence services.
Boisvert, together with Roger Robinson – formerly with the US National Security Council, have urged the Harper government to "balance Ottawa's eagerness to expand trade and investment ties with China, with an 'eyes wide open' approach to security and threats from 'authoritarian capitalism'".
Just a few weeks ago, international headlines were dominated by heightened tensions between China and Japan over territorial claims in the South China Sea.
During that dangerous episode, CNOOC chairman Wang Yilin pointed out that the company's rigs working in disputed territories served as "mobile national territory and a strategic weapon".
In assessing foreign acquisitions by Chinese state-owned enterprises from China, Boisvert warned Ottawa never to forget that the Communist Party government is the "parent company" that exercises ultimate control.
May I remind the Cameron & Clegg Coalition; oh and Scotland's First Minister that the same tenet applies here. What I'm not saying is don't do business with the Chinese. But be very wary about the nature of the relationships. And never strike deals where there is risk of the national interest being compromised.
Last month, I visited the Falklands (of which more in December), where its tiny administration is already facing the complex issues associated with oil and gas licence farm-ins. So far the faces are friendly; but what happens if an Asian NOC comes knocking on the door in Stanley?
Oh, and by the way, what was a bunch of China National Petroleum Corporation (CNPC) people doing in Aberdeen last month? I spotted them on the home leg of my return flight from the Falklands to Aberdeen.
My suspicious mind of course flipped into overdrive as soon as I spotted them. No answers yet, however.