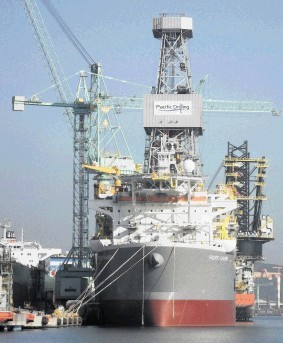 Pacific Drilling's new-build ultra-deepwater drillship Pacific Khamsin has been contracted by Chevron for an initial two years' operations offshore West Africa.
The US super-major holds an option to extend the charter period for a further year if exercised prior to the vessel's delivery, which is anticipated during the third quarter of next year.
Estimated revenues for the two-year term, including mobilisation and demobilisation, are expected to be about $527million, so bringing Pacific Drilling's total contract backlog as mid-November to some $3.4billion.
Pacific Khamsin and her sisters are being series built by Samsung Heavy Industries of South Korea.
As with other members of the class, the Khamsin will be capable of operating in water depths to 3,657m (12,000ft) and of drilling wells to 12,192m (40,000ft). It is fitted with a dual drilling derrick package and will be able to rack well casings to 20-inches diameter. It will have a variable deck loading capacity of 22,000 tonnes and be capable of carrying 29,200 barrels or drilling mud.
Khamsin will be the fifth in Pacific's fleet of six ultra-deepwater drillships to be delivered. The last, the Pacific Sharav, is under construction and set for delivery during Q4 next year.
Staying with Samsung, Queiroz Galvao Oleo e Gas (QGOG) has exercised an option for the construction of a further advanced capability DP3 ultra-deepwater drillship.
This is the third such vessel ordered from Samsung by QGOG and is scheduled to be delivered in December 2014.
Essentially, the QGOG vessels are essentially the same as those being built for Pacific as they too are Samsung 12000 units and will have identical operating and drilling depth capabilities.
The QGOG vessel is to be prepared for a second BOP (blow-out preventer) and managed pressure drilling.
It is to be equipped with a 15,000psi subsea well control system with seven-ram BOP.
Last month, QGOG took delivery of its latest drillship from Samsung, the Laguna Star. Its Amaralina Star drillship arrived in August.