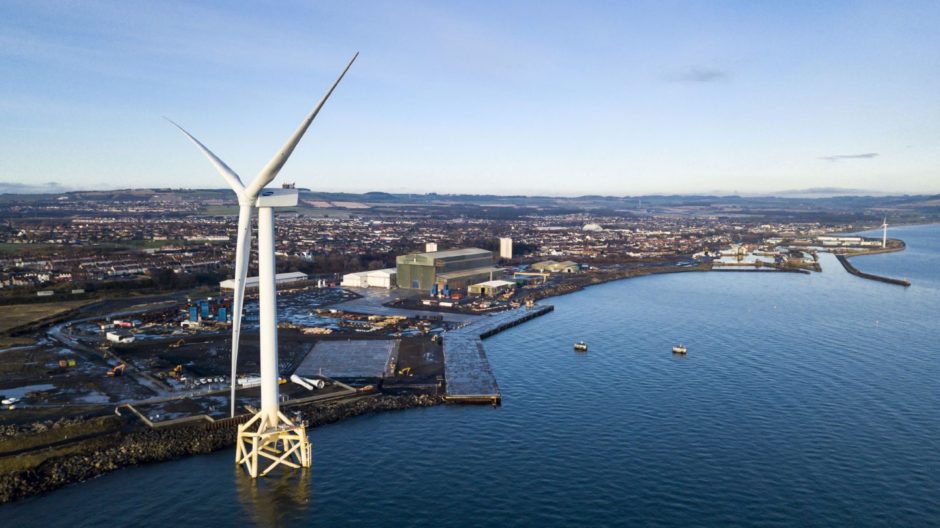 The decision by the French company EDF to award London-based InfraStrata a contract for eight of the 56 foundation jackets for the NnG offshore wind farm has got a lot of people extremely excited.
Scottish Renewables has already warmed up its "Scotland leads the world in everything" press release production line.
Nothing could be further from the truth. This contract — to be fulfilled at the former BiFab yard in Methil — will only last from around July this year to the middle of 2022 and there's no suggestion of follow-up work yet.
A few days before the NnG announcement the third floating foundation for the Kincardine Floating Offshore Wind Farm arrived offshore Scotland from Spain. Originally, there had been indications they were going to be built at Kishorn. This contract ending up in Spain is one of the main reasons that Crown Estate Scotland (CES), once it had the devolved powers it needed, brought in the requirement for Supply Chain Development Statements with respect to all offshore wind projects.
The aim is "to provide an additional and complementary measure in support of the development of offshore wind supply chain capability". Admittedly, it's early days and the CES is still consulting on it, but I don't understand how fining a company for not achieving an agreed number of "local" jobs during a project is going to achieve much. Most of the major overseas energy companies will be happy to pay up to avoid the hassle of trying to achieve those targets and it'll be priced into the project.
I see no real evidence that Scotland is going to make meaningful inroads into the building of an offshore wind supply chain.
As far as hydrogen goes, the news that the Spanish energy company Iberdrola – ScottishPower as it's known here – is building a large-scale hydrogen production plant at its Whitelee wind farm south of Glasgow should have people wondering what's going on in this critical sector, too, because Iberdrola will use an electrolyser manufactured in England. As I said a couple of months ago, Yorkshire with two electrolyser manufacturers, is now the new Aberdeen.
With no Scottish electrolyser manufacturer, Wood has moved to set up a framework agreement with the Norwegian electrolyser manufacturer NEL.
It's disappointing that a Scottish consulting and engineering company the size of Wood must go overseas to find an electrolyser manufacturing partner.
US firm Hydrogen Technologies has reported that its hydrogen boiler design has been included in a UK Government feasibility study and will be demonstrated at the Bruichladdich Distillery on Islay as part of a programme for decarbonising whisky production.
That Scotland hasn't been able to produce such a solution for its most iconic industry makes me furious and if I could include a Twitter like emoji here it would be one of me raging at the lack of effort going into this sort of development.
In the same vein, and once again in Norway, I notice the emergence of a company called Bergen Carbon Solutions that's producing carbon nanofiber from carbon dioxide. Utilising captured CO2 is again something that's been long discussed in Scotland. It makes producing hydrogen from natural gas considerably more viable than it would be just "sequestering" the CO2 produced.
Where's the work on this sort of technology going on in Scotland?  Certainly not in our universities.
Some companies are doing well. Nova Innovation's tidal turbine business is growing fast but would appear to be finding more support outside Scotland, notably from Canada.
The chair of the Scottish Government's "Just Transition Commission" wrote a letter to Scottish ministers at the time of the collapse of BiFab expressing the commission's concerns at the failure to develop a renewables supply chain.
He said "We are in no doubt of the significant opportunity we have here in Scotland to build and grow our net zero economy. However, without concrete action and investment we risk repeating the situation we find ourselves in currently, with jobs and economic prosperity lost abroad."
There's an election looming and this topic figures in the campaign.  One party wants to kill off the OGTC because they see it as supporting the oil and gas industry. It's tempting but I can't agree with that.
It does, however, need to be refocused wholly on renewables and to take over the role and energy budget of Scottish Enterprise, which has proven itself to be not just inept at developing a renewables supply chain, but appears to be ideologically opposed to a manufacturing sector insisting that, for example, in the case of hydrogen electrolysers, we should be attracting an OEM to set up here, not doing it ourselves.
This ideological stance of inward investment or nothing is no longer acceptable and neither the country nor the industry should tolerate it. Manufacturing is where most long-term high value jobs are in renewables.  This is something the Norwegian consultancy Rystad Energy pointed out in a major study on offshore wind published in February in which it found that by 2030, turbine manufacturing will be creating most of the jobs, accounting for 54% of the total. Of course, we don't do this either.
If we don't get a grip of the situation very soon there will be no Just Transition.  In fact, I'm not sure that it's possible now without some radical surgery and hard-nosed action. The prize is still there but we need the right people and organisations to grasp it. There's a couple of hundred thousand people we mustn't let down.
Dick Winchester is a member of the Scottish Government's oil and gas and energy transition strategic leadership group