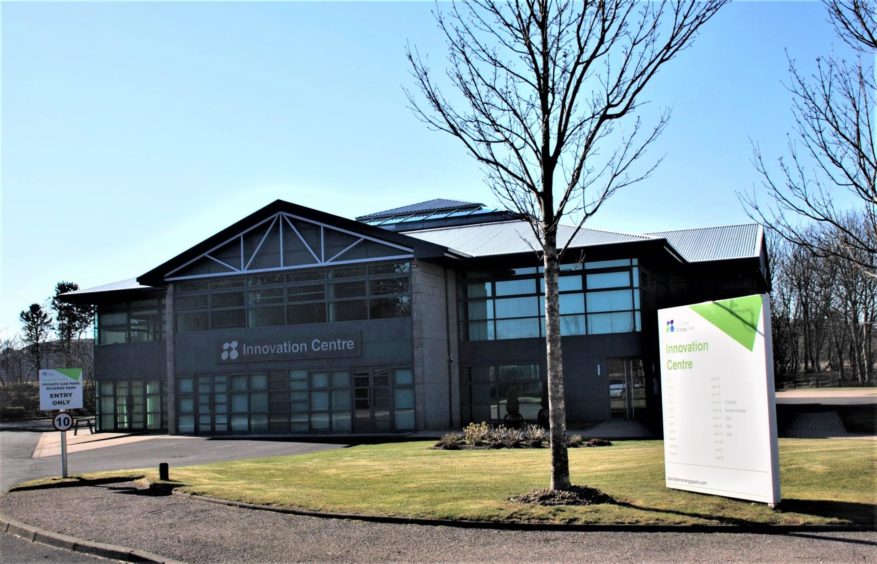 A few days ago I happened to wander down the road to Aberdeen Energy Park and then popped into the Core business park development for good measure.
I was chauffeuring the youngest member of my family who is currently wrapping up a portfolio of offbeat business, industry, civic and architecture images for a Higher in photography. I had suggested this might be a good location to sample.
It paid off for him, but the wander around left me dismayed – shocked, even, at the semi-deserted state of what started out as a flagship enterprise for Aberdeen, Scotland and even the UK.
It even features giant, studded concrete blocks that would stop tanks in their tracks.
Take the Innovation Centre for example. This was designed and built as an incubator for wee companies hopefully going places. It is all but deserted with only three companies listed on the occupancy board outside.
Or consider the Energy Development Centre. Two blocks, six units in each and five out of the 12 units occupied by, as I recall, three companies only.
And then there are the multiple plots that were never developed and have lain empty for 30, yes 30, years.
The less said about the derelict hotel by the former Aberdeen Exhibition and Conference Centre the better.
This was to be a campus-style business park like no other in Britain; a modestly scaled hotbed of research, development, techno-manufacturing and training for the North Sea, but with international ambitions too.
It was the kind of project where everyone knew that not everything was going to work out; such as the original International Drilling and Downhole Technology Centre quickly failing and having to be rescued.
But bit-by-bit it grew; probably helped by the presence of the now partially demolished AECC and the now-fully demolished former UK headquarters of Occidental Petroleum, later Elf/Total and GE.
However, it always seemed to be a painful process. Somehow it failed to become the magnet that Scottish Enterprise, Aberdeen City Council and others had hoped for.
Of course, three major oil price collapses — 1997-99; mid-2014 through 2017; 2020 to present day — plus Covid have, of course, taken their toll.
And other business parks have sprung up around Aberdeen, notably on the south side, Westhill and next the airport. This has not helped the situation at Bridge of Don.
Then there's the not insignificant elephant right next door, namely the Core business park.
The place is almost deserted. The Core is almost all open fields, but with a small cluster of offices.
In my opinion, it's a mess, and potentially compounding that mess is yet another business park proposal by Opportunity North East, namely the Energy Transition Zone, to be located close to Aberdeen's in-build outer port.
But hang on a moment. Perhaps this is something that might actually really work. A seriously up-to-date energy business and engineering park right by the port.
That should work, shouldn't it?
Perhaps. But only if the facilities genuinely mirror what has been created in various ports around the North Sea's perimeter, such as Esbjerg and Great Yarmouth, and that there is genuinely enough offshore renewables activity within reach to justify the investment. Half-cock and it will fail.
Otherwise forget it and focus the effort on halting the rot, consolidating and reinventing Aberdeen Energy Park and, for that matter, other parks such as at Balgownie.
All new business park proposals should be canned unless for urban infill projects; and the Core stopped in its tracks, reviewed and turned into a transition project with a real difference.
Rewild the place. Turn it into a real asset for the people of Aberdeen for many generations to come. A real prize.
Recommended for you

Kaseum Technology grows Aberdeen Energy Park footprint by 30%