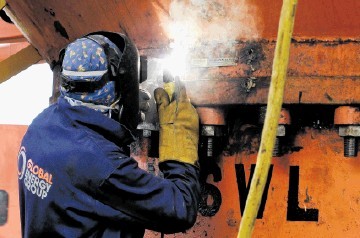 There has been a lot of good news from the North Sea oil and gas industry over the last few weeks, notably the announcement of over £5billion investments in the Mariner and Western Isles oilfields.
There is undoubtedly an ongoing boom on the UKCS, although oil and gas production continue to decline at alarming rates.
There are various reasons for the boom, including tax concessions made by the UK Treasury following their disastrous and ill-conceived Budget in 2011, which resulted in the postponement of various development projects.
Mariner, operated by Statoil, is a very complex heavy oil field which was discovered many years ago. Statoil has gained experience of similar fields, notably Grane in the Norwegian sector, plus offshore Brazil, and is now confident of developing it successfully, with an estimated investment of £4.2billion.
The announcement was warmly welcomed. The development will create about 700 long-term jobs, including 500 offshore and 200 onshore in new Statoil offices in Aberdeen.
However, it seems likely that only a small proportion of the £4.2billion capital investment will be spent in Scotland or elsewhere in the UK. That is also likely to be the case with the £1billion to be spent by Dana and partners on developing the Western Isles fields.
Statoil awarded the contract for the Mariner jacket to Dragados Offshore of Spain and the topsides contract to Daewoo Shipbuilding of South Korea. The Western Isles fields will use a FPSO which will be built in China.
So next to nothing for us and that's scandalous.
Dennis Clark, the chairman of Offshore Group Newcastle (OGN), recently claimed that in the last two years only 7% of fabrication contracts for UKCS projects had gone to UK yards, with the rest going overseas. He stated that amounted to about 10,000 jobs lost to the UK.
I have written about this issue before but it is still very relevant, as the Mariner example demonstrates.
In its heyday, the oil fabrication industry in Scotland employed up to 15,000 people. We had steel yards at Ardersier, Arnish, Clydebank, Methil and Nigg, and concrete yards at Ardyne Point, Hunterston and Kishorn. Most of those yards closed down years ago.
The existing fabrication capacity is about 10% of what it was at peak. That is obviously the main reason why so many recent orders have gone overseas. However, there has been sufficient work to keep a few more yards busy if they were competitive.
Burntisland Fabrications (BiFab), which has expanded on to the Fife Energy Park at Methil, seems to have been the only Scottish yard bidding for work and then usually just for the smaller modules.
Global Energy, which took over the Nigg yard last year, will hopefully become a strong bidder now though it has stated that its interest lies in a steady stream of smaller pieces of work rather than the mega-structures of Nigg's past.
BiFab has successfully diversified into the wind energy and other renewables markets. The Scottish Government has high hopes for these activities and believes that they will create "tens of thousands of highly-skilled and sustainable jobs."
I remain sceptical about that, mainly because of the recent experience with the oil and gas industry.
If Scottish-based companies are either unable or unwilling to bid for UKCS fabrication contracts, why should they have a very different attitude to offshore wind and marine energy projects?
Over the past year, there have been various announcements by turbine makers such as Areva of Germany, Gamesa of Spain, and Mitsubishi and Samsung of Japan, of plans to establish manufacturing facilities in Scotland. However, none has yet gone ahead. Vestas, one of the leading wind energy companies, pulled out of Scotland a few years ago.
And why should we be reliant on foreign inward investment in any case? Why are Scottish and UK engineering firms not more active in these markets?
Dennis Clark of OGN believes that we should have a local preference or local content policy, as Norway and many other companies have. We used to have that when the Offshore Supplies Office existed.
The usual response is that such a policy is incompatible with EU procurement legislation. However, the French and many other EU countries seem to find ways around those rules. So why can't the UK?
More worryingly, the fabrication industry appears to have become less competitive, in marked contrast to other parts of the oil and gas industry. Many businesses in the Aberdeen area have won overseas contracts recently.
Why on earth can't the fabricators win more work in their home market?
It is all so very, very disappointing
Tony Mackay is the MD of energy economists Mackay Consultants