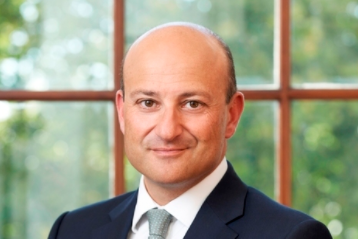 As we prepare to host the United Nations' flagship COP26 conference in November, the United Kingdom has a chance to chart a path to a more sustainable future, Building Back Greener from COVID-19 by creating new green jobs. Not only is this job creation central to delivering a sustainable recovery from the pandemic, but a cornerstone of the ambition to 'level up' the country as we move forward.
The UK sparked the industrial revolution and is now leading the green revolution. Across Edinburgh's industrial heartlands, there are many highly skilled workers already in the oil and gas industry who have crucial, transferrable skills and technologies across the wider energy sector – whether geologists, project managers, engineers or fabricators. There now exists a huge opportunity for businesses in Scotland to leverage these skills, grow their sustainable presence on the world stage and create more sustainable jobs as they go.
One such business is FoundOcean, a specialist construction company based in Livingston, which has won a contract to provide the foundations for a 100-turbine offshore wind farm in Taiwan after receiving financial support from the government's export credit agency, UK Export Finance (UKEF), creating 30 new jobs.
FoundOcean provides the foundation grouting to enable wind turbines to be secured on the seabed, creating an offshore wind farm capable of producing over 1GW of power – equivalent to 20% of the level the UK already produces from offshore wind.
The company now has clients spanning the globe in South East Asia, Gulf of Mexico and in the Netherlands, as it anticipates that over half of its contracts will be abroad this year. In fact, 80% of FoundOcean's business now comes from renewable energy projects, after the firm restructured away from oil and gas. It is just one example of the potential for business growth – and jobs – that can be achieved by taking advantage of green export opportunities.
Renewables now account for roughly a third of global energy capacity, and this will grow.  Research also shows that businesses that export are more productive, more profitable, and more innovative than their non-exporting peers – paving the way for further job creation.  Companies that can do what FoundOcean has done – exporting into the many green opportunities abroad – stand to prosper from doing so.
UKEF exists to ensure that no viable export opportunity fails for a lack of finance from the private market, providing the support to help exporters win, fulfil and get paid for export contracts. It has specialists based in Scotland and all over the UK, as well as abroad, to help businesses take advantage of the transition.
The road to a greener future will be a long one, and combined with the recovery from the pandemic, there will be huge opportunities for the UK supply chain. There's clearly a win-win: Scottish businesses can contribute to the global sustainability effort, grow their own business – and open significant employment opportunities at the same time. UKEF is here to ensure that happens.
Recommended for you

Scotland to set up independent 'green ports' after row over UK freeports