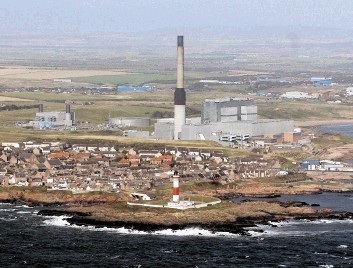 Britain has an energy crisis; make no mistake.
For us to have come within just three days stock of reserve gas is unforgivable and this mess has got to be sorted out.
We have been here before, with pledges made to do something better than the current maximum provision of about 14/15 days stored in the depleted Rough field.
This is pitiful when set against the 100-day buffers that France and Germany keep. Even tiny Israel has clocked the strategic value of this.
First gas deliveries from Tamar, Israel's pioneering deepwater offshore gas development have just started. And some of that is tagged for storage eventually.
I was in Tel Aviv last month as a guest of the British embassy and leaders of the Israeli oil and gas industry. Indeed, I was a member of the first UK oil and gas delegation to visit Israel. Their objective was to open the door to the massive pool of expertise resident in Britain.
Our hosts told us of their determination to assure Israel's energy self-sufficiency, including creating a 100-days or so gas storage facility. I'll set aside the tensions that exist over that plan, not least because the Tamar project is operated by the US independent Noble, which is keen to monetise as much of Tamar as it possibly can by exporting LNG.
Tamar reserves are put at 10trillion cu.ft. On its own, this field would be capable of satisfying UK gas demand for several years. It represents decades of gas self-sufficiency for Israel.
And Tamar is just the start of Israel's energy fortunes. Close behind is 18TCF Leviathan plus others.
By sharp contrast, the UK's domestic gas production peaked in 1999-2000 at which point we were self-sufficient in gas, plus there were volumes to sell to neighbours.
A few years later . . . indeed by 2004 . . . the short-lived boom was over; we started to import in order to bridge unstoppable shortfalls.
Today, domestic reserves barely cover half of our needs and so we have to import growing volumes, especially piped in from Norway, plus LNG cargoes.
In a nutshell, politicians, oil and gas industry, plus the utilities, have failed in their collective duty to ensure that we are protected against significant events such as the current bitter winter and spring.
Bizarrely, now, it looks as if we are to host imports of LNG derived from shale gas production in the US. Centrica has struck a 20-year deal with Cheniere Energy Partners that may see it eventually export enough US LNG to supply 1.8million British homes annually.
Centrica is also in talks with the Government over its plans to develop a new gas storage facility. However, that has been on hold since 2011 because the company says it is not economic to build in current market conditions without some kind of financial incentive.
Two things immediately strike me about Centrica's position.
One, it could be laughing all the way to the bank with regard to the deal just struck with Cheniere as US shale gas is currently dirt cheap, so much so that it is hitting further development and exploration.
But will the company share its good fortune with us, the poor punters who feel increasingly ripped off by the utilities? After all, by importing cheap LNG from the US, Centrica may avoid expensive conventionally-produced natural gas from elsewhere. I doubt any benefits will be passed on.
The other thing that strikes me is that Centrica expects government to chuck some money in the pot to help build the badly-needed additional capacity and then a further hand-out to cover filling it up, bearing in mind that this and any companies that might get involved would prefer to sell what is produced domestically or imported. And so you can't blame the companies for looking to government for a meaningful contribution.
Meanwhile, Kingsnorth, Cockenzie and Didcot's coal-fired power stations are history and Scottish & Southern Energy has reduced output from gas-fired Peterhead to 25% of normal as a protest against the crazy transmission charging scheme that threatens to wreck many renewables projects in remote areas, and especially in Scotland.
As for nuclear, it never has been and never will be economically viable, not if anyone is being honest about the sinister waste mountain that costs billions of pounds every year to sit and become ever more dangerous to handle as containment vessels and storage drums gradually decay.
Meantime, the renewables revolution is making slow progress.
So dear readers, as I write this, here we all are, looking forward (not) to a potentially white Easter while Britain's buffer store of gas is running on all but empty and probably has been for longer than the Cameron-Clegg Administration would care to admit. That is scandalous.
Meanwhile, I'm so glad I have a decent log-burning hearth at home, if only for a bit of cheery respite at weekends during these oh so dreary times when almost everything in Britain seems to be going to ratchet.
Recommended for you

Chris Cox and Curium Resources going after North Sea's untapped discoveries