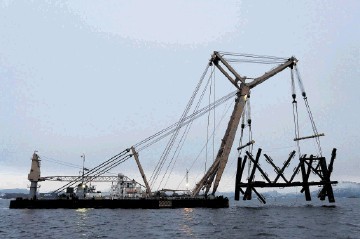 As a consequence of low oil prices together with decommissioning rebate payments and foregone taxes, Energy Voice recently reported on falling UK Oil and Gas Government revenues.
To minimise the impact of decommissioning activities on the Treasury, the OGA are driving decommissioning cost reductions. This is to be welcomed by the UK taxpayer. However, as covered by Energy Voice, cost reductions seem to be running out of steam.
In my experience, when experienced minds are put on a topic such as decommissioning costs, the trend is for initial good progress followed by reducing gains as the number and impact of the opportunities reduce with time. Hence the OGA experience is not unexpected.
Setting aside reducing rates, there are two general ways to reduce cost;
Optimise the work flow
Eliminate scope
The industry has been focussing on optimising work flow, but what about scope elimination? One obvious scope cost saving would be to leave inert offshore architecture in place and re-purpose it as a benefit to the marine environment. Thereby saving the cost of removal and onshore dismantling and recycling.
Re-purposing as a marine benefit is practised in the US by their rigs to reefs programme. In the Gulf of Mexico Rigs to Reefs has turned 500 plus oil and gas platforms into artificial reefs. After several years in the water, each structure becomes covered by organisms such as oysters, mussels, barnacles, sponges and corals. These create an increasingly complex surface that provides multiple sites for other sea life such as crabs, worms and sea urchins to use. These animals then provide food for larger fishes and the structure becomes a true reef ecosystem.
Closer to home, the Scottish Wildlife Trust is also proposing that architecture removal may not be the best environmental option. Similar to the Gulf of Mexico, structures off the coast of Scotland provide hard surfaces that are colonised by multiple marine creatures. They have also become breeding grounds and shelter for commercially important fish and they attract predatory marine mammals.
Offshore architecture removal destroys thriving marine ecosystems that have built up over decades. It also results in increased harmful air emissions, including greenhouse gas emissions, from the marine traffic required to conduct the removal works.
Furthermore, decommissioning offers few social or economic benefits. It poses an increased risk to worker safety. It creates few jobs, particularly for the onshore dismantling and recycling parts of the process. For example, removing the Buchan floating production facility provided just 35 jobs. And at the end of the process, nothing is left. Decommissioning is a drain on taxpayer funds with very little beneficial societal and economic legacy.
Despite the lack of benefits, the UK continues to remove offshore architecture at the rate of around 70,000 tonnes to 100,000 tonnes a year. The reason for this is that marine law says we have to.
The international OSPAR convention's Decision on the Disposal of Disused Offshore Installations prohibits signatory countries (including the UK) from leaving offshore architecture in the sea, either wholly or in part. It mandates that all topsides installations are returned to shore and that subsea structures weighing less than 10,000 tonnes are completely removed. Due to the difficulty associated with removing larger structures, some can have their bases left in place. Concrete sub-structures and damaged installations are also a special case.
Since the public purse has so much to gain from leaving man-made structures in the sea as a benefit to marine ecosystems, the UK government should base its case for removal on economic, societal and environmental evidence. If the evidence can't support removal then the UK should challenge the fitness of current international marine legislation.
As a result of the Scottish Affairs Committee into the future of oil and gas, BEIS/OPRED took on an action – "We are also planning an open dialogue with stakeholders, including other government departments, NGOs, academia and nature conservationists to gather views and evidence around proposals for rigs to reef (re-using offshore oil and gas infrastructure to create artificial reefs that minimise harm to the environment). A project is being set up to review the current evidence on the environmental advantages and disadvantages of the rigs to reef concept, establishing a common evidence base. The project is expected to take six to nine months, at which point OPRED will present the recommendations from the project team."
That report is eagerly awaited – it was due over a year ago. The project findings could provide the evidence for an OSPAR re-negotiation.
Finally, a frequent counterargument is that if the industry left offshore architecture in place it would end up with a public furore similar to the one that forced Shell to abandon its plans to dispose of the Brent Spar tanker loading buoy at sea in the 1990s. But if we used the savings from leaving offshore installations in place to support climate management investment, I believe environmental groups and the broader public would see things very differently.