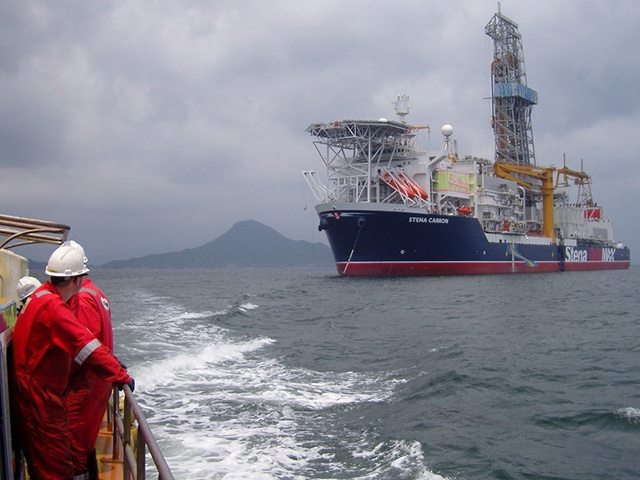 Last month, one of the biggest stories for the UK North Sea was botched.
On April 15, Hyundai Heavy Industries (HHI) of South Korea said it had won the $1.9billion contract to build an FPSO (floating production storage and offloading vessel) for Chevron's Rosebank development West of Shetland.
The 99,750-tonne beast is scheduled to be handed over by the end of November 2016, ready to process 100,000 barrels of oil and more than 190million cu.ft of natural gas per day.
It will be capable of storing more than 1million barrels of oil, which will be shuttled to market in the same way as tankers handle export from BP's Foinaven and Schiehallion fields, also West of Shetland.
Of course it hacks me off that, yet again, an East Asian yard gets to build what, frankly, should be built in Europe. Except, of course, the economic assumptions are so skewed that we dumbly accept what has become the status quo over the past 20 years.
Odd really, given that Europe commands the world cruise ship construction market, yet oil majors are content to stuff the pockets of Asia-Pac yards like there is no tomorrow.
Aside from local content, there's something else that really angers me about the Rosebank FPSO order and it is Chevron's handling of the public persona of this hugely important UK oilfield development.
There was no announcement in Aberdeen and there should have been. The Press and Journal should have been advised. We were ignored.
I can recall not so distant times when Chevron was a communicative corporation; or at least we had a relationship that worked, even to personally knowing Peter Robertson who retired from the role of vice chairman in 2009 and who was so very, very courteous and made time. He was a son of Scotland and hugely proud of it too.
Under the current UK leadership, Chevron has become a colourless, faceless entity; a thing devoid of personality. What makes it worse is that the current leadership is neither interested in nor appears to understand the critical need to communicate externally of which, dear Chevron, the media are a key public whether you like it or not.
The pitiful comms regarding Rosebank sums up so much of what has in my view gone wrong with Chevron in Aberdeen in recent times.
This has always been a project surrounded by immense secrecy, which is a pity. That cannot be justified. It has, of course, attracted the attention of an NGO or two . . . committed people expressing their legitimate concern for the environment . . . and that tends to make big corporations clam up.
To my knowledge, Chevron has never run a comprehensive briefing about Rosebank, even with the trade media. Step back to the Captain field development (heritage Texaco) and Alba (heritage Chevron) and the situation was very different.
So, if the corporation can't even engage at that, the informed media level, then how effective are its communications with the supply chain upon which the long-term success of a major development such as Rosebank is so dependent?
The award of the FPSO contract mid-April should have been used as the linchpin for a major announcement in Europe's Energy Capital about Rosebank.
It should have covered the contracts that have been issued thus far and are soon to be awarded, the jobs that are being created/sustained (even if they are mostly foreign), and so-on and so-on. And by the way, a reserves estimate would be good too.
Y'know, it's the sort of thing that BP in fact does so well these days. Just think in terms of Clair Ridge, Quad 204 and the most recent announcement regarding further exploration of the Clair area. Moreover, North Sea boss Trevor Garlick (with clearly good advisors) has accomplished this really rather well.
That said, I have experienced BP during arrogant to disastrous periods, particularly the Browne and Hayward eras and of course Macondo happened on the latter's watch. But there has been a lot of learning going on since, if my local experience of the company is anything to go by.
Good comms between the UK offshore industry and the wider British public are more critical than ever before. This is an industry that Energy readers know better than most, is hungry for talent but is struggling to secure that talent.
Young people have a jaundiced view. They don't trust Big Oil and are even starting to struggle with Big Renewables.
The North Sea has a certain reputation that some of its leadership are desperate to shake off. This troubles and exercises Oil & Gas UK's CEO, Malcolm Webb, that I know.
Chevron bosses know the score. They are in charge of one of the biggest North Sea stories in town. Rosebank should be a success. They need it to be.
Something else that Chevron's current leadership should remember too; the hydrocarbons prize at Rosebank is a UK sovereign asset, Chevron merely holds a licence to extract said prize and should never abuse the trust that is implicit.
So Chevron, cut the secrecy, tell the story and tell it well!
And by the way, Statoil and DONG, as partners in Rosebank, you should be pushing the communications agenda a lot better than you are.