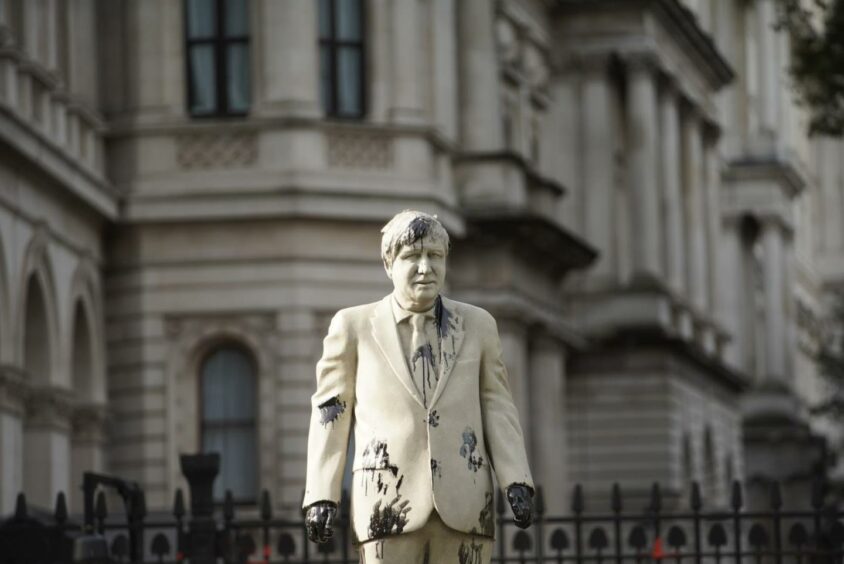 I've just received a round-robin email from Greenpeace calling on Brits to tweet Boris and kill off North Sea oil & gas right now.
I replied: "No, I will not."
I mostly ignore NGO propaganda but this email got my goat.
Greenpeace said in the message: "Across the world and here in the UK, our dependence on fossil fuels is causing havoc – deadly floods and heat waves; rising gas prices, queues at petrol pumps, offshore workers in and out of precarious work. We need to get off fossil fuels and transition to renewable energy."
The NGO is reasonably right in that regard, but renewable energy will not provide all the solutions and it can cause massive problems every bit as bad as pariah oil & gas.
Greenpeace continued: "Boris Johnson says he backs 16 North Sea oil & gas projects going ahead, including Cambo (West of Shetland). They could be approved at any moment. It's time for our over-reliance on fossil fuels to end."
Now that's interesting. By using the expression "over-reliance", is Greenpeace tacitly admitting that, 'Well, we actually do need oil & gas, but don't tell anyone, just don't use it too much? Oh, and PPS, we run a fleet of four gas guzzling ships.'
One of my replies to the NGO's email and punted out on Facebook earlier runs as follows.
"Greenpeace people, if you pay attention to the huge amount of effort now being made by UK North Sea Big Oil, you might actually give the industry a little credit.
"An increasingly systematic wind-down has started and will accelerate. But projects like Cambo are needed to help prevent the UK being held to ransom by others over energy supplies while green power generation capacity builds and oil-based products substitution solutions become realistically and credibly available at scale."
WATCH: Today Greenpeace activists shut down @10DowningStreet and people across the UK sent @BorisJohnson a clear message – #BorisStopCambo!

It's time for our over-reliance on fossil fuels to end and Boris to back a just transition to renewable energy.#NoNewOil #JustTransition pic.twitter.com/cDAJit3dDE

— Greenpeace UK (@GreenpeaceUK) October 11, 2021
Greenpeace repeated its call to tweet Boris and for me and others to tell him to kill Cambo and to focus instead on delivering a just transition to renewable energy that will be good for consumers, workers and the climate.
And so I repeated my peremptory "No!", pointing out that the transition is real and happening.
"That is precisely what is going on in the North Sea!" I said. "However, it has to be systematic and the process is accelerating. But to kill the oil & gas industry stone dead now will plunge the UK into an even deeper crisis than it is already in due to gas shortages."
Greenpeace continued: "Every tweet will pile the pressure on the Prime Minister and force him to make the right decision for humanity."
And my view on that? Well, it might but there again it might not.
I told the NGO that the accelerating decline/wind-down of the North Sea is in reality an exemplar for other oil & gas provinces to follow. And most are woefully behind the North Sea as a whole.
I challenged it to analyse the easily enough found current and planned, substantial list of oil & gas mega-projects (over 1 billion barrels oil equivalent) around the globe.
It should then identify the players and call to account each of the super-majors and all significant national oil companies, though the latter category may be a tall order. Pity as they control most of the world's oil & gas resources.
I said on FB: "What the super-majors for example are up to around the globe makes the North Sea seem like a small sideshow in the grand scheme of things.
I said too: "Make no mistake, we have to draw the Age of Hydrocarbon Man to a rapid close, but never forget that so-called green energy is too often not what it seems."
The conversion some years ago of the UK's Drax power station from coal to incinerating millions of trees is an "in the headlines" example."
Finally I warned Greenpeace: "The current call-to-arms approach by NGOs is being poorly planned and needs to be far more strategic than it has been, though at least they had woken up about Drax and are taking action."
Recommended for you

Decommissioning: a staggeringly difficult global challenge