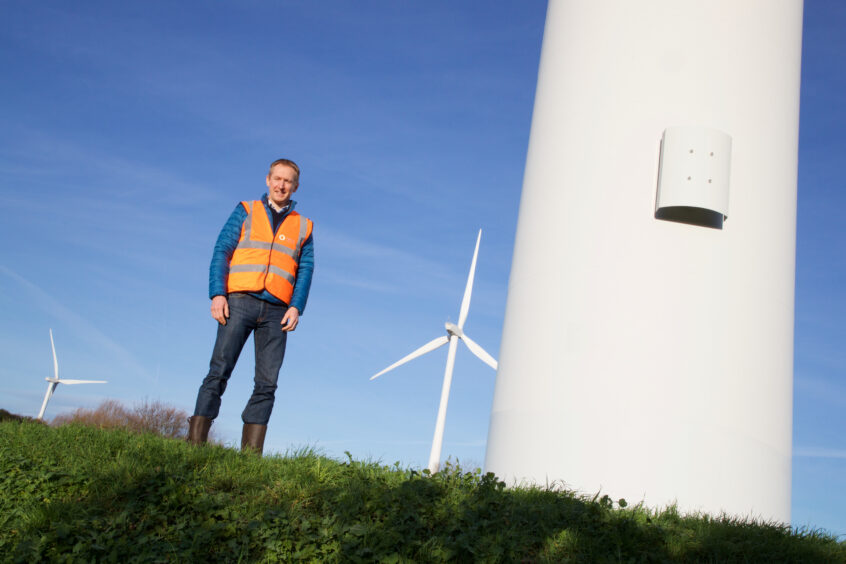 Last week, Prime Minister Boris Johnson published the UK's net zero strategy – a mighty 368-page document that attempted to outline how the country will move forward and achieve ambitious emissions targets, including the decarbonisation of our electricity system by 2035.
While it is a huge step forward in terms of ambition overall, for me it missed an opportunity to set clear targets for onshore renewables and green hydrogen development.
Just in time for the biggest climate change summit of the year – COP26 – we now need to see real urgency and tangible action from the government.
As I'm sure most people will attest, there seems to be a sense of urgency from the public around this year's conference thanks to surging awareness, with more and more people demanding change from their world leaders.
The scaling up of renewables is of course playing a huge part in that narrative, but we've been disappointed by the lack of weight and clarity given by the government to onshore technologies – especially onshore wind.
Lacking adequate detail
While we were already aware of plans to stop new petrol and diesel vehicle sales by 2035, the new strategy also outlined that by 2035 all cars must be fully zero emissions capable.
A further £620 million has been earmarked for zero emission vehicle grants and charging infrastructure, while another key policy includes replacing gas boilers with heat pumps.
What has this got to do with onshore wind? These plans will see a 'four-fold' increase in the demand for electricity but, if we're also going to realise an entirely clean grid by 2035, this additional capacity will need to come from clean technologies.
Renewable sources such as wind, solar and hydro look set to do a lot of the heavy lifting, with the strategy confirming an aim of "40GW of offshore wind power by 2030" as well as "more onshore, solar, and renewables".
The problem here is that – while we have a target for offshore – there are no concrete targets for onshore and we will need to maximise all of these technologies if we're going to meet net zero in time.
RenewableUK has just launched its Onshore Wind Industry Prospectus, which calls on the government to show greater support towards onshore technologies, adding that we need to double capacity to 30GW by 2030.
Onshore essential
As one of the cheapest forms of new electricity generation, we have long called on the government to recognise the vital role onshore has to play in net zero. Aside from its obvious role in reducing carbon emissions, onshore wind offers vast economic and environmental opportunities.
According to the RenewableUK report, increasing onshore capacity could reduce consumer bills by £16.3 billion over the course of a decade and generate £45 billion in economic activity. This includes the creation of 27,000 full-time jobs in a burgeoning onshore wind industry in the UK, including the supply chain.
Public support of onshore wind also remains high. New polling conducted by Survation revealing that 72% want the government to set a long-term target for onshore wind ahead of COP next month. Despite this, however, we're still facing significant challenges when it comes to building new onshore capacity.
One such hurdle for developers is the planning process, with new onshore wind applications in England having to demonstrate that the project is sited within an area designated for wind development by the local authority and stated as such in their local plan. Some local plans have a life span of 30 years – meaning they won't be updated for a long time. Many parts of the country will be unable to unlock their onshore potential.
While new projects are important, something we're really passionate about at Thrive is repowering and life extension – making the best use of the infrastructure already in place. We need the government to make it easier for onshore wind farms – which usually have a lifespan of around 20 years – to repower and replace old machines with newer, more efficient models.
By 2040, it is estimated that over 8 GW of our existing onshore wind capacity – enough to power more than 5 million homes – will be past its expected lifespan.
With current planning restrictions and the government also pushing for local communities to have a more effective voice on local development, repowering is a truly viable option, allowing us to maximise output with fewer turbines. This was undertaken at our Caton Moor wind farm, replacing 10 older turbines with eight more modern machines. The result? We were able to increase generation seven-fold to 47,000 MWh per annum.
COP26 and beyond
While its net zero strategy contained a lack of ambition around onshore technologies, we are hoping that the government will confirm its support of onshore wind during and following COP, putting substantial targets in place to ensure the capacity we need is built. We were pleased to see that the government will be reviewing the regularity of the CfD auctions and fully support this as it will provide more certainty around onshore development, but more can – and must – be done.
Taking a confident approach to onshore has the potential to solidify the UK's standing as a leader in decarbonisation and the journey to net zero, while also supporting other countries in realising their own onshore potential.
It's time that we start leading by example and setting tangible reference points for others also thinking about how they can accelerate their efforts.
Recommended for you

What are the biggest fights at the COP28 climate summit?