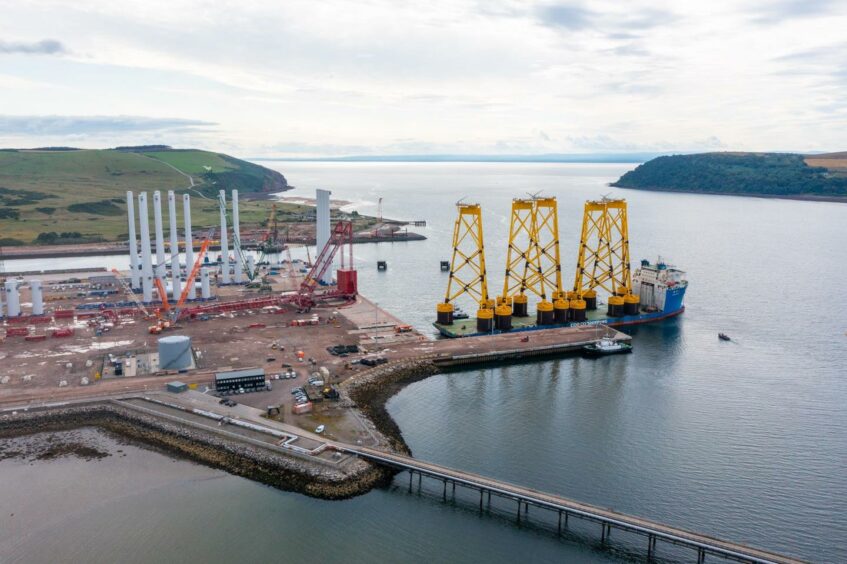 With the results of the first ScotWind offshore licensing round now imminent, it is perhaps worth having a wee cogitate about what the sustainable benefits or otherwise could accrue to Scotland.
After all, lots of promises have been made by various of the consortia bidding for a slice of the action, not least BP with its pledge to order four windfarm support ships from Scottish shipyards (Babcock in Fife and Ferguson on the Clyde) for the potential £10 billion, 2.9 GW project hatched with partner EnBW of Germany.
Or, Fred Olsen Renewables and Vattenfall, who are also bidding jointly. They have gone so far as to sign memoranda of understanding (MoUs) with two Orkney offshore service providers, namely Green Marine and Leask Marine, plus Orkney Harbour Authority.
For those of you less familiar with ScotWind, 74 bids for the 15 offshore licence packages have been received at Crown Estate Scotland (CES). The competition certainly appears hot for the up to 10GW wind-based generating potential offered.
Why such offerings by the consortia?
That CES should attempt to compel future potential development of large-scale offshore wind in Scottish waters in such an innovative way is to be applauded.
All bidders have had to demonstrate commitment to developing the Scottish-based low carbon energy supply chain, though quite how CES will enforce such commitments by successful bidders is currently little more than words on paper and has yet to be tested, which I'm sure it will be.
What it is not designed to do is force the issue on who really owns firms active in the currently rudimentary offshore supply chain. In other words the vexed issue of foreign ownership versus local.
One has to hope that the approach is more effective and sustained than the short-lived Offshore Supplies Office initiative set up by the British Government in the early days of North Sea oil. It had a reputation for applying strong-arm tactics on operators hoping to develop viable hydrocarbon finds.
But my belief is that, like the oil & gas supply chain, most of Big Wind UK will end up being foreign-owned if it isn't already, with profits being sent back home and most intellectual property under their control.
An example is the Windfloat floating wind turbine structure which would be deployed by Ocean Winds and Aker Offshore Wind working in consortium, should they secure one of the licences.
They say their vision is to "make Scotland a global leader in floating offshore wind". Well, maybe they will in physical deployment terms, but the technology is foreign-owned.
Windfloat is claimed to be "the world's most proven technology," of the floater variety. It was developed by US company Principle Power Inc, which is majority owned by Norway's Aker Offshore Wind and Spain's Ocean Winds.
This has always been my concern about Scotland's/UK's now rapidly expanding offshore wind industry … plenty of the 'look how brilliant we are' and 'world leader in offshore wind' bragging that has been going on for several years.
Who made the turbines, built the towers, transition pieces, substructures, cables, transformer platforms, ships and just about everything else for established and currently in-build UK offshore windfarms?
Well, the politicians and economic development bodies like Scottish Enterprise say zippo about this, but they mostly weren't British, let alone Scottish.
And yet there are still bits and pieces of good news that keep me hopeful that, one day, there might be a real breakthrough.
Perhaps that is finally starting to happen in a tentative way.
Would it not be fantastic if bp with EnBW came in as a ScotWind winner?
Not only would it signal that this super-major is serious about the energy transition, maybe it really will honour its pledge to make Aberdeen its global offshore wind HQ.
That would surely make Green Party MSP Patrick Harvie start to take North Sea Big Oil's commitments to low carbon energy seriously.
In October, I noted in a commentary that Ardersier Port Authority had signed a formal partnership deal with BW Ideol for manufacturing/assembling floating offshore wind facilities at the former production platform fabrication facility.
BW Ideol began trading early this year as a joint venture between Ideol and BW Offshore to supply floating foundations to the industry.
They really are putting their money where their mouth is. Transformation of the huge yard has since started. It will even incorporate a steelworks … the UK's first in 50 years.
The core objective is to make Ardersier Port the largest floating wind foundation fabrication, manufacturing and assembly facility in the UK. It should be ideally placed to capitalise on first round ScotWind contracts. Moreover, it will apparently become Europe's first circular energy transition site.
Another piece of news that really encourages me is that Global Energy Group on the Cromarty Firth is going into tower manufacturing. Not high-tech, but it's a start.
It was Global that assembled the first pair of offshore turbines ever to be installed offshore UK – two 5 MW Repower units in the then Talisman Energy-operated Beatrice field. That was in 2007.
As for Aberdeen, becoming the capital of offshore wind in  the UK is no longer possible, and it may struggle to achieve that even in Scotland. Not when Vattenfall is well established in Edinburgh with excellent offshore fabrication facilities not far away.
Its future really does lie in doing mostly what it does now for Big Oil … a pre-eminent service centre.
And 20 years ago I suggested that the city becomes a leading centre for the servicing and improvement of turbine power heads; much as it has done for offshore application gas turbines.
However, I am heartened that Wood plc is getting to grips with the Big Wind opportunities.
And perhaps it really will repeat and better the successes achieved by what used to the John Wood Group founded in 1982 by Sir Ian Wood to capitalise on Big Oil opportunities.
It stands to do well out of ScotWind projects, once they are awarded.