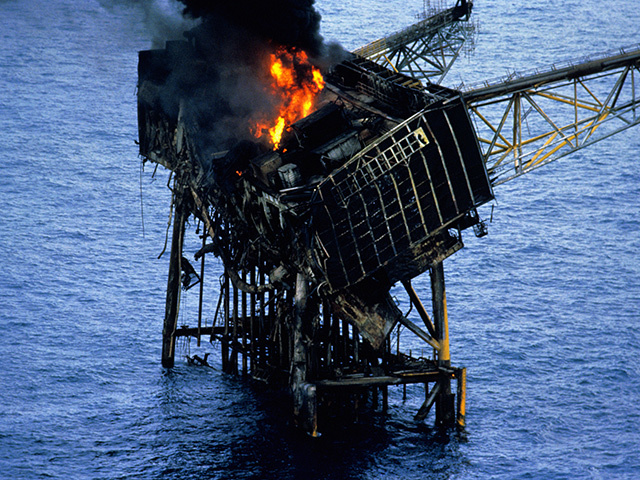 Twenty-five years ago in late June 1988 I was sent offshore to a semi-submersible working for Occidental in the Piper / Claymore field.
It was one of the first runs with the Andergauge Adjustable Stabilizer and it was on this job that I met a young American directional driller called Carl Busse.  He was thirty-one, too handsome for his own good and came from a small town north of Houston called Navasota.  Carl was relatively young to be a directional drilling supervisor but he had a quiet Texan charm and studious manner which made more experienced people around him stop and listen to what he had to say.  We hit it off right away, which was a good thing because we were destined to share a two man cabin for the next two weeks and I would definitely need Carl on my side when the new tool started to cause problems, as I knew it would.
He had an inquisitive mind and wanted to know all about the company, the tool and how it worked.  We had time on our hands because the job was delayed and spent three or four days together talking about our lives, our aspirations, how we'd been sucked into the industry as well as the pros and cons of spending half our life offshore.
When the job began he was in total control with a calmness that belied his young years.  I was thirty-four at the time and an experienced oil field manager but Carl commanded respect from everyone around him because he clearly knew what he was doing.  As I predicted, but had fortunately told Carl beforehand, the Andergauge tool did cause problems but he understood it was new, that it would have teething problems and so persevered long after many of his more experienced contemporaries would have lost all patience.
Several days before the end of the job Carl received a phone call from town.  One of the directional men on the nearby Piper Alpha had to leave the platform early because his wife was having a baby and Carl was asked if he would relieve him.  I asked if he would need the Andergauge tools on the Piper job and told him I'd been on the first ever well drilled back in 1976.  He said he would ask and if yes then we could go over together and then ship two new tools from town. I was quite excited about returning to the Piper because it was nearly ten years since I'd last been there.
Piper Alpha was a double derrick platform and the two rigs were called Rig 34 and Rig 35. Back in 1976 and as a twenty-two year old I'd gone out on the first ever directional kick-off and over the following two years had been out most months on either Rig 34 or Rig 35.  Piper back then was a hive of activity and Occidental pushed everyone very hard to get the wells drilled so they could produce oil as quickly as possible.
Safety as we know it today was non-existent and when you went to Piper you knew you would be up and working for a minimum of 50 hours, if you were lucky.  My longest stint on Piper without sleep was 76 hours and it was on the pipe deck of Rig 34 that I had my first ever cigarette to try and keep awake.
Twice whilst working on Piper Alpha I was nearly killed.  Once when the wireline cable snapped and was half an inch away from decapitating me and then again when one winter's night we had to climb high into the as yet operational Rig 35 and disconnect some hydraulic hoses because the one's on Rig 34 had ruptured.  It was pitch black, the wind and sleet were horizontal and we had no safety harness.  There was no rig floor below us and only a 150' drop to the foreboding North Sea below.  Halfway through the operation to disconnect the hoses I slipped and to this day I don't know why I didn't fall into the sea. I remember thinking at the time that it was a good job my mother had no idea what I did for a living.
As it turned out, they did not need the Andergauge tools on the Piper job and so Carl went to the Piper alone and I returned to Aberdeen. We exchanged telephone numbers and agreed to meet up in the Dutch Mill for a pint once he came onshore.
That was the last time I saw Carl Busse, his curly mop of black hair and a warm, engaging smile that literally did light up the room. On the night of July 6th he and 166 other souls lost their lives in the worst rig disaster of all time. I was lying in bed and listening to the radio when the news of the fire began to unfold. It was the kind of event, at least for Aberdonians and those in the oil industry, that's akin to JFK or John Lennon's assassination – you remember, even today, where you were and what you were doing when the news first broke.
And now, twenty-five years on, my memories of Carl and our final conversation are still crystal clear. There is also a feeling of "Sliding Doors' and what would have happened had they wanted the Andergauge tool and I had gone with Carl on that short, fateful helicopter ride to Piper Alpha?
But there is also something else. Anger. Carl and the others didn't die because someone on the rig made a mistake. No, they died because of a corporate policy of pushing everyone past the limit.  The culture at the time was to get the job done, no matter the cost or the rules bent.  Some of us older hands remember these as halcyon days, but they were anything but.
Anyone who works with machinery for three days and three nights without sleep is going to make mistakes.  I made mistakes, we all made mistakes because that was the culture of the time. Armand Hammer was born in 1898 and his contemporaries were JP Morgan, John Rockefeller and Andrew Carnegie – the wealthy industrial titans of 19th and early 20th century America. He came from a different time, a different era and, because of this, the people meant nothing except for the money they could generate for him and his investors.
Back in the seventies we flew to the rigs in jeans and anoraks, we had no survival suits.  We had no training, did not know what to do in the event of a fire or a ditching and even life boat drills were viewed by those at the top as a mundane necessity rather than something that might save lives.
I remember sitting on Piper Alpha one afternoon in the summer of 1977 and being asked to join the Sub Sea boys who were about to launch an unmanned sub to check the legs of the two year old platform.  Sitting in the small cabin on the pipe deck I was enthralled by the underwater camera as it slid down one of the huge steel legs; enthralled that is until I saw the huge gaping holes in the side of the leg.  Corrosion was the problem, and the sub driver told me all the legs were the same and their job was to inspect them to check the rate of corrosion.
The Cullen Report was too late for the one hundred and sixty seven who perished on July 6th 1988, but there is little doubt it has saved countless offshore lives since then.
I knew Carl Busse for two short weeks but he was the kind of person who comes into your life and makes an indelible impression.  I'm sure, had he come home from Piper, we would still be close friends to this day.  It's important for everyone in our industry that we remember the one hundred and sixty seven not just as the number of men who died on that horrific night but as individuals who touched the lives of so many others.
The industry has changed and changed for the better, but my abiding fear is the corporate culture at the top has not yet changed.  One only has to look at BP's Deepwater Horizon to see that while some lessons may have been learned, many others have not.
In memory of Carl Busse, one of the good guys…
Recommended for you
X

Aker lands Heidrun frame agreement