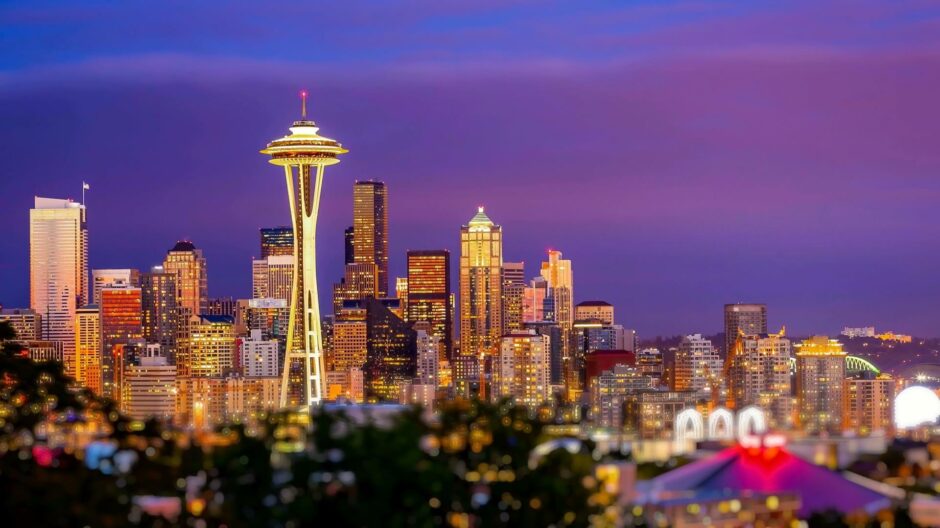 My eldest son is an aerospace engineer and lives and works in Seattle on the US West coast.  He's built a career in an industry which nowadays offers few opportunities in Scotland nor many in other parts of the UK.
Providing opportunities in mind stretching and stimulating industries is what N America is all about.  In Seattle in particular there is a plethora of genuine world leading companies.  Microsoft is there and so are Amazon, Starbucks and Boeing. Plus, there is the supercomputer company Cray and other computing related companies such as software development as well as others involved in pharmaceuticals and even a large shipbuilder.  In fact it has ten companies in the Fortune 500 and a great mix of high value advanced manufacturing and services many of which are energy and Net Zero related.
For example, just North of Seattle there's a company called MagniX that is developing and manufacturing motors for electric aircraft.  With a number of successful applications already it has recently received an order for 150 motors which will be installed in an all electric commuter aircraft being built by a company with the not very imaginative name of Eviation Inc which is also in Washington state. This particular aircraft is battery powered but it could equally be powered by hydrogen fuel cells.
South of Seattle at Bellingham the "All American Marine" company has just launched a 70ft hydrogen fuel cell powered ferry which is on its way to work in San Francisco bay.
Pop over the border into Canada and you get to Vancouver.  I know from the couple of times I've been there that it's a beautiful city but it's also got a company that's of historic importance to the North Sea oil and gas industry.  That company is called ISE (International Submarine Services) and they built the TROV (tethered remotely operated vehicle) which was one of the first ever ROVs (remotely operated vehicles) to enter into North Sea service and was used extensively for pipeline inspection work.
ISE are still building ROVs but now they also build AUVs and a number of military vehicles for mine-hunting and similar applications.
As far as it's possible to tell there isn't now a UK let alone Scottish owned commercial ROV or AUV manufacturer.  Yet, strangely we persist in insisting Aberdeen is the subsea industry's Mecca!
Canada is also the home to Ballard, the Western worlds largest fuel cell manufacturer. It's where Hydrogenics, a fuel cell and electrolyser manufacturer, is based. It was recently bought by Cummins the American engine and power generation manufacturer.
Also part of the growing Canadian net zero technologies sector is Carbon Engineering Ltd which has developed direct air capture technology for removing carbon dioxide from the atmosphere. They are the company that would provide a CO2 capture plant as part of the Acorn CCS project in Scotland.
Nuclear power still features heavily in both Canada and the USA and whilst not a fan of nuclear I have always found the idea of small molten salt reactors that recycle waste from existing nuclear power stations such as that being developed by Moltex Energy as being of real interest. Recycling nuclear waste is one way of making good use of something we're still unsure what to do with. Disappointingly, although Moltex is a UK company the UK Government chose not to support them, instead going for Rolls Royce, them whereas the Canadian Government has.
Back in the USA the Piasecki Aircraft Corporation is building the world's first hydrogen fuel cell powered helicopter.  They also have Plug Power a major fuel cell manufacturer on the East Coast and of course I shouldn't forget that behemoth of the wind turbine industry GE which is already turning over 10.4 billion USD!
On top of all these examples I could add a long list of R&D that their universities and national research centres are undertaking on Net Zero related topics.  The breadth of US research work in the energy sector is really quite staggering.
Returning to Seattle: at the last count they had fourteen electric vehicle start-ups ranging from bicycles, boats, electric hybrid aircraft and an automotive drive train builder.
Can we compare all this activity – and what I've described is only a fraction of what's going on over there – with what's happening here in Scotland?
No of course not. It's simply impossible because, as evidenced by the number and quality of "net zero" manufacturing companies they've already started, the business and investment cultures are like chalk and cheese.
The ambition, the "can do" attitude and the relative ease with which new technology is financed in N America is what is so different.  There's no chance over there of a government agency saying "sorry but we can't possibly build electrolysers or wind turbines we'll have to get someone else to come here and do it for us".  They'd make it happen.  We'll always find reasons not to.
Now you'll understand when I tell you my son has no intention of ever coming back home. Why would he.
Dick Winchester is a former subsea engineer and an adviser to the Scottish government on the energy transition.