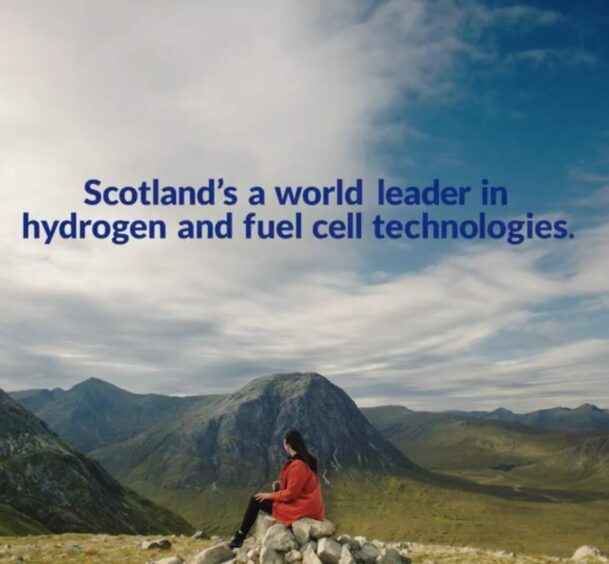 What brought that on? My anger with one of the latest "Scotland is now" claims. Issued by Scottish Development International as a Tweet it claims, and I quote: "From wind to wave and hydrogen to solar, Scotland is a global leader in renewable energy". The associated video itself then goes on to claim that "Scotland's a leader in hydrogen and fuel cell technologies". ­
Well, self-evidently that's complete nonsense. We don't manufacture wind turbines, there is no wave energy industry of note, we certainly don't produce any core hydrogen technology such as fuel cells or electrolysers and the only solar technology we can genuinely claim to manufacture is a solar hot water panel made by a company in Forres. Bizarrely, the only two sectors Scotland is making real progress in – tidal technology and heat storage – don't even get a mention.
From wind to wave and hydrogen to solar, Scotland is a global leader in renewable energy 💙💚

With the power of our innovation, resources and ambitions, find out how Scotland is a forerunner in the race to net zero 👇#ScotlandIsNow #RenewableEnergyhttps://t.co/iFEHFMSm3i

— Scottish Development International (@ScotDevInt) October 22, 2022
Making such claims seems to be a way of life in Scotland. Not long ago it was being claimed that we would become a major player in decommissioning oil and gas fields. Yet, just recently it was announced that the iconic floating production and storage vessel from the Foinaven field was being towed to the US owned Modern American Recycling Services Europe (M.A.R.S.) yard at Frederikshavn in Denmark. We have developed a capability to permanently decommission wells but that's a long way from where we were told we would be.
It's also being claimed that Scotland can become a global leader in floating wind but as far as I can tell those making real progress in that sector are the Norwegians, Swedes and Spanish. Swedish company SeaTwirl has done a deal with Westcon Yards in Norway to build and install 1MW prototype vertical axis design for testing at a former North Sea fish farm site in 2023. The Spanish company X1 Wind is leading a project to build a prototype of a very cost effective floating wind platform called "pivot buoy". The Norwegian company Wind Catcher system are building a prototype of their floating multi-turbine structure named the Windcatcher.
Let me now turn to hydrogen. The Scottish Government's energy secretary, Michael Matheson, has recently said that developing the country's hydrogen sector may be the "greatest industrial opportunity since oil and gas".
I agree. In fact I've agreed for a long time. I also think Mr Matheson genuinely believes it.
The problem is that in a pretty low key announcement – in fact so low key few media outlets noticed it – in the middle of Oct this year the Scottish Government published a report entitled "An assessment into the state of electrolyser manufacturing globally, to support an understanding of the supply chain opportunities in Scotland."
Putting aside the rhetoric on markets, opportunities and so on, its recommendations include 1) Attract OEMs (original equipment manufacturers) to locate in Scotland and 2) Encourage Scotland's academic and research base to increase its focus on hydrogen and electrolysers to attract industry that can take advantage of collaboration and to develop skills for the future.
What this tells us is pretty much what we knew, which is that as far as electrolysers (and of course fuel cells & storage technology) it isn't going to happen because just like all the other sectors I've discussed we're simply not prepared to act proactively, invest in it and make it happen.
You don't – for example – "encourage" Scotland's academic base to "increase their focus on hydrogen" but you put together a managed programme of work with a clear aim such as "build an AEM electrolyser in X months, call for proposals and create a team to do it. It's what used to happen. I know because I did it numerous times when I was Director of Technology Programmes at the Centre for Marine and Petroleum Technology in the 90s.
But what's the reason for the lack of investment in all these sectors in Scotland? Well, the Irish economist David McWilliams writing in the Irish Times recently said "Walking through the main hall of the (London) Science Museum… it struck me how far the UK has fallen…. A country that used to be the workshop of the world is now a beggar .. The roots of this crisis can be traced back to the Thatcher experiment…. The financialisaton of the economy meant that the City of London morphed from a provider of capital to those brilliant engineers and creative minds heralded in the Science Museum to being a spivvy casino of venture capitalists, asset strippers, short term speculators and other assorted highly-paid bottom fishers"
I couldn't agree more and it needs to change. At least then the dishonesty around the outlandish claims government agencies seem to think they must make might no longer be necessary.