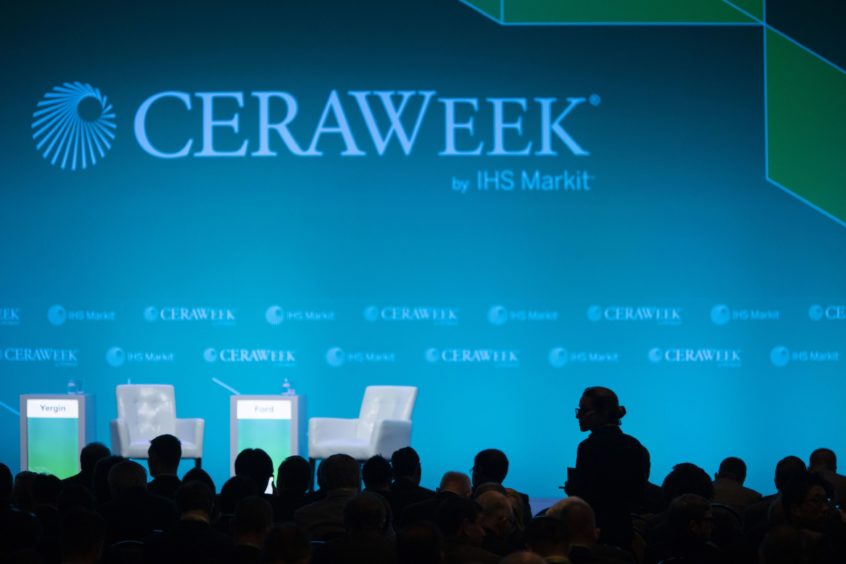 It's hard to know what to expect from 7,500 members of the global energy industry gathered in one convention centre in an American town best known for space travel, cowboys, and Tex-Mex food. Of course it was Texans, back in 1970s that came over to Aberdeen, and led the charge for drilling in the North Sea, something that they went on to do in oil and gas provinces around the world. This week however was about the energy world coming to Texas – at what has become known as the Davos of energy.
Among the attendees were the US Energy Secretary Jennifer Granholm, former Secretary of State (and Presidential Climate Envoy) John Kerry, President Biden's clean energy adviser, John Podesta, our Energy Minister Graham Stuart MP, the Norwegian, German, Canadian and Middle Eastern governments, CEOs of the biggest global players in oil and gas, leaders in carbon capture, and who knows, maybe somewhere in the mix the future visionaries of the companies that can help develop the technologies needed to speed up the transition to a global energy system based on renewables.
Of course we heard differing of opinions, variations on how soon we could and must transition from fossil fuels to renewables, requests for government to support more in permitting, taxes and financial incentives, but what is truly remarkable is how much the conversation has moved on.
No longer are we talking about climate change in the wings or wondering if there is anything that can be done about carbon emissions and maybe if one day renewables can be part of the energy mix.
Now we are discussing ways to make CCS happen faster and to get hydrogen into our industrial economy. We are realistic about the continued need for fossil fuels, but we can also be proud of how we are making that process cleaner and safer, strengthening our domestic energy supply – as indeed other countries are in light of Putin's illegal war on Ukraine.
And the UK is a huge part of these conversations. During CERAweek we announced that we have cut emissions from flaring by 50% since 2018 – to put that in context, the reduction over the last 12 months alone is enough gas to power 80,000 homes. We will shortly announce offers for the UK's first ever CCS round and at the end of Q2 we will be making the first offers for the UK's 33rd oil and gas licensing round.
So we are not standing still. We can be proud of our achievements while acknowledging that we need to continue to listen and to learn.
The UK is naturally very well designed to be an energy powerhouse, surrounded as we are by the incredible resource that is the North Sea. We have wind, waves, hydrogen and incredible, unmatched potential for carbon storage. And yes, the North Sea is a mature basin, but we still have oil and gas while we need it and we will for decades to come, but we must continue to learn how to do so in a way that is ever cleaner.
And to make the most of this we need to also practice humility. We have heard investors talk about the need for a faster permitting process not just here in the UK but in all parts of the world. We have heard the Americans talk with pride about the benefit their Inflation Reduction Act is bringing – encouraging investment in clean energy and we must ask ourselves what we can learn from them.
If we have this incredible resource, on so many levels, and we do, then we have to make it easier so that we can all benefit. We have to keep working to ensure investors come here and our economy benefits from the jobs, the expertise that already exists and the resulting energy security.
So what do we need to do? We need to listen, we need to be realistic, and as an organisation we need to continue to engage with industry and the Government. Some of our rules and regulations are historic, but they were put there for a reason. It may be that we need to examine if those reasons are still relevant, or it may be that we need to explain better just why those reasons still apply today. We are already much slicker at licensing than we were several years ago. Just look at the time it can take from discovery to production in oil and gas which has come down to an average of five years. And the first licences that we expect to award as a result of the 33rd round in a few months' time could see production in just 18 months.
What we heard at CERAweek was a lot of really exciting talk about CCS potential, but our focus here in the UK needs to be on what we are actually doing. Delivery on all fronts must be kept up, and accelerated – ensuring energy security in the winters ahead where global challenges will remain, building on emissions reduction to make North Sea production ever cleaner and making a truly integrated North Sea energy system a reality.
One of the main reasons why this moment matters for the UK? Those early Texan accents that arrived in Aberdeen were joined by, and the replaced with, the sound of British expertise developing in engineering, subsurface and subsea skills. Those accents then spread across the globe, anchoring the UK supply chain and industry here but delivering energy and value globally – we have to have the same ambition for the next generation of energies and the next generation of talent.
Recommended for you

North Sea giants win big through INTOG floating wind auction