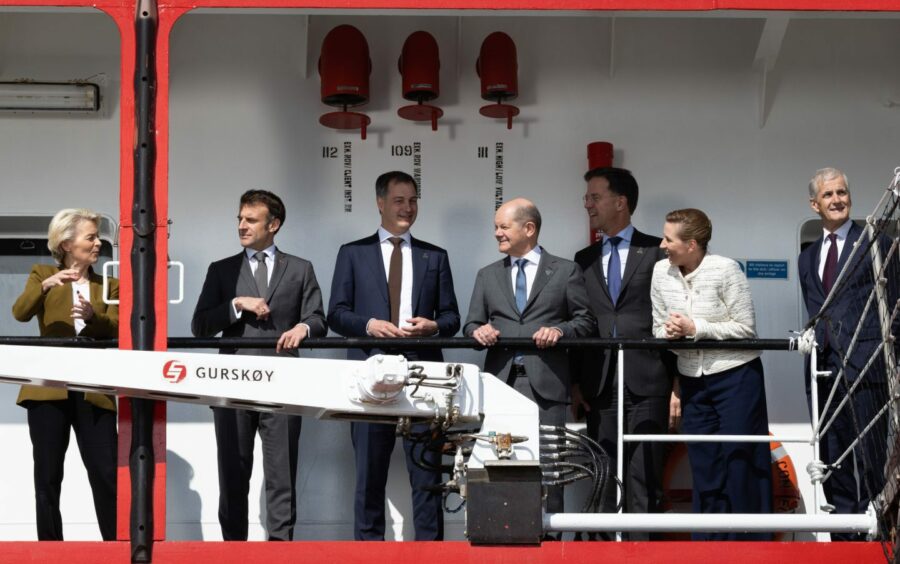 Well, they've signed the pledge; taken vows that they will drastically accelerate the North Sea's offshore wind capacity to 300 Gigawatts by 2050, with a near-term target of 120GW by 2030.
I can guarantee that not one of the politicians inking the Ostend Declaration in Belgium on April 24 has the foggiest idea how they're going achieve the eight-fold increase in current joint offshore wind capacity.
They mostly won't be in power come 2030 anyway, but are happy to grab the limelight!
The first North Sea Summit took place a year ago in Denmark and the resulting Esbjerg Declaration set a joint target for Germany, Denmark, Belgium and the Netherlands to deliver at least 65GW of offshore wind power by 2030 and to increase capacity to at least 150GW by 2050.
This time there are nine signatories, including Brexitlandia (aka UK) and Norway, so the huge capacity increase is not as dramatic as it at first seems.
However, we shouldn't forget that, in 2020, the EU set  targets for an installed capacity of at least 60GW of offshore wind and 1GW of ocean energy by 2030, and 300GW and 40GW, respectively, by 2050.
And just a week before Ostend, at the G7 meeting in Japan, energy ministers agreed a collective offshore wind target of 150GW by 2030
So, the big change is the near-term capacity hike. Everyone really will have to pull out the stops to achieve 150GW. After that, getting to 300GW should become straightforward.
We're already a year on from the first summit which, was rapidly put together just three months after Russia invaded Ukraine, precipitating energy markets panic.
It takes time to build momentum and the UK has that now in turbine planting terms by mostly non-Brit operators and contractors.
Moreover, it already has a 50GW offshore capacity by 2030 target. A  check of the Renewable UK database shows we currently have operational offshore wind capacity of 13.66GW (plus a further 14.427GW onshore).
Unfortunately, final investment decisions concerning EU offshore wind farms hit a 10-year low last year as developers faced rampant inflation, soaring interest rates and volatile energy markets.
Which ain't good news as there is no scope for messing up; for governments or developers to take fright and dig their heels in.
The European Commission recently calculated that €800billion will be needed to reach 300GW by 2050 – and wind energy companies have said significant state funding will be essential.
Fortunately the EU has been relatively successful at building up considerable turbine and transformer manufacturing capacity. And yet a step-change will be required in terms of dramatically boosting domestic capacity.
A fine foundation is that the EU is home to five out of the world's top 10 turbine manufacturers, together taking a 42% market share.
Yet it is fragile too because, snapping at its heels is market leader China, which will grab every opportunity to undermine the European supply-chain which, happenstance, has done well out of the UK offshore build-out because of the stubborn failure of Brits to build a credible renewables supply chain.
Its record is awful (pre and post-Brexit) and so we face a massive uphill challenge. There is no such thing as a British large offshore wind turbine, let alone much else of standing.
Right now I'd rate the UK supply chain capability one star out of five at best.
However, association WindEurope has warned that Europe too is on the road to betraying itself as it is only able of building 7GW of new capacity annually, not the standing-start 20GW-plus that will be required to hit 150GW in just seven years!
Fortunately, and despite the huge damage self-inflicted through Brexit, at least there remains a modicum of co-operation between the UK and our North Sea neighbours on the offshore energy front.
Usefully, on December 18, the UK Minister for Energy and Climate, Graham Stuart, signed a landmark agreement on renewables, so opening a pathway to the April 24 summit, improving relations with common interest neighbours and one of the event's associated announcements…
Namely that the Netherlands and Britain announced plans for LionLink, Europe's most ambitious North Sea cross-border electricity interconnector linking the two countries, plus taking power exports from to be connected offshore windfarms.
It is currently expected to be ready early next decade; so presenting a grand opportunity for our subsea sector HQ'd in Aberdeen to truly grab a leading role, if it is so minded.