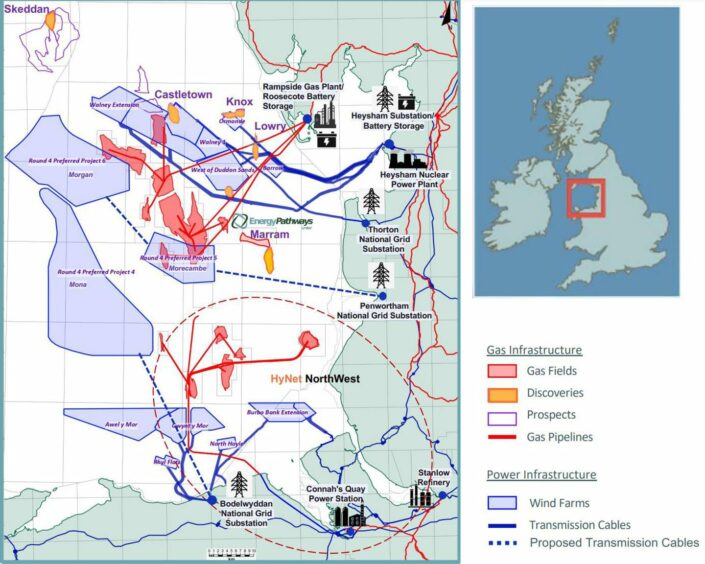 Energy Pathways, an independent working on the Marram gas field in the Irish Sea, talks about the region's importance for UK energy security and net zero.
The themes of Energy Security and Transition are now well understood in the public consciousness as a result of the unprecedented energy crisis that gripped the UK and Europe through 2022.
That crisis was exposed by the war in Ukraine and associated supply crunch, but was also a direct result of chronic underinvestment in the supply side for many years and an unrealistic drive to rapidly convert the energy mix weighting towards renewable sources before a viable supply mix was in place.
This rather chaotic period, which could have been far worse were it not for a mild winter, has awoken the UK government policy makers who stated in the Powering Up Britain: Energy Security Plan policy launch in March that they remain "absolutely committed to maximising the vital production of UK oil and gas" and that "the UK's energy security remains hugely dependent on a reliable, resilient and affordable supply of gas."
Gas is absolutely critical, currently representing 43% of UK's primary energy mix and responsible for heating 85% of UK's homes. Demand for gas is forecast to remain strong for decades to come and gas will serve as a crucial bridging fuel as the UK experiences an increased need for flexible power generation, long duration energy storage and seeks to expand its hydrogen energy systems.
Reliance on overseas imports is nonsensical
With as much as 80% of UK gas to be imported by 2030, the UK's energy supply is heavily reliant on overseas LNG imports which is less secure and significantly more carbon intensive from a global perspective compared to UK gas, having on average double the emissions intensity.  This reliance on foreign imports is completely non-sensical when one considers the resulting increased global carbon footprint and the remaining potential of undeveloped resources that lie within the UK's waters at risk of becoming stranded.
Furthermore, with UK domestic gas production set to fall to only 30% of current levels by 2035 then one can clearly see the dark storm clouds gathering overhead. One may also argue that the government's policies with regards to windfall tax is at odds with their narrative around supporting domestic production and needs to be reviewed if they really want to attract private investment capital in the domestic gas sector and support the industry moving forward to provide a secure, reliable, cost-effective and environmentally beneficial energy source for UK's current and future needs.
Irish Sea role in UK energy security
The North Sea is mature and has already undergone an industry transition in which assets have changed hands from IOCs to smaller independents over the last 10-20 years. The UK's Irish Sea in comparison has not seen such a transition. There however remains an abundance of undeveloped gas potential in this region that, due to its unique location, could play a critical role in the UK's supply side in helping to provide near term energy security and supporting the UK's transition to net zero.
In fact, it is estimated that this region may have  up to 2,000 BCF of gas resource potential. that historically has largely been overlooked due to historic lower gas prices and – given the past dominance of Centrica in the region – limited entry opportunities for investment minded new players.
The proximity to market and established infrastructure in this region  make it a particularly compelling location to focus on for near-term gas development to provide UK energy security.  Additionally, with the abundant renewable wind capacity of the region needing back up flexible capacity, the potential development of blue hydrogen projects in the region, the unique geological structures that lend themselves perfectly to natural gas and hydrogen storage projects, and the potential for CO2 storage, this area has a unique set of the ingredients to develop integrated energy solutions and to play a pivotal role in contributing to UK's forward energy policy and energy transition.
Energy Pathways targets Marram field
With elevated gas prices here to stay due to the market dynamics and the landscape of gas commercialisation opportunities changing with the energy transition, discovered gas resources once overlooked in low commodity price environment now represent a new compelling opportunity in today's market. This was the thesis that led Energy Pathways to focus on an area they knew well from previous experience and obtain a first mover advantage in building a portfolio of ready-to-go developments and gas discoveries in what it considers to be a unique region for energy transition opportunities.  The first such development identified by EnergyPathways is its 100% owned and operated Marram field; a shallow-water, high-value 40 BCF gas resource discovered back in the early 90s.  This project has potential as a short cycle development with first production as early as 2025, and attractive economics with rapid payback.
In the current commodity price environment, these types of projects are clearly compelling for smaller independents orientated to commercialising the UK's gas resources and integrating these into the evolving energy landscape. Given the impact they can have on near-term domestic supply and longer-term re-purposing potential that supports UK's transition, it is essential that the policy makers and financial community support their development for the benefit of UK's people and their energy requirements.
Recommended for you

Energy minister opens new Edinburgh office for ScotWind developer