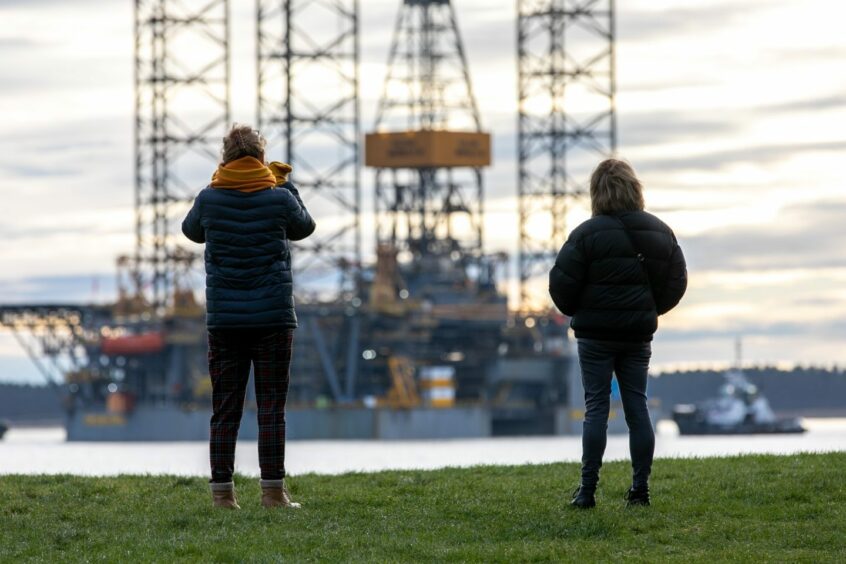 A Labour government is, as someone said in response to the announcement that it would oppose all new North Sea oil and gas developments, a clear and present danger to energy security.
But it's also a huge threat to the NE of Scotland economy. As a consequence of this Labour policy have no doubt that companies will go bust, a lot may simply wind down and others – mainly overseas owned – will simply leave. Our universities will suffer. The demand for helicopter flights will shrink dramatically. Hotels will suffer as will the rest of the hospitality sector in the NE.  How many support vessels and their crews will we need for a shrinking offshore industry? The impact will be colossal and widespread across all sectors and on top of Brexit which Labour also now supports, Scotland simply can't afford it.
There will inevitably also be an impact on other projects. Will the Acorn CCS project go ahead? What would it do to the future of Grangemouth?  Will oil and gas companies involved in offshore wind or hydrogen projects remain committed to them? What would such a policy do to the financial sector if the banks have no large oil and gas projects to lend to.
Labour leader Keir Starmer vows 'to block new North Sea oil and gas'
We know and have known for a long time that irrespective of claims to the contrary by organisations like Scottish Enterprise and Scottish Renewables we simply do not currently have the means to replace either the jobs or the energy resource if we stop all future oil and gas developments.  Neither would we have the ability to replace a lot of the products derived from the use of oil and gas as a feedstock.
Frankly though, nobody here in the north-east who think they can create new industries through property development, can claim "innocence" when it comes to the situation in which we find ourselves.
By now Scotland should have been in a position where our renewables industry was at least a match for Denmark and Norway but we're not even close. Heck, we've been talking about it long enough and we've known for a long time what we really need to do but we've just never done it. Some rear ends need kicking hard before it genuinely is too late. We must stop lying to ourselves and accept that none of the initiatives we've set up to try to establish a meaningful renewables supply chain – by which I mean high value advanced manufacturing – have succeeded.
There needs to be a change in ideology.  I've written before about the Scottish Enterprise attitude to opportunities such as manufacturing hydrogen electrolysers.  They said we can't do that because we're a "services and skills economy" and it's better to persuade a European OEM to set up a factory here.
Of course, they've already achieved their aim with subsea power cables by persuading a Japanese company to build a factory here and create 150 jobs. However, NKT the Danish cable manufacturer and installer, employs over 4,000.  What a contrast!
Above all, we need a change in attitude
The same applies to wind turbines and solar.  I don't believe for one minute Scotland couldn't manufacture wind turbines or solar cells.  In fact, Howden Engineering of Glasgow pretty much led the development of the wind turbine in the 80s.  Skills and services economy my foot. We have already and still could make these and other things with the right support and the right business environment.
The global demand for electrolysers and fuel cells is going through the roof yet we're really making no serious attempt to become involved in this market. NEL the Norwegian electrolyser manufacturer has recently announced it's to build a "giga-factory" in the USA. Why would they bother with Scotland?
As with wind turbines I don't believe we're incapable of building an electrolyser or develop a fuel cell manufacturing capability.  If we're not then it tells us a lot about our universities, the way they're run and the way they're funded that we don't have that knowledge.
I like to think from discussions I've had that the new crop of Ministers in the Scottish Govt are more open to new ideas and proposals on how we can get things moving in the right direction.  It may require some radical action and indeed we may need to ruffle more than a few feathers and redirect what funding is available, but a new direction is what we need and what the supply side of the industry as a whole and working together should push for.
Above all though we need a change in attitude.  A Labour government can only be a clear and present threat to energy security and to the economy of the NE of Scotland if we let it.  If we already had a functioning and meaningful renewables supply chain actively manufacturing the hardware we need for a so called "just transition" Starmer's diktat would not be having the impact it is and that's the issue that needs to be dealt with.  Why aren't we as ready as Denmark or Norway to deal with this? That's the issue we need to solve and quickly.