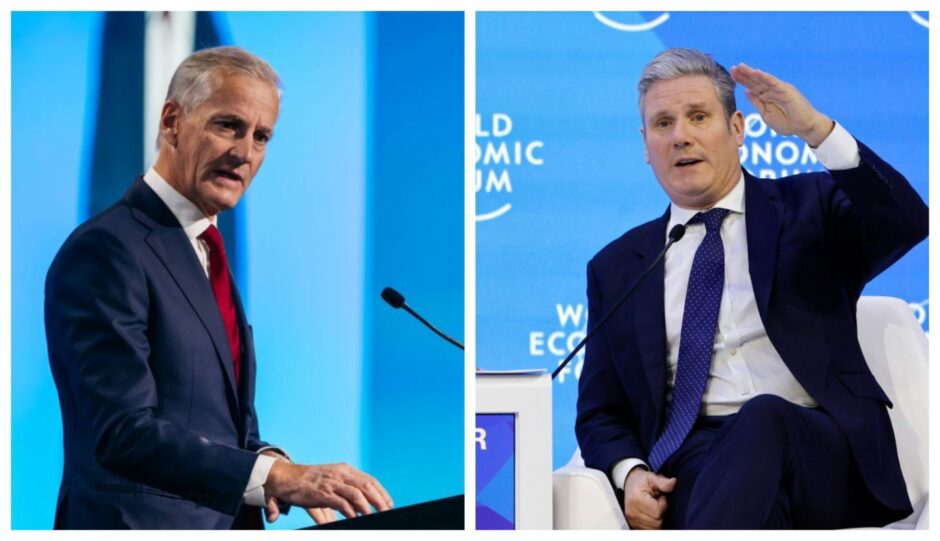 It's curious how little serious attention is paid to what happens in Norway – beyond, I should hasten to add, the well-informed circles which surround Energy Voice. For Scottish politics, in contrast, the well of Norwegian experience is one to be drawn on very selectively.
For decades, the UK and Norwegian sectors of the North Sea developed separately; facing away from each other, rather than as two halves of the same whole. Twenty years ago, the emergence of cross-sector working and necessity of interconnectors started to change that.
Now would be a very appropriate time to update ourselves on the Norwegian experience and learn lessons accordingly. This is not a new thought on my part. Back in November 2021, I wrote much the same thing in this column, quoting wise words from the Norwegian Prime Minister, Jonas Gahr Store.
"If we were to say from one day to the other that we close down production", averred Mr Gahr Store, "I believe that would put a stop to an industrial transition that is needed to succeed in the momentum towards net zero. So we are about to develop and transit, not close down".
Develop and transit. This seemed plain common sense – and that was before Russia invaded Ukraine. Thereafter, it should have become a statement of the blindingly obvious that transitions do not involve falling off cliffs and are certainly too complex for gesture politics.
Since then, Norwegian oil and gas has emerged as the mainstay of European energy security while the country transitions into being an equally strong global force in the world of low carbon energy. Develop and transit. Keep repeating it often enough and it might sink in.
It would be pleasing to report that these lessons have been adopted by Scottish and UK politicians, regardless of party. It would also be inaccurate. Here, we are still at the stage of posturing instead of recognising that energy security and development of a net zero strategy can go hand in hand, each facilitating the other. Develop and transit.
Like many others, I await with curiosity the speech which Sir Keir Starmer is due to make later this month.  I hope it does not bear out the briefing which someone, who knows of what status or authority, provided to the Sunday Times that a Labour government would block all new North Sea licences.
What if Norway and UK Labour met?
Here is a clear case for the minds of serious people to meet – the Labour Prime Minister of Norway and the aspirant Labour Prime Minister of the United Kingdom. Then serious conclusions might emerge. Energy policy is too important to be formulated by over-eager advisers briefing Sunday newspapers.
Mr Gahr Store would doubtless explain patiently why his government has just authorised one of the biggest licensing rounds in the history of the Norwegian offshore industry, in both the North Sea and Barents Sea. He would explain the importance of ensuring European energy security never again being at the mercy of Russian fickleness, to put it very kindly.
Why, I wonder,  did that decisive action by the Norwegian government receive so little coverage in Scotland? Why were there no motions, whether of congratulation or condemnation at Holyrood where Norway is so often and so tediously held up as a model to follow? But only when that suits the politics.
Of course, if Starmer met Store, the latter would also explain how maintaining Norwegian jobs and production are entirely compatible with one of the most advanced transition programmes in the world. Just as they spun their offshore industry into a global force through Statoil (now Equinor), so they will do the same in renewables. What a vision for an incoming Labour Prime Minister to embrace and emulate!
Back in 2021, I quoted Mr Gahr Store making that point, in almost so many words.  Norway's transition, he said, "will have huge importance in Europe's transition, in India's transition, in Asia's transition". In other words, they are planning to carry their strategy into the wider world, doubtless for Norway's economic benefit as well as the global drive to net zero. Meanwhile, they are not banning anything.
That is where the focus of a prospective Labour government should lie. Before they get there, it will be impossible to persuade voters that it makes any sense to veto our domestic oil and gas production for as long as we need the stuff,  in order to become more dependent on imports.
No logic to 'no more licences'
The underlying suspicion of those who say "no more licences" is that doing otherwise will prolong our own wilful dependence on fossil fuels. There is no logic to that. Dependence will reduce at an accelerating rate but while we need any oil and gas, there is no rational case for increasing import dependence – in terms of security, energy, environmental or economic policy.
If done properly, the transition can yield huge numbers of jobs and we can carry these into the wider world, just like Norway.  However, nobody is obliged to believe that just because a politician says so. We have been down that road before, particularly in Scotland, and firm evidence is needed to show this time will be different.
It is impossible for the Scotwind programme, as it develops, not to produce a significant number of jobs. The scale of that outcome will depend on how much of the supply chain is in this country and how much infrastructure investment goes into ensuring the maximisation of opportunities.
Aberdeen and the country have waited a long time for a politician who is credible when talking about a "just transition".  Now they just need one to appear.
Brian Wilson is a former UK energy minister. 
Recommended for you

TotalEnergies weighs up West of Shetland FIDs