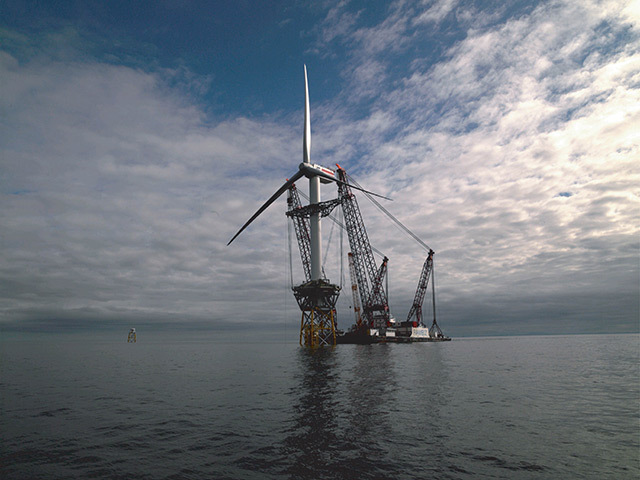 I am writing this to the sound of Atlantic waves crashing against the cliffs and gales blasting the windows of my home. It has been a rough winter here in Lewis and it ain't over yet.
If you are an optimist, the sound effects I am experiencing equate to "potential" in the form of renewable energy. Indeed, we are often told that I am sitting at the world's "potential" epicentre of power production from natural sources.
And I am sure it is true. If these massive waves could be harnessed and if the ferocious gales were powering man-made machines capable of transforming them into electricity and bringing it ashore, then the "potential" is almost literally unlimited.
All previous giddy estimates of how many millions of households they might serve would seem inadequate. However, as the observant reader may have noticed, the crucial word is "if" – and at present, there is not much sign of it happening.
Indeed, the very power of the elements which creates all that "potential" is also the major obstacle to its fulfilment.
The waves are so fierce that they tend to sweep away devices designed to capture the energy.
The winds are so strong and the seas so high that they make construction and maintenance of deep water windfarms a daunting – and vastly expensive – prospect.
As a long-term supporter of marine renewables, it took me a while to catch on to these realities. I wanted to believe in the "potential" rather than the problems.
In my time as a UK energy minister, now some years ago in the Blair-Brown era, I created a budget line for supporting wave and tidal where none existed before. I assumed too readily that offshore wind was an automatic extension of onshore.
But it gradually dawned on me that the words "we'll do it offshore" had become too glib – as an alibi for ruling out other energy options and as a cover for some difficult political realities.
"Doing it offshore" is an awful lot more problematic than it sounds as is gradually becoming all too apparent.
The latest corrective has come from Scottish and Southern Energy which, in spite of its gargantuan profits, is threatening to pull out of offshore wind altogether, ostensibly because it cannot get enough Government subsidy for the Galloper windfarm off the Suffolk coast or the Beatrice project in the Outer Moray Firth.
Abandonment of the latter would be a particular blow because it has been going on for so long. Indeed I had a hand as energy minister more than a decade ago in securing the funding for the demonstrator project involving two 5MW turbines, which was completed in 2007. A final investment decision in a major development has been delayed repeatedly.
SSE is blaming DECC (Department of Energy & Climate Change) for not including their two projects in the list of 10 which are being given financial comfort under the Final Investment Decision Enabling for Renewables scheme which allows projects to advance with confidence.
The 10 include four offshore windfarms, but all are in shallower waters to the south.
The reality is that not only DECC but the industry itself is having to address the sheer cost of developing offshore wind and the feasibility of maintaining the turbines once installed.
It does not seem unreasonable to back the four best bets for starters and see how things develop though that, of course, does not preclude others who are prepared to take some risk.
I find the SSE justification for threatening withdrawal from a project that has already had so much public money a little disingenuous.
The truth is that this company and other developers have been quietly pulling out of offshore wind projects as the realities strike home.
One recent example was ScottishPower's decision that the Tiree Array was more trouble than it was worth.
While Scotland's coastline is not short of wind, it offers little shallow water and the areas where the wind resource is highest are, inevitably, the most difficult in terms of building, access and maintenance.
Eventually these sites may be developed but there is no automatic right to massive taxpayer and consumer subsidy in the face of current uncertainties.
The prospects for wave and tidal seem even more dubious.
Last month saw another of these irritating headlines about the Pentland Firth having the "potential" to provide electricity for "half of Scotland".
I'm sure it does – but the timescale for it doing so are so long-term and plagued with uncertainty that it is a delusion to suggest that this has anything to do with the current energy debate.
None of these technologies is going to deliver anything of significance this side of 2020 and, frankly, they never were.
And that is where the Scottish Government's "100% renewables" target by that date becomes deeply deceptive – or else completely unattainable.
The truth is that almost all of the additional capacity between now and then will come from onshore wind though the SNP cannot afford to admit that.
They are now at the stage of finding someone else to blame. But the reality is that the target was always a PR stunt rather than a rational, responsible objective.
And it was also a useful cover for the fact that Scotland's other power generation sources, particularly nuclear, were allowed to wither on the vine. As a result, by 2020, we will be major importers of electricity.
We need honesty and realism about Scotland's renewables potential.
I still believe that we should persist with the research and development of marine technologies including offshore wind.
But utterly unrealistic claims about what they are going to deliver in the relevant timescale are an encumbrance which will lead only to false expectations followed by disillusionment.
I hope it happens but for the time being it is strictly in the "potential" bracket. My scepticism on this one was transmitted by talking to people in Caithness who know the unforgiving nature of the Pentland Firth and remain unconvinced that it can be harnessed by the fleet of very large machines which would have to be installed.