I see the challenges of our generation not as inhibitors of creating a better world, but as exciting challenge.
Masked by the news of looming crisis, is in fact the greatest economic opportunity of our generation. At Carbon War Room, I am constantly amazed by the calibre of entrepreneurs and engineers that I meet and the ingenuity of their innovative business models and technologies.
From (re)deploying wind technology on modern cargo ships to solar-powered mining installations in Africa, solutions exist today to move our world towards a low carbon economy – with the opportunity to make money while doing it.
Currently lacking, but far from impossible, is the need for greater market demand for these solutions across industries and the capital to bring them to significant scale.
In 2009, I took on that challenge and worked with Virgin Unite to incubate and launch Sir Richard Branson's Carbon War Room. Some may say it is a strange name for an organisation; though it was intentional. Just as Churchill and others set up 'war rooms' to bring together the best minds to fight the enemy, Sir Richard decided to set up the Carbon War Room to fight the causes of climate change.
At first, it appeared impossible to find a tangible way for business to play a leading role. But, with a group of other successful global entrepreneurs, he set up the War Room to stir up thought and most importantly – spur action to reduce carbon emissions at scale, and profitably.
Today, the Carbon War Room is a global non-profit that seeks to accelerate the adoption of business solutions that reduce carbon emissions at gigaton scale and advance the low carbon economy. You could say it's a 'non-profit fixated by other people's profit'. It focuses on creating new demand for proven solutions by providing better market information or devising financial mechanisms to move new capital to pay for the solutions.
After less than five years, the War Room is making steady but highly impactful progress. Whether it's empowering and shifting over 20% of the global non-container market to choose more efficient vessels, driving demand for technology retrofits; helping Canadian ports to offer cheaper dock fees based on our A-G rating system; or whether its working with countries in the Caribbean to transition them off expensive imported diesel fuel and on to renewables, kicking off the process with Sir Richard's home island – our aim is always the same. We must create unstoppable momentum in the market for the demand of profitable business solutions that reduce emissions.
But the war is nowhere near won yet – much more effort and traction is needed from entrepreneurs, investors and ngos like us. Our team has embarked on five project areas: Shipping efficiency, building efficiency, island economies, aviation and trucking efficiency, but we aim to double to ten. We are grateful to existing funders and partners for all their help, but also look to more of the best, most pioneering private enterprise in the world to partner with us on existing and new opportunities.
I am not pessimistic about the climate challenge. In fact, I see a great and prosperous future ahead as we implement today's existing technologies, create new markets and reap the benefits of the greatest economic opportunity of our generation.
Peter Boyd is the chief operating officer of the Carbon War Room. He addressed the All-Energy conference in in Aberdeen today.
Recommended for you
X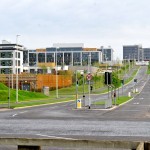 Lloyds Register opens new Aberdeen hub