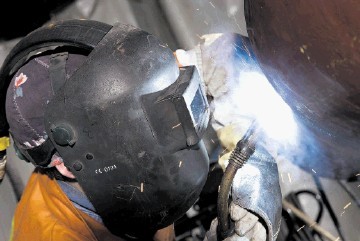 I don't particularly like Boris Johnson and I certainly don't support his politics. I also resent his constant lobbying for London which, incidentally, I don't really like much either. The museums are great but you can keep the rest of it. I'm a country boy at heart.
However, something Boris Johnson wrote last year I have to say I do agree with completely although I'd prefer you didn't spread it around too much as it might damage my reputation.
Commenting on what he called the UK's "sterile debate" over Europe he said that if it culminated in our leaving the EU then it would quickly discover "that most of our problems are not caused by Brussels, but by chronic British short-termism, inadequate management, sloth, low skills and a culture of easy gratification and under-investment".
I can't fault that analysis because it supports my own long-held views about the UK's lack of vision and risk adversity.
Mulling over the recent announcement about the intended takeover by Halliburton of Baker Hughes I wondered to myself why it was that, after 40-plus years of North Sea production, there are no equivalent size companies in the UK.
I would think the biggest we have currently are probably the Wood Group and Amec. We think of them as quite large when it comes to turnover and profitability but compared to Halliburton or Baker Hughes they're modest.
I also think it would be difficult to argue their services are as sector critical as either Halliburton or Baker Hughes or indeed some Norwegian companies and maybe one or two French ones.
Some may feel that's a pretty harsh and terribly unpatriotic indictment. Tough! I actually think it's quite fair. But don't get me wrong. These two UK leading lights have carved themselves out valuable niche positions. However, they're in no sense world leaders.
Look at the numbers. A merged Halliburton/Baker Hughes will have a revenue of circa $55billion, net income of about $9billion and until the inevitable clean out, it has roughly 125,000 employees.
A merged Wood Group/Amec (now there's an idea) would have combined revenues of about $12.5billion, a net income of somewhere around $600million and employ 76,000 people. So one thing you can deduce from that is which companies add the greatest value and which management teams might reflect Boris' concerns.
What about our French chums?
Interesting isn't it? It's certainly something I find fascinating although quite depressing. What about our French chums? Well, it might interest you to know that Technip on its own has a turnover of about $7.75billion. Technip, which is stalking CGG, and the French generally are big investors in technology. Technip owns Coflexip and is still expanding its other technology businesses.
Some will note here that I haven't mentioned some of the other huge US corporations such as GE. Well, the closest thing we have to GE in the UK is probably Rolls Royce in that they both build jet engines. There though the similarity pretty much ends.
Rolls Royce recently sold its gas turbine generator business to Siemens of Germany. It also recently sold its marine tidal turbine technology to Alstom of France.
GE on the other hand builds wind turbines and is working on energy storage solutions. GE also has a gas turbine that can burn hydrogen, builds fuel cells and does various other things in the renewables sector including solar energy.
In short, Rolls Royce's management is acting in almost the opposite manner to GE but in accordance with Boris' views.
The UK doesn't, of course, have a wind turbine manufacturer but it does have a couple of minnows involved in fuel cell and associated developments.
The problem is that I just have this distinct feeling of inevitability that getting them beyond the minnow stage will be extremely difficult. While so far the investment in these companies has been quite limited, when it comes to really needing to scale them up and building them into genuine global players the management and their investors will baulk at the idea.
The managers will be scared to consider anything other than maintain "shareholder value" and the shareholders will be eager to organise an exit so they can make a quick buck and move on. In the UK it is forever thus whether companies are large or small.
Inevitably then, a large number of companies with massive potential never make it or only achieve mediocrity unless of course you're a bank.
Ahh the glorious banks – backbone of the great British financial sector and what all companies unfortunately have to rely on. The latest scandal related to foreign exchange fraud is just mind blowing. As one of the bloggers I read succinctly put it "bankers are still operating freely as basically a feral class able to go about large-scale robbery unhindered."
The questions I have are; where were the management while this was going on and why now are any of them still in their jobs?
But lousy management is not a rarity in the oil and gas industry either. In the 80s and 90s when operating company management was first infected with the "shareholder value" virus – yes, that again – it decided it would be clever to take the outsourcing route for pretty much everything it did.
Operators never foresaw that shifting emphasis from doing stuff to commissioning stuff would end up with the contractors effectively running the entire industry.
Operators also didn't foresee that this meant they'd lose control of costs and even worse, an ability to control projects properly. The consequences of that are now constantly under discussion.
So what the operators thought was a smart business move back in the 80s/90s is now causing the industry major problems. Of course, most of the managers that took that decision will have retired or moved on and no doubt some will actually have moved to contractors probably on hefty dayrates!
I still remember when Concorde took its first flight and UK-owned companies built stuff like the Harrier and the gloriously beautiful E-Type Jaguar.
What Boris Johnson is effectively saying is that the issues he lists means that we no longer have the ability to repeat those sorts of successes and that's very bad news.
On the evidence I see in the oil and gas and renewables sector I would say that he's absolutely right. Time for a major rethink and some real leadership.