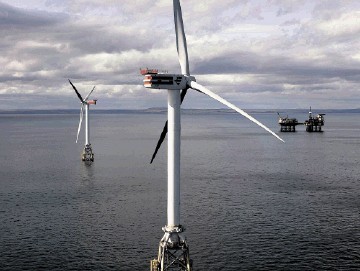 Days after our annual celebration of Scotland's bard, it was a perfectly-crafted Robert Burns quote which opened Scottish Renewables' Offshore Wind and Supply Chain Conference (Jan 27).
"There's no such uncertainty as a sure thing," said Scottish Enterprise's Maggie McGinlay, summing up the mood among more than 400 delegates at the Aberdeen Exhibition and Conference Centre.
In a session designed to outline the shape of offshore wind in Scotland, speakers from SSE, ScottishPower Renewables, EDPR and Repsol Nuevas Energias spoke in depth about the progress of the industry, which is waiting for UK Government decisions on funding through the Contracts for Difference regime.
And the message? Yes, we may have been over ambitious about the scale and pace of this nascent sector in the past – but in a UK context we're already seeing that sector grow, and success in Scotland could yet deliver great things.
Jonathan Cole, ScottishPower Renewables' managing director, summed up the zeitgeist: "Working in this industry is a rollercoaster: one day optimism, the next day despair.
"It feels like now as if we are an industry in retreat – that our hopes have been raised and very rapidly confounded. But we must remind ourselves that we are an industry which is growing and creating jobs. There are a lot of reasons for us all to be optimistic about this sector, but we need a much more stable political environment in which to operate."
That optimism carried through to a debate on the readiness of Scotland's supply chain, where BVG Associates' Alan Duncan hailed the UK as the focus of the world's offshore renewables industry, but warned: "There are potentially a lot of jobs for us, but they are not going to be easy wins – we must look at what we can do to displace existing supply chains in Denmark and Germany.
"Be assured, though: the UK will continue to lead the world in offshore wind to 2030, and there is no other industry which gives us the chance to do that."
So as the industry awaits those CfD decisions, the green shoots of a Scottish offshore wind industry are still growing, despite huge challenges ahead.
Lindsay Leask is senior policy manager, Offshore Renewables, Scottish Renewables
For more opinion pieces on Energy Voice click here.
Recommended for you

AREG Energy Futures conference to highlight size of prize for north-east