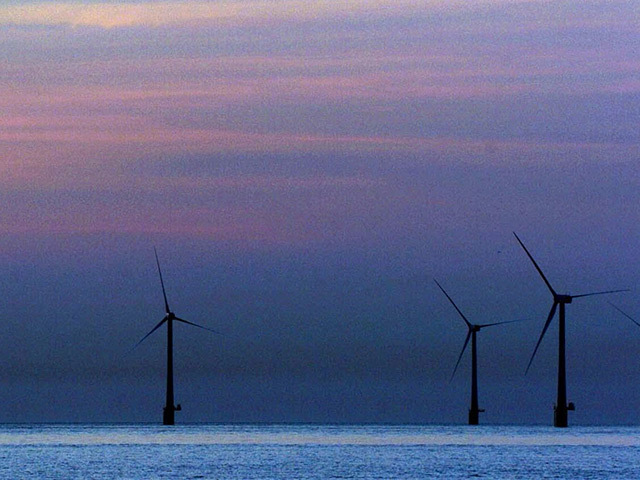 Earlier in the week Amber Rudd gave a parliamentary speech on the controversial curtailment of onshore wind subsidies, but at the same time gave some positive signals on future prospects for UK offshore wind.
The industry is now waiting bated breath for the Energy Minister's keynote address at RenewableUK's Global Offshore Wind Conference later today, so it is perhaps a useful time to recap on broader benefits, and challenges. Also are there lessons we can learn from the experiences of other countries that might help accelerate Scottish offshore wind deployment?
An impressive pipeline of over 4GW of consented projects exists in Scottish waters, with the potential to deliver huge amounts of electricity to our homes. Scotland has some of the world's richest offshore wind resources, and harnessing this potential could act as a catalyst for economic growth, inward investment and employment, as well as help the UK to meet its binding European 2020 targets on renewable energy. At a time when the European Commission is reporting that the UK will miss these targets, offshore wind ticks most boxes.
Offshore wind however has a big problem, at least in the short term. UK and in particular Scottish offshore wind is very expensive, at today's prices. The costs of producing electricity from it have not fallen fast enough to make it a viable commercial proposition, without the help of public financial support. Critics of the industry paint a bleak picture, saying it is a financial lame duck.
At a time when the Treasury is looking to cut costs and axe projects across the whole spectrum of UK public spending, developers and project financiers must wonder what future offshore wind has to offer. Even with Ms Rudd's recent positive words, will Scottish offshore wind ultimately suffer a similar fate to that of onshore wind, where the decision to end the Renewables Obligation (RO) prematurely, has done nothing to increase the confidence of investors in renewable energy projects?
It is surely the role of Government, to promote stable conditions in which industry can thrive. Moving the RO's goalposts has surely signaled to offshore wind investors that the UK government cannot be trusted to deliver on its own stated timetables and financial commitments where renewable energy is concerned.
Furthermore, the European Wind Energy Association (EWEA) highlights another concerning development in the UK sector; a hiatus in offshore wind projects coming forward. The problem is – that without a conveyer belt of projects – it is not possible to secure the economies of scale necessary to drive down costs, and accelerate deployment.
A key bottleneck is project financing; the problem created by the late Coalition government – to cap funding for new energy projects via the Levy Control Framework – has disproportionally favoured nuclear power at the expense of offshore wind. Despite the 400MW Neart na Gaoithe project being awarded a "contract for difference" in February, other Scottish and UK projects have been left out in the cold, and face an uncertain future.
Elsewhere however offshore wind project costs have been falling, notably in Denmark, where over 1.2GW of new kit has been successfully deployed, and the 400MW Horns Rev 3 project is set to deliver power at an industry-leading 10.31 Eurocent/KWh. The Danes have a firmer control over contract prices and costs. Value for money is paramount. Also, more significantly the Danish model allows local people the option to take a 20 per cent stake in projects and at cost price, so there is significant public participation in wind. So with political will and institutional capacity, highly competitive project financing, combined with very high levels of public support, offshore wind is not a hard sell in Denmark.
What we find truly remarkable about Danish offshore wind is that it is just so much cheaper than the main alternative: building new nuclear power stations. Mike Parr, the Director of PWR Energy Consultancy, provides unequivocal evidence on this crucial point. Equivalent contract for difference prices regarding Danish offshore wind come in at around 93Euros per MWh; whilst for proposed new build at Hinkley Point C the price is around 125Euros. The case for Danish offshore wind is further strengthened when the length of contract (i.e. number of years) is brought into the equation. With significantly shorter contracts the levelised-cost-of-energy (LCOE) is 68Euros per MWh for Danish offshore wind; for Hinkley Point it is 125Euros per MWh.
There is no competition: Danish offshore wind wins hands down!
With the imminent closure of the Longannet coal plant in Scotland and other coal-fired power stations in England, gigawatts of generating capacity are going to be lost from the UK electricity market, and very soon. Combined with the fact that we won't see any new nuclear build this decade and perhaps not even until 2030, there does not seem to be much joined-up thinking on how to address potential shortfalls.
The failings of past Westminster energy policy are to blame here. In setting the direction for future energy policy, Ms. Rudd needs to take more account of both consumer requirements and industry needs, rather than the short-term whims of Tory backbench MP's. More than ever it is clear that we must make UK offshore wind work, and there appears to be much that we can learn from the Danish experience if Scottish deployment is not to be left in the doldrums, even given the Minister's latest supportive rhetoric.
Dr Ian Broadbent is a senior lecturer in business strategy and Peter Strachan is a professor of energy policy at Robert Gordon University.
Recommended for you

Three more renewable energy firms add voices to Cromarty green freeport bid