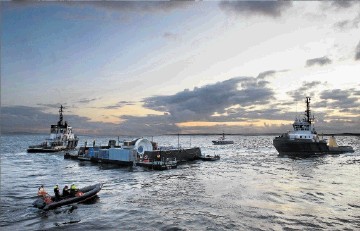 Having worked closely with each other for over six years, we are deeply disappointed to hear that Aquamarine Power has ceased trading.
We have witnessed the company overcome numerous challenges, whilst testing the Oyster wave technology at Emec over the years, with great innovations and cost reductions achieved along the way.
Today's announcement is an unfortunate setback to the development of our domestic marine-energy industry and the job and export potential that brings. It shows how hard it is to be an innovator in the present financial climate, even when you have good technology.
Harnessing the power of the sea is never going to be easy but this is what happens at the leading edge of innovation.
Companies try and try and try, but sometimes they fail and in doing so they make way for other innovators following behind.
Anybody who has been at sea understands the power of the waves. We know our oceans present us with a massive, currently untapped, sustainable, energy resource. With continued human endeavour, we can and will make this work.
Marine-energy will be a major contributor to our energy system when we learn to harness the energy out there. Today, we have seen it is going to take a bit longer than people hoped.
Neil Kermode is managing director at the Emec wave and tidal-energy test centre in Orkney
Recommended for you

Is it time to change the identity of the energy industry?