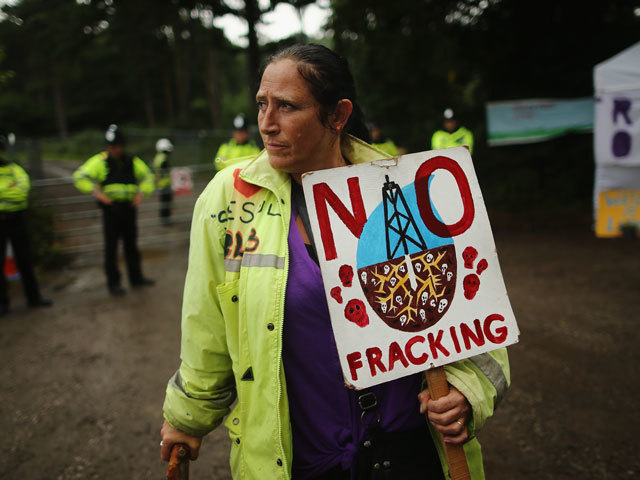 Opposition to fracking continues to outstrip support – particularly among those who know about the controversial process, a survey for the Government has revealed.
More than half (53%) of those who said they knew a lot about fracking were against it, compared to a third (33%) who said they were in favour of it, according to a Department of Energy and Climate change poll.
Among those who thought they knew a little about it, opposition outstripped support by 40% to 26%.
Opposition was also higher than support among all those who took part in the survey, with 29% opposed and 23% backing extraction of shale gas through fracking.
Women were more likely to be opposed to it than men, with only 17% backing fracking, compared to 28% of men.
The weak support for shale gas is in contrast to the backing the public shows for renewables, which have faced cuts in Government support, with 78% in favour of technologies such as wind power, solar and biomass, and only 4% against.
The latest findings of the public attitudes tracker come as the Government continues its push to develop a shale industry in the UK, with decisions on schemes being taking out of council hands in the face of strong local opposition.
For the first time, the 2,121 households were asked why they supported or opposed fracking. Of those who were against the process, the most common concern was the loss or destruction of the natural environment, with 61% giving it as a reason.
Among those supporting fracking, the main reasons cited were needing to use all available energy sources (35%), reducing dependence on conventional fossil fuels (34%), and reducing dependence on getting supplies from other countries (32%).
The survey also revealed that 36% of people support nuclear power, while 21% oppose the technology.
Hydraulic fracturing – or fracking – involves pumping water, chemicals and sand at high pressure underground to fracture shale rock and release the gas trapped in it.
Greenpeace UK chief scientist Dr Doug Parr said: "If you take a UK ranking of energy sources by popularity and turn it upside down, you have a list of this government's energy priorities.
"There's a growing gulf between what the public wants for our energy future and what our ministers are imposing, and the cheaper clean technologies become, the wider the chasm will grow.
"It's no surprise that ministers hatched a plan to strip local councils of their powers to decide on fracking in order to push through their controversial plans.
"If the Government doesn't want to listen to experts and its own advisers about energy, it should at least listen to what the country has to say."
Juliet Davenport, chief executive of renewable energy company Good Energy said: "The message from the British public is loud and clear. 78% of us back renewables for our energy – people want to see a transition to a renewable future here in the UK.
"Just a few weeks ago in Paris, world leaders agreed to ambitious plans to reduce carbon emissions. The Government needs to listen to public support, take the lead in seizing new opportunities and keep us on the path to decarbonisation."
Recommended for you

Shale Shock