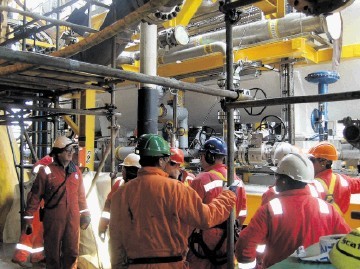 UK industry suffered its worst monthly performance since 2012 in December in a tough end to the year for manufacturing firms and as record mild weather hit demand for energy.
Official figures showed industrial production fell by 1.1% during December – the steepest fall in activity since September 2012 – which left the sector nursing a 0.5% drop in the final quarter.
The data from the Office for National Statistics (ONS) showed a 5.4% drop in electricity and gas production was largely behind the sector's quarterly decline, with the warmest December for at least 100 years seeing lower than usual demand for heating.
Manufacturing output was 0.2% lower between November and December, but saw a 1.7% fall year-on-year.
The figures have raised concerns that growth may be revised down for the fourth quarter of 2015 as the production sector performed worse than the 0.2% pencilled in for the quarter by the ONS.
The ONS stressed that the impact would be small, giving the weighting of the sector in the overall economy, but experts said there was a risk that fourth quarter growth may end up being cut from the initial estimate of 0.5%.
Samuel Tombs, chief UK economist at Pantheon Macroeconomics, said: "The chances that the headline gross domestic product growth number will be revised down therefore have grown, and all eyes will now be on the notoriously volatile construction figures for December, released Friday."
Industrial production activity lifted 1% overall in 2015, but it was a difficult year for manufacturing, which saw output fall by 0.2%.
Mike Rigby, head of manufacturing at Barclays, cautioned 2016 could also prove to be tough for the sector.
He said: "Growth in manufacturing output continued to fizzle out as 2015 came to an end with weak export performance an ongoing frustration.
"As we move into 2016, slowing global growth, uncertainty over a Brexit and the fallout from China will make this another challenging year for the sector."
Recommended for you

After blowing $300bn, US shale finally makes money