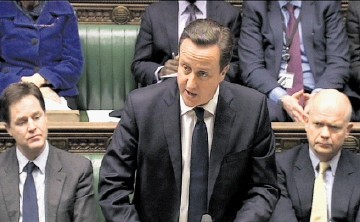 Prime Minister David Cameron has claimed Scotland would have been weeks away from a "financial calamity" if full fiscal devolution had been given to the country.
Cameron said new funding arrangements for Scotland needed to be completed in a "fair and reasonable way" after the SNP asked why the UK Treasury was proposing plans that may cost Scotland £3billion.
He told politicians during Prime Minister's Questions that negotiations were continuing but added the Scottish First Minister and finance minister "have to recognise there must be fairness across the rest of the UK too".
Mr Cameron said: "No-one is keener on agreement than me," adding: "I want the Scottish National Party here and in Holyrood to have to start making decisions, which taxes are you going to raise, what are you doing to do with benefits.
"I want to get rid of frankly this grievance agenda and let you get on with a governing agenda and then we can see what you're made of."
SNP Westminster group leader Angus Robertson used his two questions to press the Prime Minister on the details and progress of the new devolution settlement.
He said: "The Prime Minister made a vow and his party signed an agreement that there would be no detriment to Scotland with new devolution arrangements. Why is the UK Treasury proposing plans that may be detrimental towards Scotland to the tune of £3 billion?"
Mr Cameron replied: "Well first of all, we accept the Smith principles of detriment and there are two principles. First of all, no detriment to Scotland quite rightly at the time when this transfer is made in terms of Scotland having these new tax-raising powers, and then no detriment to Scottish taxpayers, but also to the rest of the UK taxpayers who we have to bear in mind as we take into account this very important negotiation."
He added: "Now I've had good conversations with the First Minister, negotiations are under way, I want us to successfully complete this very important piece of devolution in a fair and reasonable way and these negotiations should continue, but let me remind the right honourable gentleman, if we had had full fiscal devolution with oil revenues having collapsed by 94%, the right honourable gentleman and his party would be just weeks away from a financial calamity for Scotland."
Mr Robertson (Moray) said whether on the Scottish referendum or across the UK on EU membership, voters had a "right to know that what is promised by the UK Government can be trusted and will be delivered in full".
He asked: "So will the Prime Minister tell the Treasury that time is running out on delivering a fair fiscal framework and that they must agree a deal that is fair both to the people of Scotland and fair to the rest of the UK?"
Mr Cameron responded: "I can tell him everything that has been committed to by this Government will be delivered. We committed to this huge act of devolution to Scotland and we've delivered it. We committed to the Scotland Bill, we're well on the way to delivering it."
Recommended for you

Scottish and UK governments agree deal for two 'green freeports'