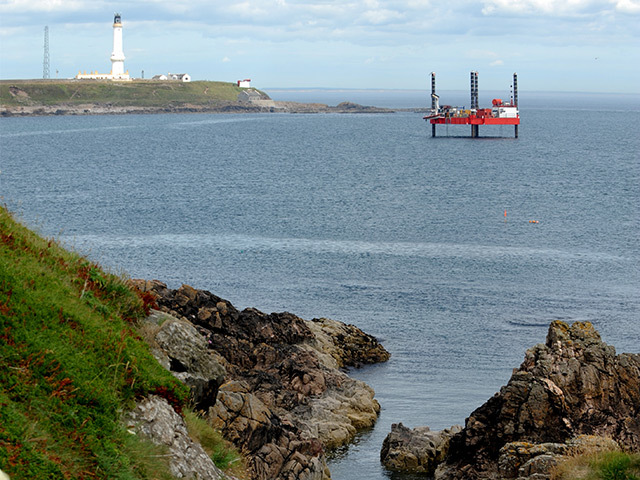 The Port of Dundee has stolen a march in the race to become the top decommissioning and offshore renewables facility on the east coast of Scotland's mainland with a £10million investment.
The quayside upgrade project is slated for completion in just 18 months, owner Forth Ports said yesterday.
Excluding unforeseen delays, it will be finished about three years ahead of Aberdeen harbour's planned expansion in to Nigg Bay, putting Dundee in pole position to scoop new contracts.
But Granite City councillors and politicians said Dundee should not be considered a threat to Aberdeen as the size of investment is miniscule compared Nigg Bay, which has a £415million sticker price.
Securing decommissioning work forms a key plank of Aberdeen Harbour Board's plans for Nigg Bay, along with offshore renewables and cruise ship arrivals.
Aberdeen cannot capitalise on these industries without the expansion, which would provide an extra 4,500ft of quay, a minimum water depth of 30ft and a laydown area of more than 1.3million sq ft.
However, the sheer scale of the Nigg Bay project has made the board's path to the construction stage a long one. A final decision on whether to go ahead with the plans is not expected until August, with completion earmarked for 2020 or 2021.
Dundee, meanwhile, has been able to push ahead more quickly and has left Aberdeen playing catch-up, according Jeremy Cresswell, editor of the Press and Journal's Energy supplement.
Mr Cresswell said: "Dundee will rub its hands with glee at securing decommissioning work. There has long been a feeling that Dundee missed out on the oil and gas boom in the 70s while Aberdeen prospered. It is determined not to miss out on decommissioning.
"Aberdeen as a port is not equipped to compete with Dundee and Peterhead, both of which have deepwater capability and space to develop."
Forth Ports' investment, the biggest in Dundee port's history, will create a new quayside with heavy lift capacity, coupled with a sizeable onshore operational area.
Forth Ports chief executive Charles Hammond said Dundee harbour's skills base and location, combined with its riverside berths, deep water and rock river bed, put it in a "key position" to become a centre for decommissioning.
Scottish Energy Minister Fergus Ewing hailed the investment and agreed Dundee can to make the most of the economic benefits from decommissioning, as well as offshore renewables.
But councillor Barney Crockett said Aberdeen harbour had little to fear from Dundee.
Mr Crockett said: "Dundee's is a very small scale development compared to Aberdeen and I don't think it is serious competition for what's planned at Nigg Bay.
"Nigg Bay is a national scale development – that's why it's taken so long. Dundee's is just a quayside development which they can just get on with. It won't have any impact on Aberdeen's plans."
North-east Labour MSP Lewis Macdonald said: "The most obvious thing to say is that it's a minute investment compared to Aberdeen harbour. It's simply upgrading a quay, and good for them, I say."
Aberdeen Central MSP Kevin Stewart, SNP, said: "Aberdeen Harbour Board's investment to expand their facilities and the proposed European Offshore Wind Development Centre keeps Aberdeen in the vanguard of infrastructure investment."
Aberdeen Harbour Board declined to comment on the development in Dundee.
The head of Peterhead harbour said the decision to splurge £10million on upgrading Dundee's port was "inspiring".
John Wallace, chief executive of Peterhead Port Authority (PPA), said the investment was good news for Scotland in its bid to snare a large proportion of the decommissioning market from under the nose of rivals, such as Norway.
Mr Wallace said: "We wish Dundee and all Scottish ports well in addressing decommissioning. Essentially any port that can enter this market gears itself up to be the best it can be. We'd rather see Scotland get a share of this market than elsewhere."
Mr Wallace, who will step aside to be replaced by Ian Laidlaw this summer, also said PPA would strive to keep up with the like of Dundee in improving its own offering.
Plans are already afoot to spend £49million on expanding Peterhead harbour.
He said: "Local competition inspires Peterhead to create facilities that are best in class. We enjoy competition. It keeps customers satisfied that they are getting the best value for money.
"We are creating facilities for decommissioning. We are already involved in a small way but I think we will become a big player in this market in future."
Recommended for you

Royal opening for £420m Port of Aberdeen expansion