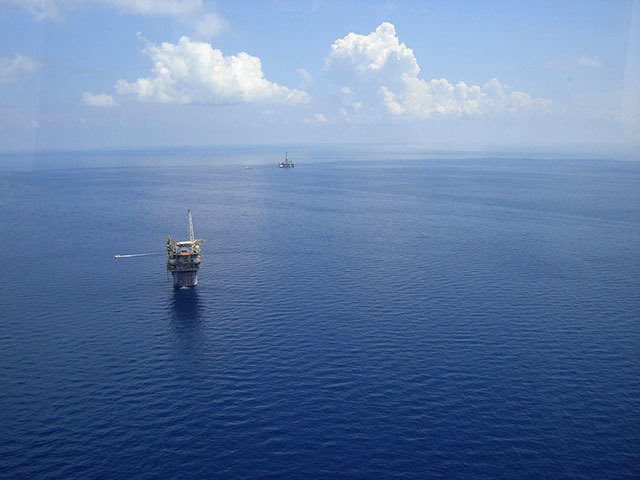 Windsor High School junior Kamille Hocking worried a dozen oil wells on her family's 132-acre Colorado homestead might sicken them. Then, Rebecca Johnson, an Anadarko Petroleum Corp. engineer, used a blender in her chemistry class to show the interaction of swirling frack sand, city water and friction reducer.
"We heard a lot of stories about how it could get into the water and pollute the land," said Hocking, who is 16. "I'm going to tell my parents that fracking fluid only makes cracks in the rock the size of a hair that the sand gets into and holds open."
Facing 10 possible ballot initiatives restricting fracking, Anadarko has deployed 160 landmen, geologists and engineers such as Johnson to Rotary clubs, high schools and mothers groups. They demonstrate how drilling works and try to convince people that the technique and the accompanying chemicals and geological effects don't harm the environment or public health.
These de facto ambassadors are proving effective in deflecting the effort by Colorado municipalities to gain greater control over drilling.
They have been so successful that the Woodlands, Texas-based company also trained 2,000 additional employees in Colorado, Wyoming, Utah and Texas to answer questions posed to them by community members. The Coloradans use a smartphone app that supplies basic fracking facts. Others elsewhere get colorful printed materials.
Other companies are also embracing educational outreach, with Noble Energy Inc. and Whiting Petroleum Corp. sponsoring industry ambassador training this year in Denver.
The wide-ranging outreach in Colorado, the nation's seventh-biggest oil producer and sixth-largest gas provider, represents a policy shift. The energy industry that has been known for insisting on confidentiality from employees about fracking practices now allows geologists, landmen and colleagues in 40 Anadarko job categories to divulge details of what they do to their churches, neighbors and golfing buddies.
Johnson, who's personal motto is "faith, family and fracking," told students in Windsor that she's supervised 1,000 fracks in the course of her 24-year career without harm to the environment.
"I live right here," Johnson said when she visited the school 60 miles (97 kilometers) north of Denver this month.
"My family is here. My mother-in-law graduated from your high school. She turns 80 this year. We would know if something's wrong."
Colorado's pending ballot proposals seek to restrict fracking, a process in which a mixture of water, sand and chemicals is forced down a pipe to crack rock and release oil and gas.
The state, where oil and gas production generated $31.7 billion for the economy in 2014, is a bellwether in a national debate over whether municipalities should be given more authority to regulate drilling as the industrial process moves into urban areas.
Five communities since 2012 have joined scores nationwide in temporarily halting or banning fracking. Colorado's Supreme Court is expected to rule on several of those measures this year after a lower court found the state holds primacy over drilling regulation.
In answer to residents' concerns, Democratic Governor John Hickenlooper has championed first-in-the nation rules since 2011 requiring companies to disclose chemicals used in fracking fluid and regulating methane emissions. The former geologist and second-term governor also insists mineral owners have a right to develop their holdings.
On the front lines is Anadarko employee Laura Paige Cody, a landman who regularly speaks with resident groups in communities at the base of the Rockies along the state's Front Range. Landmen negotiate agreements between companies and mineral-rights owners for oil produced from their holdings.
"I'm in this business that's being vilified," she said in an interview in downtown Denver. "No matter if you're an orthodontist, or a tennis pro, or a welder, everything you do is dependent on the price of oil."
Some residents remain skeptical even after seeing Cody's presentation. Mark Scheuneman, 65, a retiree who lives in the country 28 miles south of Denver, said he worries about whether horizontal drilling could cause sinkholes or earthquakes, questions he said Cody couldn't answer.
"I had some real concerns and she didn't alleviate them," said Scheuneman, after watching Cody give a presentation recently to his Rotary club in Parker.
Colorado's fracking politics are stuck in the same spot they were in 2014, when Hickenlooper worked behind the scenes for months to broker a deal between residents and lawmakers to prevent a costly fight over anti-fracking ballot measures.
The governor created a 21-member commission to study how to increase local control over drilling. The state's oil and gas regulatory agency adopted rules recommended by the body in January, including one that requires energy firms to work closely with cities on siting of larger drilling operations. The new regulations, which resulted from months of hearings, left all sides unsatisfied.
"This panel in the end didn't serve to protect any of the citizens of Colorado," said Tricia Olson, executive director for Coloradans Resisting Extreme Energy Development. "The initiative process was the only way to go."
The group has 10 ballot proposals under review by the state's election office, including ones that that would increase the distance wells must be set back from occupied structures and allow municipalities to more tightly regulate fracking.
The renewed debate raises the possibility that U.S. Representative Jared Polis, a Boulder Democrat and wealthy entrepreneur, will bankroll a signature-gathering campaign to place anti-fracking measures on the ballot, as he did in 2014.
"I am deeply disappointed that the oil and gas industry blocked the task force from enacting meaningful policy changes," Polis said in an e-mailed statement.
Two years ago, the oil industry spent $11.8 million on lobbying and elections, the vast majority to fight the initiatives that were withdrawn, according to a report by Colorado Ethics Watch.
"The oil and gas industry spent decades not educating people," said Karen Crummy, spokeswoman for an industry-backed committee that's running pro-fracking television spots in Denver and Colorado Springs. "We find when we stop talking to people, or running ads, or having community events, people forget."