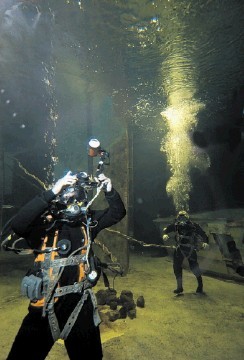 Fort William's Underwater Centre has been identified as one of the UK's most inspirational companies.
The subsea training and trials facility has been highlighted in London Stock Exchange's 1,000 Companies to Inspire Britain.
The report is a celebration of the UK's fastest-growing and most dynamic small and medium sized businesses.
To be included in the list, companies needed to show consistent revenue growth over a minimum of three years, significantly outperforming their industry peers.
The Underwater Centre, which is based at the shore of a seawater loch, Loch Linnhe in Fort William, delivers subsea training, testing and research work for clients across many sectors.
Commerical director Steve Ham, said: "We are delighted to have been included in this year's list and it is testament to the hard work of all our staff, supporters and most of all, our clients.
"We have been operating in an increasingly tricky marketplace with the ongoing downturn in the oil and gas industry, however, we have continually been working to adapt what we offer and tailor our services to the needs of our clients and this has proved successful."
Its location allows the centre to provide year-round realistic training and testing in a tidal, open-water environment with access to depths of over 100 metres.