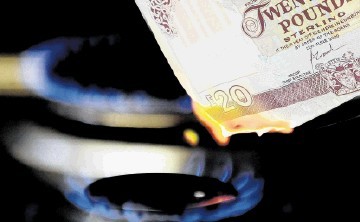 Energy companies are set to receive more payments to keep the lights on over winter in the face of coal plant closures.
The Government has announced changes to the "capacity market", in which generators bid for payments to guarantee supplies over winter, which are set to push up prices for consumers who pay for the system on their bills.
But Energy and Climate Change Secretary Amber Rudd said the scheme would protect households and businesses from "avoidable spikes in energy costs", which could occur when the margin between supply and demand was squeezed.
The market will now come in a year early, for winter 2017/18 instead of 2018/19 as planned, more standby power will be bought, and it will be bought earlier to stimulate investment in new gas-fired power plants, which the Government hopes will replace coal.
There will also be tougher action on companies which back out of their contracts by closing power plants for which they have won payments for keeping them online to meet peak demand.
The UK's power system has been hit by the closure of coal-fired power plants to tackle pollution and climate change and because they have become unprofitable as fossil fuel and energy prices fall, and renewables take a bigger share of supplies.
A lack of investment in new schemes such as gas-fired power stations means the margin between the UK's peak demand and available power supplies has tightened, raising fears of blackouts.
Auctions for the payments have been held for winters 2018/19 and 2019/20, and the Department of Energy and Climate Change said it would hold an auction for winter 2017/18 early next year.
The Government has said it would expect the next auction to buy more than double the amount of standby capacity than has been purchased in the previous auctions, pushing up the cost for consumers.
The auction for capacity for winter 2019/2020 saw payments that add less than £10 to the average household energy bill, while the auction for 2018/2019 payments cost the average household £11.40.
Ms Rudd said: "Ensuring that our families and businesses have secure energy supplies they can rely on now and in the future is not negotiable and I'll take no risks with this.
"The capacity market has driven down costs and secured energy at the lowest possible price for bill-payers, but I'm taking further action to tackle the legacy of under-investment and ensure our country's long-term energy security. "
She also said it would send a "clear signal" to investors that would encourage the construction of new energy sources including gas and interconnectors which link up the UK grid with supplies in other countries.
But shadow energy and climate change secretary Lisa Nandy accused the Government of a "panicked response" that will raise energy bills.
"Tory ministers now need to come clean over how much energy bills will rise next year to pay for the consequence of their failure to get new power stations built," she said.
Rebecca Williams, from environmental group WWF-UK, said: "Rather than announcing yet another sticking plaster solution to try and bring forward new fossil fuel plants, the Government needs to look at the system as a whole, concentrating on maximising renewable generation, and encouraging far greater provision of electricity demand reduction, demand-side response and storage."
Recommended for you

Gas price plunge brings relief to Europe after energy panic