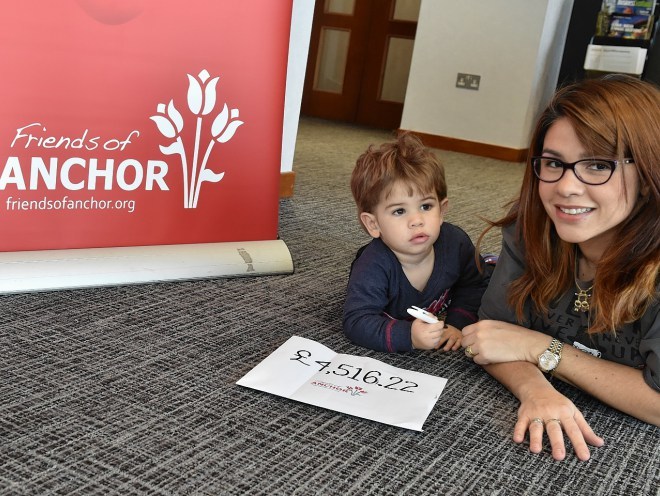 An Aberdeenshire woman has raised almost £5,000 for a local cancer charity with the help of her neighbours after her husband succumbed to the disease.
Patricia Bruce of Stonehaven has handed a sum of £4,516 to the Friends of Anchor, hailing the help it gave to her husband, Tom, during his cancer fight.
The cheque was given to the charity last week on what would have been their 15th wedding anniversary.
Popular oil worker Mr Bruce died in August last year, aged just 43, leaving behind his wife and their two children – Melanie and Daniel.
In his memory, Mrs Bruce decided to push on with an annual Christmas lights display – which had been one of her husband's passions – on Malcolm's Way, Stonehaven, and using it to raise funds for the Friends of Anchor.
The couple had put on the festive show with their neighbours every year since 2009.
The cul-de-sac was brought to life as a winter wonderland complete with Christmas lights and inflatables in Mr Bruce's memory.
Originally from Torry, the oil and gas operations manager with Rowan Drilling lost his two-year battle with the rare pseudomyxoma peritonei in Roxburghe House, Aberdeen, with his family at his side.
Chairman of Friends of Anchor, James Milne, said: "I knew Tom for many, many years. He was one of the top men in the drilling industry with a world-wide reputation of being the master of what he did.
"To hear of the sheer amount of money raised in his memory is incredible and a real testament to the impact Tom's loss had on so many.
"Cancer is a cruel disease but individuals, families and communities, like this one, coming together to raise funds to fight it head-on, goes to show the power of human kindness and generosity."
Mrs Bruce said: "It was only four weeks and we raised over £4,000. It is a lot of money. It was very windy and our displays were broken beyond repair.
"Some people are against raising money for a cure for cancer because they think it is very hard to do anything about it. But I don't agree. We can make the journey better.
"That is what I saw that the Friends of Anchor did for us.
"One of the machines they support is one of the machines Tom used. It gave us hope. It got him home and he had four good months."
Recommended for you

Heartbreak and Covid spurred retired oil worker onto business success