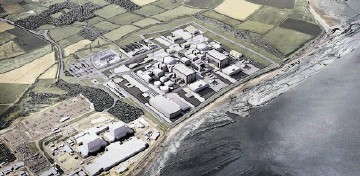 Energy Secretary Amber Rudd has refused to accept a £100 wager to guarantee further public subsidies will not be offered to a delayed nuclear power station.
Ms Rudd insisted the multibillion-pound Hinkley Point C project will go ahead although she came under pressure to assure MPs it will not be at any cost and also hit UK taxpayers.
Labour's Rob Marris (Wolverhampton South West) warned "ridiculously large" subsidies have already been offered by the UK Government to the project.
He added: "I bet the minister £100, proceeds to charity of course, that that nuclear power station will not be built without even more public subsidy being offered.
"Will you take that bet?"
Ms Rudd replied: "I'm not in the habit of taking bets across the chamber but I'm very happy to reassure you that I'm completely confident that the Hinkley Point C project will go ahead and it will not be the only new nuclear reactor commissioned under this Government."
EDF Energy chief executive Vincent de Rivaz told MPs on Wednesday the power station will definitely go ahead, with the total cost still expected to be £18 billion.
He also noted EDF has invested £2.4 billion in the project and continues to spend £55 million a month.
French economy minister Emmanuel Macron has said EDF will make a final investment decision on Hinkley Point in early May.
Shadow energy secretary Lisa Nandy questioned if the Government has a plan B should the French government not offer more money to the project.
She told Ms Rudd: "With fresh doubts over whether a new nuclear station will ever be built at Hinkley Point C, it appears that Britain's energy security is now in the hands of the French and Chinese governments.
"If the French government decides not to offer up more money for the Hinkley project, will our taxpayers be on the hook or do you have a plan B?"
Ms Rudd replied: "I can reassure you that this proposal in Hinkley Point will be going ahead. I don't share your doubts.
"But in order to really give further reassurance to you, I'd like to tell you that Hinkley Point is an important part of our low carbon future but it is not the only nuclear initiative.
"If you had paid attention during the Budget you might have heard the Chancellor announce further support for small modular reactors, which could also be an important part of a low carbon future."
Labour's Jonathan Reynolds (Stalybridge and Hyde), a former shadow energy minister, asked: "Is it the intention of this Government to build Hinkley Point C at any price?"
Ms Rudd replied: "I'm sure you're aware it's not for this Government to build Hinkley Point C, it is for EDF to build Hinkley Point C.
"That is why we've put the arrangement in place where we only pay when the electricity is generated.
"That is the sound arrangement we have and it is due to start generating that electricity – when we will start paying – in approximately 10 years."
Recommended for you

What is the ideal low carbon energy mix? More questions than answers