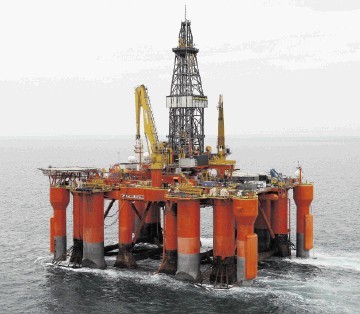 Willie Rennie has accused the Scottish Greens of wanting to "close down" the oil and gas industry in the North Sea.
The leader of the Scottish Liberal Democrats challenged counterpart Patrick Harvie to explain how his party would employ the hundreds of thousands of people currently working in the offshore sector.
The Greens' co-convener Mr Harvie dismissed Mr Rennie's suggestion, claiming the north-east needed "sustainable, lasting employment".
The clashes came as Scotland's political leaders locked horns in the second televised debate of the election campaign.
The future of the North Sea – and renewables – featured heavily.
In a particularly heated exchange, Mr Rennie asked Mr Harvie: "150,000 are employed in the North Sea. You've said you want to close down the sector. What should those people do?"
But Mr Harvie replied: "That's not what we have said. Read our 'Jobs in the New Economy' report – it demonstrates that we need to invest in sustainable, lasting employment.
"We need to be seeing the economy move away from fossil fuels. That's the critical change."
Polls have so far given the SNP a substantial lead over their political rivals before the election on May 5, with Scottish Labour and the Scottish Conservatives locked in a battle for second place. One survey of those aged over 60 had Kezia Dugdale's Labour Party trailing the Tories in both the constituency and regional list vote.
Ms Dugdale was challenged on standing "shoulder to shoulder" with Ms Davidson during the independence campaign, but dismissed suggestions Labour was responsible for "pushing Tory austerity" on Scotland.
The leaders also clashed on how to use newly devolved tax powers.
Nicola Sturgeon has said she supports a 50p top rate of income tax – but will not deliver one in her first Budget if re-elected.
The SNP leader argued that increasing the 45p income tax on Scotland's wealthiest 1% could lead to a flight of capital, losing the government about £30million in revenues. She insisted the purpose of tax was to raise revenue for services and said: "My tax proposals will do that."
But Ms Dugdale said her party would reintroduce the 50p rate – scrapped by Chancellor George Osborne – to invest in education, as well as helping North Sea oil workers who have lost their jobs retrain.
Ms Davidson suggested Scotland should not have higher tax rates than the rest of the UK.