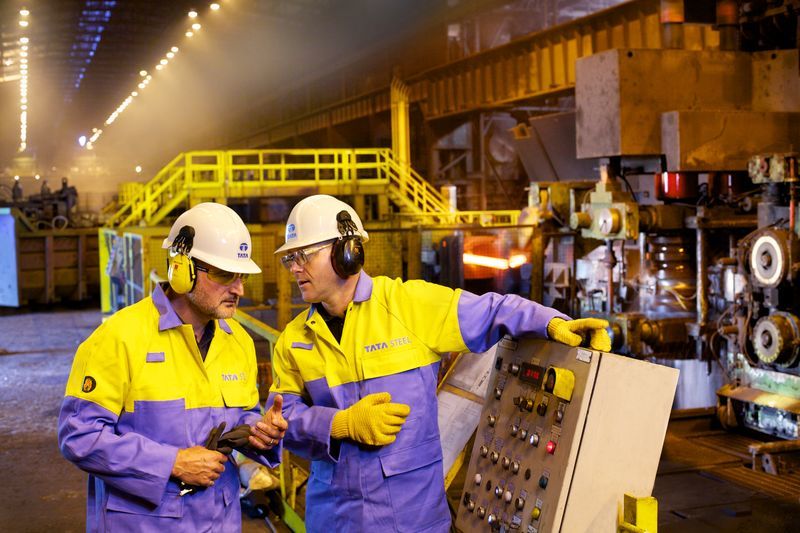 The Government is ready to provide support in order to clinch a deal to save the Port Talbot steelworks, Business Secretary Sajid Javid has said.
Mr Javid said he believed there was time to find a buyer for the South Wales plant and the other UK assets of Tata Steel.
"Tata will issue an offer document very soon. Alongside that, the UK Government know – I've known for a while – that we're also going to have to offer support to clinch that buyer and give that steel plant a long-term, viable future," he told BBC1's The Andrew Marr Show.
While he said he did not believe that nationalising the loss-making steel producer was a solution to its problems, he insisted he was ruling nothing out in order to find a deal.
"I don't think nationalisation is a solution to this. Having said that, I also think it wouldn't be prudent to rule anything out at this stage, but I think that nationalisation is rarely an answer in these situations," he said.
"I do feel, though, for lots of reasons after talking to Tata and many others involved in this, that there will be enough time to find the right buyer working with the Government and being able to take this forward.
"We will look at everything we can do to allow a sale going ahead and I wouldn't rule anything out at this stage."
"They know it is not just a matter of weeks. When they talk about weeks, that's the period you would take to get so-called expressions of interest. Then it will take much longer than that to work out a deal," he said.
The Government's aim, he said, was to find a buyer for the whole of Tata's UK business.
"I want to see steelmaking continuing in Port Talbot, I want to protect as many jobs as possible, I want to find a buyer for the whole of the business," he said.
Mr Javid indicated the Government was ready to provide further assistance with reducing the energy costs of running Port Talbot.
"Any potential investor would want to see movement on that," he said.
He also suggested the Government could help with the costs of the pension scheme – which dates back to the former nationalised British Steel.
"No-one is talking about nationalisation of pension schemes but it is something I absolutely recognise is a challenge," he said.
Mr Javid said Tata had first informed the Government "a few weeks ago" it was reviewing its entire operations in the UK – including the possible closure of Port Talbot.
While they had succeeded in persuading the company to move to an open sales process, the Business Secretary – who was on a trade mission to Australia at the time – admitted they had been caught by surprise by the Tata board's announcement in Mumbai last week.
"What we actually knew was that it was an important meeting. But when they made the announcement we didn't anticipate they would go that far," he said.
"The strength of the announcement and how far they went – particularly what they said about timing – was much further than we expected."
His comments came as a possible buyer emerged for the Port Talbot plant.
Steel tycoon Sanjeev Gupta – founder of the commodities firm Liberty House which has already saved a number of UK steelworks – said he had opened discussions with Tata and was ready to hold talks with the Government.
"We would need a proper partnership with the Government. I don't know what that would entail at this stage. We've started the discussions … we are in the process of starting a discussion with Tata," he told The Sunday Telegraph.
"I haven't made a proposition that I want to buy all of (Tata Steel UK) because that's too big an undertaking to even put on the table at this stage.
"If the company, its people, its workers and the Government would be willing to consider my suggestions, then I'm willing to engage in a discussion about what role we will play in that."
For Labour, shadow chancellor John McDonnell said the Government should be prepared temporarily to nationalise Tata's UK assets as a "fall back" if a buyer could not be found immediately with a view to selling them on at a later date.
However he also indicated that a Labour government could seek to retain a long-term stake in the business.
"We might want to say that there is a public stake there for the long-term future to give us that security. It depends on the levels of investment," he told The Andrew Marr Show.
"This is our new politics, the strategic entrepreneurial state engaging, creating long-term state patient investment, new products, new markets."
Recommended for you

UK Government grants Port of Aberdeen £200,000 to accelerate to Net Zero