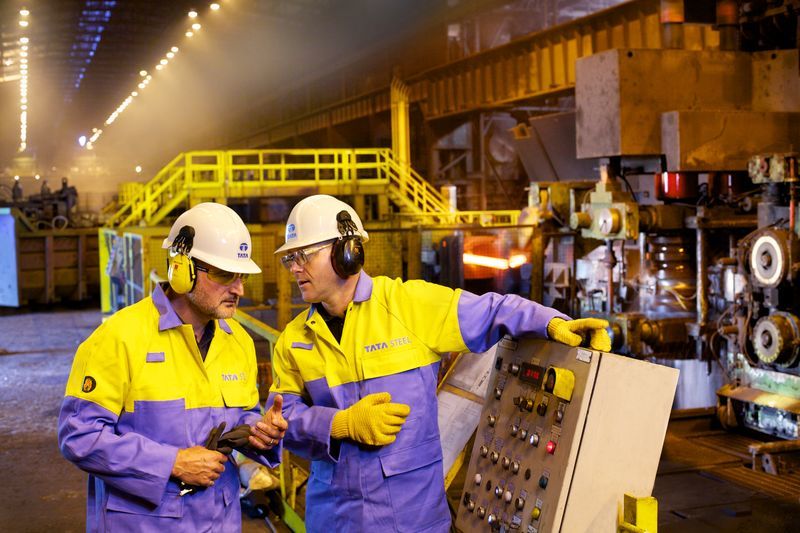 Critics of the UK's climate policy have been quick to seize on the current steel crisis to suggest green measures are responsible for the industry's problems.
But analysis shows that once Government compensation is taken into account, climate policies are adding only a small amount to heavy industry's energy bills.
And Tata Steel has received hundreds of millions of pounds in windfall profits from an EU-wide scheme to cut greenhouse gas emissions, analysts say.
The Government has published a consultation on introducing an exemption for energy-intensive industries, such as the steel industry, from renewable electricity costs in a move it said could save the steel industry more than £400 million over this Parliament.
Energy-intensive industries face costs of around £19 per megawatt hour (MWh) in the next year for supporting renewable technologies such as wind and solar, according to manufacturers organisation EEF.
Some 85% of that can be recouped in compensation, but the industry has been keen to see the cash compensation scheme switched to an exemption to give them certainty the protection will continue.
Such a move was proposed by Chancellor George Osborne in last year's Autumn Statement.
In addition, steel producers and other energy-intensive manufacturers face costs from the EU-wide emissions trading scheme (ETS) and a UK-imposed "carbon floor price" which together put a price on carbon in their energy bills to help climate change.
According to EEF, these carbon costs will add around £12.50 per MWh to bills, around 60% of which can be claimed back through compensation.
The UK's unilateral carbon floor price, put in place to encourage investment in low-carbon power and paid by power generators, adds a cost to electricity bills which manufacturers abroad do not have to face, the industry argues.
In total, policies will add some £31.50 per MWh to energy-intensive businesses' bills – around a third of their total energy costs – of which all but £7.35 per MWh can be claimed back.
But analysts have also estimated that Tata Steel has benefited from being given more free permits for its carbon pollution than it needed to cover its actual emissions under the EU ETS.
This led to a windfall for the company in the UK of around 870 million euros (£703 million) between 2008 and 2014 in surplus credits it could sell and profits from passing on the cost of pollution permits to customers, Dutch analysts CE Delft concluded.
Recommended for you

Sir Keir Starmer pledges publicly-owned energy company