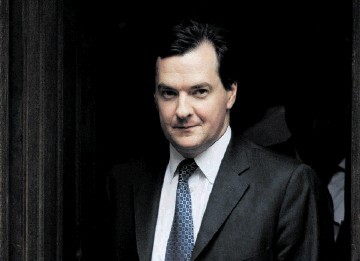 George Osborne has said he is glad BP shareholders rejected a £13.8 million pay deal for the oil giant's chief executive Bob Dudley in a symbolic vote.
The Chancellor said companies must act responsibly and not pay bosses "excessive amounts" when they do not deserve it.
Almost 60% of BP shareholders last week rejected the company board's remuneration report for the previous year, which included a 20% pay rise for Mr Dudley, despite the group posting its largest annual loss for 20 years and axing thousands of jobs worldwide.
The vote against the pay deal is only advisory because shareholders have no power to veto it and Mr Dudley has already been paid.
But the large percentage of those voting against it showed the depth of shareholder displeasure.
Mr Osborne spoke after shadow chancellor John McDonnell called for further measures to reduce the gap between the pay of FTSE 100 bosses and their employees.
The Labour frontbencher said the Government should consider moves to involve more employees on company remuneration committees to end the "racket" in which an "old boys' network" sets each other's pay.
During Treasury questions, Mr McDonnell said: "I hope you will join with me in welcoming the action taken by shareholders at BP's AGM against excessive pay awards recommended by the company's remuneration committee.
"Chief executives' pay at the FTSE 100 companies has risen since the 1990s from 50 times the average employee's to 150 times today.
"Can I ask you will you support measures to tackle the remuneration racket, where to many an old boys' network appears to operate to set each other's pay?
"And in particular will you support the widening of shareholder representation and employee representation on remuneration committees?"
Mr Osborne replied: "I think it's absolutely right that companies and the shareholders who own those companies think about their pay policy, act responsibly and don't pay excessive amounts to chief executives who don't deserve it.
"It is this Government that introduced those shareholder votes, they didn't exist under previous Labour governments and so I'm glad that shareholders are using the opportunity we have given them.
"I don't think it is as what you're hinting at – we should be putting trade unions on company boards – but I do agree that we should make sure that shareholders use all the tools available to them."