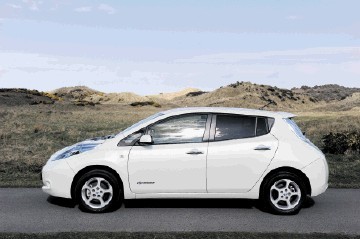 A switch to low-carbon transport such as electric cars would save countries including the UK billions of pounds a year, a report has suggested.
Global policies to cut greenhouse gas emissions from the transport sector would reduce demand for oil, driving down prices and cutting global spending on the fossil fuel by £232 billion a year worldwide between 2020 and 2030.
Cheaper oil for importing countries could free up billions of pounds which could be spent in other parts of the economy, the analysis led by Cambridge Econometrics said.
The report also warns that the era of ultra-cheap oil – with prices currently around 40 US dollars (£27) a barrel – will be limited, and without action to address climate change prices could rise to 130 US dollars (£90) a barrel by 2050.
If governments implement policies to cut carbon emissions from transport, which could see a significant uptake in hybrid and electric vehicles as the costs of battery technology falls rapidly,
the reduction in demand in oil could keep prices lower.
Uptake of low-carbon transport could reduce prices by 15% in 2020 and 29% in 2040, and could see prices limited to 83-87 US dollars (£57-£60) a barrel by mid-century.
Research by Cambridge Econometrics has also suggested that moving to low-carbon transport would be good for oil importing countries such as the UK.
In 2014, the UK imported 38% of its oil, which could translate to a £13 billion a year saving by 2030 with a switch to clean transport, the research found, although imports dropped to 28% in 2015 as domestic production grew.
Increased spending on domestically-produced electricity or hydrogen fuel to power low-carbon vehicles and on innovative technology could boost the UK economy to the tune of between £2.4 billion and £5 billion and create thousands of jobs.
The report is being released ahead of the official opening for signing of the Paris Agreement, the international climate deal agreed at the end of last year, which aims to shift countries on to a low-carbon path to curb rising temperatures.
Philip Summerton, director at Cambridge Econometrics and lead author of the report, said: "Without any further policy changes, oil prices are likely to recover in the long-term, driven by global economic growth and increasing demand for mobility.
"In a world where climate policies are being implemented to drive investment in low-carbon technologies – as governments agreed in Paris – demand for oil will be curbed, and ultimately reduced, leading to lower oil prices than would otherwise be the case.
"Through policy support and technological innovation, we can expect the global economy to be using 11 million fewer barrels of oil per day by 2030 than we would without significant changes to transport technologies.
"Lower oil prices would benefit oil-importing regions such as Europe by reducing inflationary pressures on consumers, increasing real incomes, and shifting spending towards other goods and services that deliver more value for Europe."
Recommended for you

How long can oil & gas keep putting off digitalisation?