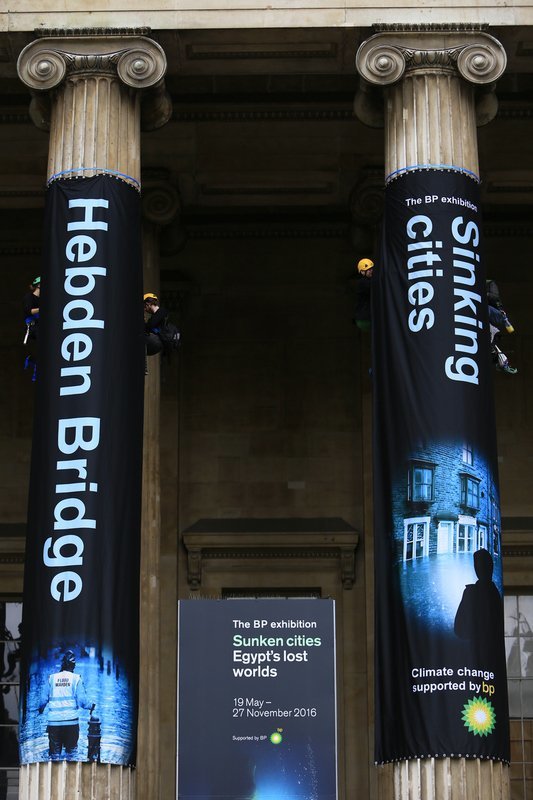 Environmental campaigners are climbed the British Museum in protest against sponsorship of a new exhibition by oil giant BP.
The museum has been "temporarily closed for visitor safety reasons", it said, as dozens of Greenpeace activists stage the protest at the site in central London.
The activists claim it is a "stunning irony" the Sunken Cities exhibition, displaying artefacts from ancient cities submerged in the Mediterranean, is sponsored by a company which produces fossil fuels that contribute to climate change.
Climbers are scaling the pillars of the front of the museum in a bid to rebrand the exhibition as Sinking Cities on its opening day.
They are unfurling large banners carrying the names of cities and regions hit by flooding, storms and rising seas – environmental disasters which are set to increase with climate change.
The banners carry the names of New Orleans, Manila and the Maldives as well as UK towns hit by flooding in the past such as Boscastle and Hebden Bridge, and swap images of the ancient sunken cities with pictures of recent floods in Yorkshire.
Greenpeace is calling on the British Museum to end its partnership with BP, claiming it allows the oil company to clean up its image, in the latest of a series of protests by environmental campaigners against the oil giant sponsoring the arts.
Campaigner Elena Polisano said: "BP sponsors the British Museum to clean up its image, burnish its reputation and secure political access. It wants to keep digging up fossil fuels well into this century.
"It even wants to continue drilling in the Arctic. And now it has its logo on an exhibition about cities lost to rising seas. It's a stunning irony."
She added that sunken cities were not just a thing of the past, with whole nations such as the Maldives potentially disappearing under water as a result of climate change, and said the partnership hurt the museum's reputation.
"Oil is poisoning our air, warming our world and polluting our rivers and oceans. It is our present and future heritage that we must preserve. Oil is fast becoming the new tobacco. This deal needs to end," she said.
A statement from the British Museum said: "The Museum is closed temporarily for visitor safety reasons. We hope we will be able to reopen shortly."